Baptist Health Acquires East Jefferson County Primary Care Practice
LOUISVILLE Baptist Health is welcoming a new primary care practice and two new doctors. Family Care Physicians, located at 2701 Chamberlain Lane in eastern Jefferson County, is joining the Baptist Health Medical Group and is now called Baptist Health Medical Group Primary Care. The change was effective February 1, 2023.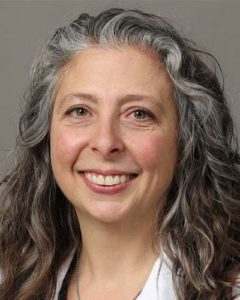 Patients will continue to see the practice's two doctors, Veronica Kavorkian, MD, and Karen Langness, MD. Kavorkian and Langness are both graduates of the UofL School of Medicine and board certified in family medicine.
---
They have been recognized Karen Langness, MD by Louisville Magazine as "Top Docs under 40" and are members of the American Academy of Family Physicians, Kentucky Medical Association and Greater Louisville Medical Society.
New Physician Joins Baptist Health Medical Group in Elizabethtown
ELIZABETHTOWN Stephen Maguire, MD, has joined Baptist Health Medical Group Plastic & Reconstructive Surgery to offer compassionate, patient-centered care.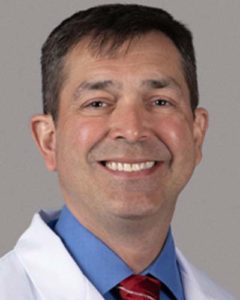 Maguire specializes in cosmetic surgery, breast reduction surgery, and breast reconstruction surgery following cancer treatment. He graduated from the UofL School of Medicine. He completed his general surgery residency at Louisiana State University Health Sciences Center. He then completed a fellowship at UofL School of Medicine.
Maguire has more than 25 years of surgical experience and has received national board certification from the American Board of Plastic Surgery. He is certified by the American Heart Association in Basic Life Support and Advanced Cardiovascular Life Support.
He is a member of the American Society of Plastic Surgeons, American Medical Association, American Burn Association and Louisiana State Medical Society.
Maguire will be practicing at Baptist Health Medical Group Plastic & Reconstructive Surgery, located at 511 Robinbrooke Rd., Ste. 100, in Elizabethtown.
Podiatrist Joins Baptist Health Medical Group in Elizabethtown
ELIZABETHTOWN Scott Rotterman, DPM, has joined Baptist Health Medical Group Podiatry to offer compassionate, patient-centered for foot care.
Rotterman specializes in procedures involving foot and ankle arthritis, trauma, reconstruction, flatfoot repair, elective foot surgery, and more. Rotterman graduated with his DPM degree from Kent State University College of Podiatric Medicine. He also completed a podiatric surgery residency at Norton Audubon Hospital, where his training focused on trauma, sports medicine, diabetic wound care, and limb salvage. During his residency, Rotterman served as chief resident and earned reconstructive rearfoot and ankle certification.
He has received national board certification in foot surgery and rearfoot/ankle surgery from the American Board of Foot and Ankle Surgery. He is a member of the American College of Foot and Ankle Surgeons and the American Podiatric Medical Association.
Rotterman will be practicing at Baptist Health Medical Group Podiatry, located at 551 Westport Rd, Ste. A in Elizabethtown.
Baptist Health Is Treating Atrial Fibrillation With New OCTARAY Technology
LEXINGTON In July 2022, Gery Tomassoni, MD, an electrophysiologist at Baptist Health Lexington, performed an ablation on a patient's heart using the OCTARAY Mapping Catheter in the treatment of atrial fibrillation.
Traditionally, a mapping catheter (PENTARAY) is used to reconstruct the heart anatomy and locate the cardiac sites for ablation. Now with the new OCTARAY technology, the time required to create the atrial anatomy is shorter and identification of the ablation sites is more accurate.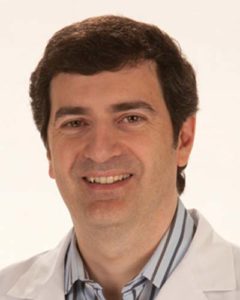 "OCTARAY technology provides additional catheter splines resulting in a higher number of electrodes that also have a shorter distance between them. In addition, the electrodes have a higher recording fidelity. As a result, the electrical signal quality is significantly improved," explains Tomassoni. "The better quality of electrical signals hopefully will allow us to guide ablation more successfully to eliminate the abnormal heart rhythm."
"Electrical mapping of the chambers using OCTARAY technology is more efficient resulting in a faster acquisition of both the electrical signals and reconstruction of the overall heart anatomy," says Tomassoni. "Reduction in procedural time and enhancement of workflow efficiency can improve patient care. Less time in the procedure is better for the patient because you're reducing the potential risks associated with longer procedures."
Fred Hamlin, APRN, Joins CHI Saint Joseph Medical Group – Cardiology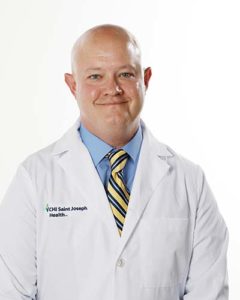 NICHOLASVILLE CHI Saint Joseph Medical Group – Cardiology welcomed Fred Hamlin, MSN, APRN, FNP-BC, to its practice at Saint Joseph Jessamine and in Lebanon. Hamlin, originally from McCreary County, brings more than two decades of professional experience to the health care group and even more years of passion, as his love for the medical field, especially the heart, started at age 5.
"The heart and its inner workings have always been an interest of mine since I was very young," says Hamlin. "I've always been fascinated by its plumbing, electricity, and structure. There's so much that goes into caring for the heart."
Hamlin's love for the medical field heightened in high school when his father became seriously ill. As he watched his mother care for his father at home, much like a nurse would do, Hamlin saw how significantly this care impacted his father's life and how working in the health care field could help others.
"I felt like that was a calling from God to pursue a career in nursing," says Hamlin.
Hamlin graduated from Morehead State University in 2000 with a BS in nursing. He cared for patients from the bedside and in the sky. Hamlin was a flight nurse with the Air Evac Lifeteam for four years. Hamlin pursued his MS in nursing at Indiana State University to enhance his education and training. Hamlin has continued his work in his home state of Kentucky and has kept his childhood dream alive, focusing on caring for his patients' cardiovascular health.
Hamlin is a board-certified nurse practitioner by the American Nurse Credentialing Center (ANCC). He is also board certified in basic life support, advanced cardiac life support, and pediatric advanced life support.
In his spare time, Hamlin enjoys spending time with his wife, an ER/ICU nurse, and their three sons. He also enjoys playing the piano, hiking, attending church, and constantly learning more about his field.
Hamlin is practicing at CHI Saint Joseph Medical Group – Cardiology at Saint Joseph Jessamine, located at 1250 Keene Road, Suite 102, and CHI Saint Joseph Medical Group – Cardiology in Lebanon, located at 325 Walnut Street, Suite 300.
New Leadership Team Named at Saint Joseph Mount Sterling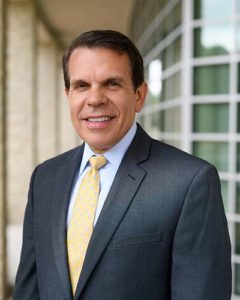 MOUNT STERLING John Yanes, FACHE, CPPS, has been named the new president for Saint Joseph Mount Sterling. Yanes replaces Jennifer Nolan, who is taking on a ministry role with CHI Saint Joseph Health, in addition to her role as president at Flaget Memorial Hospital.
Yanes joined CHI Saint Joseph Health in 2019 as president of Saint Joseph London and Saint Joseph Berea and will continue to lead those hospitals as well.
With this realignment within the ministry, the new leadership team at the three hospitals will consist of Yanes, Shelley Stanko, MD, chief medical officer, Andrea Holecek, EdD, MSN, MBA, RN, NE-BC, CENP, FACHE, vice president of nursing, and Brady Dale, RT(R) (ARRT), vice president of operations.
"We are excited to serve the Mount Sterling community and to work with the caregivers at Saint Joseph Mount Sterling," says Yanes. "Our caregivers across our ministry work hard to deliver on the Saint Joseph promise each and every day. Our leadership team considers it a privilege to be able to fulfill our mission across three Saint Joseph hospitals."
Yanes previously served as chief executive officer at Andalusia Health in Andalusia, Ala., and also served as a president and CEO in Ohio, Tennessee, Pennsylvania and Florida for 17 years. He began his career in Florida as an administrator and executive director for clinics and health networks in Jacksonville, Daytona Beach and Pompano Beach. Yanes received a bachelor of science in business administration, an MBA and a master of health science from the University of Florida. He completed the Executive Program in Managed Care at the University of Missouri-Kansas City, is board certified in health care management from the American College of Healthcare Executives in Chicago and received the designation as Certified Professional in Patient Safety from the Institute of Healthcare Improvement in Boston.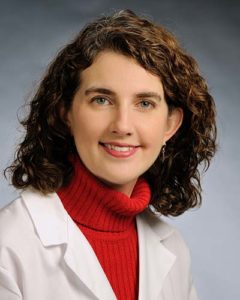 Stanko is a native of London and has served as the chief medical officer for Saint Joseph London for nine years and Saint Joseph Berea for four years. Stanko is a member of the CHI Saint Joseph Board of Directors and the Executive Committee. She sits on the Saint Joseph Medical Group Board and chairs the Quality Committee. A graduate of Georgetown College, the UK College of Medicine, and the Cabarrus Family Medicine Residency, she has practiced family medicine for the past 18 years.
---
Andrea Holecek, EdD, MSN, MBA, RN, NE-BC, CENP, FACHE, joined the ministry in June, 2019, as the vice president of Patient Care Services and chief nursing officer for Saint Joseph London. She previously served as the senior director of Patient Care Services and Magnet Program Director at Bayhealth Medical Center in Delaware. Holecek holds several academic degrees including a master's in nursing, a master's in business administration, and a doctorate of education in innovation and organizational leadership. She is a board-certified nurse executive and a Fellow of the American College of Healthcare Executives.
Dale is a native of Mount Sterling, and has been with CHI Saint Joseph Health since 2001, when he joined Saint Joseph Hospital in Lexington as a staff technologist in the cardiac catheterization department. He came to Saint Joseph London in 2008 as director of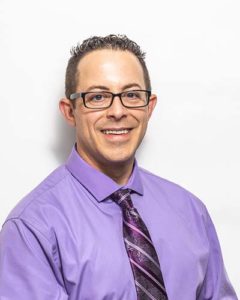 cardiac catheterization and cardiopulmonary rehabilitation. He was named director of cardiopulmonary services in 2014 and then director of cardio-ancillary services in 2018. Dale started his career at Mercy Hospital Anderson in Cincinnati as a staff technologist, radiologic special procedures, and cardiac catheterization.
Regina Kaur Joins CHI Saint Joseph Health – Primary Care in London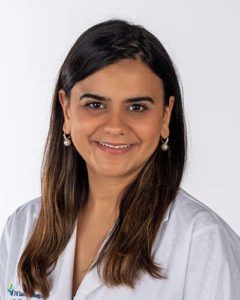 LONDON Regina Kaur, MD, has joined CHI Saint Joseph Health – Primary Care in London. Kaur was born and raised in Malaysia, and as a child, she often volunteered in her community with her father, including assisting at vaccination camps, which sparked her interest in serving others. She said her passion for helping others later in life stemmed from watching her father, an engineer, suffer at the end of his life due to cancer.
"Watching him suffer at the end of cancer was hard," says Kaur. "Many of his symptoms could have been managed, and I wish he would have had a geriatrician. This is what drew me into the medical field. There is a huge need for geriatricians and palliative care doctors here, and I hope to make a difference in the community."
Kaur personifies CHI's values as she cares and leads with compassion and inclusivity. She says she is happiest when helping others, and she is excited to be a part of a team that feels the same way and is changing lives. Her favorite part of being a physician is creating genuine relationships with her patients, learning how to work with them and understand their medical history.
"The best part about my job is the patient connection," says Kaur. "I love talking to people. Everyone has their own story, and the amazing stories I hear help me to grow as a person and a physician. While this job can be stressful, the lives you touch and those who touch you are worth it. There is a lot of love in this field."
While Kaur enjoys a focus on geriatric patients and palliative care, she treats adults of all ages. She prides herself on putting her patients first and being realistic with them, even when she says reality can be hard to hear.
Kaur brings years of medical experience to CHI Saint Joseph Health – Primary Care in London. She attended medical school at Grigore T. Popa University of Medicine and Pharmacy in Romania, was a resident with the Icahn School of Medicine at Mt. Sinai's Internal Medicine Program in Queens, New York, and was a fellow with the NYU Grossman School of Medicine in New York City.
Kaur has been part of multiple published articles and medical conference presentations and is certified by the American Board of Internal Medicine (ABIM). Along with her medical knowledge, she is also fluent in English, Punjabi, Hindi, and Malaysian languages.
In her time away from work, Kaur enjoys spending time with her husband, who also practices medicine, exploring Kentucky, renovating their home, and trying all the downhome Southern cooking.
Kaur is practicing at CHI Saint Joseph Health – Primary Care in London, located at 1025 Saint Joseph Lane.
Saint Joseph London Nurturing Children Program Launches
LONDON The Nurturing Children Program at Saint Joseph London has launched a pilot project at Lynn Camp Elementary School aimed at keeping kids safe when they come in contact with a firearm. The Eddie Eagle GunSafe® program kicked off January 5th at the school.
"Through this program, we are eager to provide an effort that builds awareness to help children remain safe around guns," says John Yanes, president, Saint Joseph London. "We are pleased to be able to partner with schools in southeastern Kentucky to prevent tragedies."
According to the Gun Violence Archive, in 2022, two children under age 11 were killed and 19 injured in gun incidents in Kentucky. Six teens were killed and 53 were injured in the same year in the commonwealth. Across the U.S. between 2015 and 2020, there were at least 2,070 unintentional shootings by children that resulted in 765 deaths and 1,366 nonfatal gun injuries, according to the Gun Violence Archive.
The Eddie Eagle program focuses on one mission: to teach children four simple steps so they know what to do if they ever come across a gun. Those easy-to-remember steps are: Stop; Don't Touch; Run Away; and Tell a grown-up. The program was developed in 1988 by a task force comprised of educators, school administrators, curriculum specialists, urban housing safety officials, clinical psychologists, law enforcement officials and National Rifle Association firearm safety experts.
"Through our violence prevention work, we are always looking for ways to make sure kids understand different situations that could put them in danger," says Mollie Harris, manager, Violence Prevention Program. "This project could not be possible without the support and work of the Knox County Sheriff's Department and the Knox County School System."
Representatives with the Knox County Sheriff's Department and Knox County Schools lauded the opportunity to work with CHI Saint Joseph Health in efforts to protect children.
"The safety and well-being of our children is the greatest priority," says Steve Owens, school resource officer from the Knox County Sheriff's Department. "Anytime an opportunity comes along to develop or use a new approach to protect these children, it is our responsibility to try, and then to nurture that. I am beyond excited to have the opportunity to be a part of this effort to reach our children in a new way."
Principal Emily Haneline said Lynn Camp Elementary is honored to be selected as the pilot location for the program.
"The safety of our students is always our number one priority and this collaboration with CHI Saint Joseph Health and the Knox County Sheriff Department allows us to extend beyond just our school and provide our students and families with critical knowledge to keep our students safe across all settings," says Haneline. "We are grateful to Mollie Harris for her vision; without it none of this would have been possible. I am excited to see the impact that this program will have for not only our students, but for students throughout Knox County."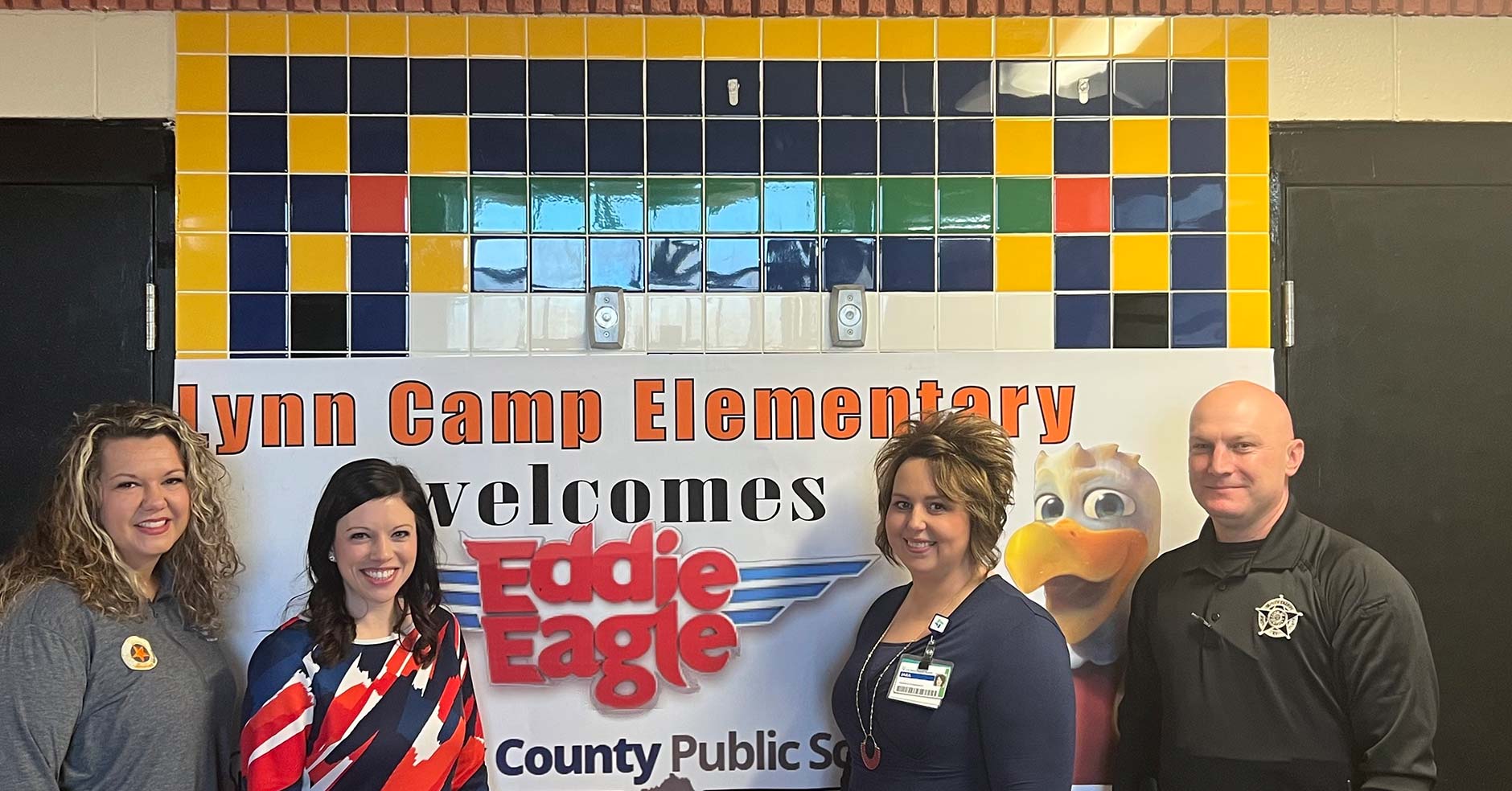 The Nurturing Children Program at Saint Joseph London is made possible through a grant from the CommonSpirit Health Mission and Ministry Fund. The goal of the program is to reduce child abuse and neglect as well as child fatality. Schools interested in participating in the Eddie Eagle GunSafe® program can contact Mollie Harris at mollie. harris@chisaintjosephhealth.org.