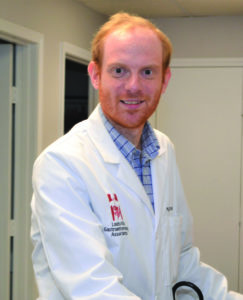 LOUISVILLE "Scope Junkie." "Scope Monkey." He's heard them all, and he gets the joke, but Michael Krease, DO, wants to make sure that everyone understands that there is much more to what he does than performing scopes.
"That really is the common misconception," he says of gastroenterology, which he practices at Gastroenterology Health Partners' Louisville location. "We are much more than that."
It wasn't the opportunity to perform endoscopies and colonoscopies, after all, that drew Krease to the medical field in general, nor gastroenterology in particular. Growing up in the suburbs of Detroit, Michigan, Krease had an early interest in being a veterinarian, but by high school he knew he wanted to be a doctor. He narrowed his field of interest to internal medicine before attending medical school at the West Virginia School of Osteopathic Medicine. He met his wife, Megan, there. She is a pediatrician at All Children Pediatrics in Louisville. They did their residencies together at Oklahoma State University Medical Center. Krease then completed his Fellowship in gastroenterology, hepatology, and nutrition at the University of Louisville School of Medicine.
During his fellowship, he met Paul Brown, MD, one of the partners at Gastroenterology Health Partners. Drawn to the fact that Gastroenterology Health Partners was an independent practice, Krease joined GHP after completing his fellowship and is happy to reject the misconception that all he does is perform scope procedures.
"One day a week I'm at the hospital, doing consults and outpatient scopes there," he says. "The rest of my week is split between the office and the endoscopy center. It's nice. Not being in the same spot every day keeps me fresh."
A Wide Array of Patients and GI Issues
Krease sees a wide range of patients, male and female, of all ages, and sees patients dealing with disorders such as heartburn, abdominal pain, diarrhea, and constipation. One of the more common issues he treats is inflammatory bowel disease (IBD). Krease says patients with IBD present in a variety of ways, including blood in the stool, abdominal pain, or a change in bowel habits.
"The biggest advancement in the next 10 to 20 years will be a better understanding of the microbiome and how it affects disease processes systemically."— Michael Krease, DO, Louisville Gastroenterology Associates
"A lot of them have their quality of life dramatically reduced," Krease says of IBD patients. "If you can help that, it makes you feel pretty special."
Diagnosis of IBD is often done via colonoscopy, but Krease says increasingly stool tests or blood tests can track the patient's progress or the regression of the disease.
"The first thing I like to do is risk stratify someone as being high risk or not high risk," Krease says of treating IBD. "If someone is young and has pretty severe disease then they might need more aggressive treatment with biologic medication. Someone who has milder disease may just need medicines."
Biologic medication is administered either intravenously or via injection. "They are stronger medications that have more side effects, but people who need them really do benefit from them," Krease says. "IBD presents in so many different ways and is so different in severity that is hard to pigeon-hole treatment."
Treating Reflux
In addition to IBD, Krease also commonly sees patients who have reflux disease or are having trouble swallowing. For those complaining of trouble swallowing, he will perform an upper endoscopy and dilate any strictures with a balloon or a bougie.
"Difficulty swallowing is more than just scopes," Krease says. "If we do a scope and it's normal, there are other tests we can do on the esophagus, such as manometry, barium swallows, and radiology procedures."
"If there's reflux disease, not everybody needs an endoscopy," Krease says. "If they are older or have alarm symptoms such as blood in the stool, difficulty swallowing, weight loss, or iron deficiency, they would need an upper endoscopy."
Given the sensitive or, at times, embarrassing nature of patient complaints, Krease says that developing a rapport with the patient is crucial to giving them the care they need.
"My job isn't to tell the patient what they need to do," he says. "My job is listening to them, hearing what's wrong and then recommending what I think we need to do. It's shared decision making. It's very collaborative, and patients have less skepticism about what they're doing."
It might be natural for a patient to be skeptical of a fecal transplant, for example, yet that is another procedure that Krease performs for patients with colon infection. The procedure involves taking healthy stool and depositing it into the patient's colon to repopulate and restore the natural ratio of good to bad bacteria.
What's Next?
"The biggest advancement in the next 10 to 20 years will be a better understanding of the microbiome and how it affects disease processes systemically," Krease says. "Over the last five years it has become huge, and we've learned that there is a lot that we don't know. We've just scratched the surface of it. We've learned enough about it to know we don't know enough about it. They are researching the gut microbiome and figuring out exactly which are good bacteria and bad bacteria. We're slowly seeing that it's going to be vital to treating a lot of different diseases, including cancer."
You might say they are scoping out cures for multiple diseases.