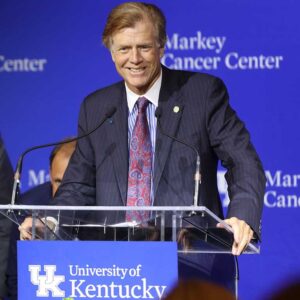 LEXINGTON The UK Markey Cancer Center has earned a National Cancer Institute "Comprehensive" Cancer Center designation, the highest level of recognition awarded by the NCI. Markey is the first and only center in Kentucky to achieve this designation. There are currently 72 NCI-Designated Cancer Centers in the country, and 56 of those are Comprehensive Cancer Centers. Markey received an initial NCI Designation in 2013.
In addition to achieving the Comprehensive designation, the UK Markey Cancer Center was awarded $13.5 million through a five-year renewal of its NCI Cancer Center Support Grant to support research programs, shared equipment, and resources.
"The elevation to Comprehensive Cancer Center is an achievement that underscores our commitment to addressing the health care needs of the people of Kentucky, a state burdened by the highest cancer incidence and death rates in the nation," said B. Mark Evers, MD, UK Markey Cancer Center director. "Together, we will turn the tide against this disease to conquer cancer in the Commonwealth.