Hematology and Oncology physician Mohamed Hegazi, MD, fights side by side with his patients and their families
LOUISVILLE As the saying goes, perception is reality. For patients with blood cancers such as leukemia, lymphoma, and myeloma, the reality is that they are facing a dreaded disease and the perception can be understandably gloomy. But for Mohamed Hegazi, MD, chief of Bone Marrow Transplants and director of Blood Cancer, Cellular Therapy and Transplant programs at UofL Health – Brown Cancer Center, there is light amidst the darkness.
"Some say, you're dealing with cancer, that must be really depressing. It is the contrary to me. It's very rewarding to be part of that journey and that battle," says Hegazi. "It all depends on how you look at it. Being able to alleviate suffering and make the patient feel good, get them to enjoy precious moments and see their family in a good quality of life is an extremely rewarding thing. I get the honor and privilege to be part of this with the patients and their families."
Connection and family are very important to Hegazi; he has two brothers who are pharmacists and another who is currently in medical school. Hegazi was born in Egypt and grew up in the United Arab Emirates where his father worked. He attended medical school at the University of Mansoura Faculty of Medicine in Egypt and did his residency at Jersey Shore Medical Center in New Jersey. He completed a fellowship at the UofL School of Medicine, where in 2018, he joined the faculty and now serves as an associate professor.
"When I came to the United States and did rotations at the UofL Health – Brown Cancer Center, the relationships I saw between the physicians and their patients always reminded me of when I was young and my father would be very connected with his physician. He would explain to us why he appreciated that person's opinion," says Hegazi, explaining that those memories are why he chose hematology and oncology over his other interest, cardiology. "The relationship between the doctor and the patients is much stronger in the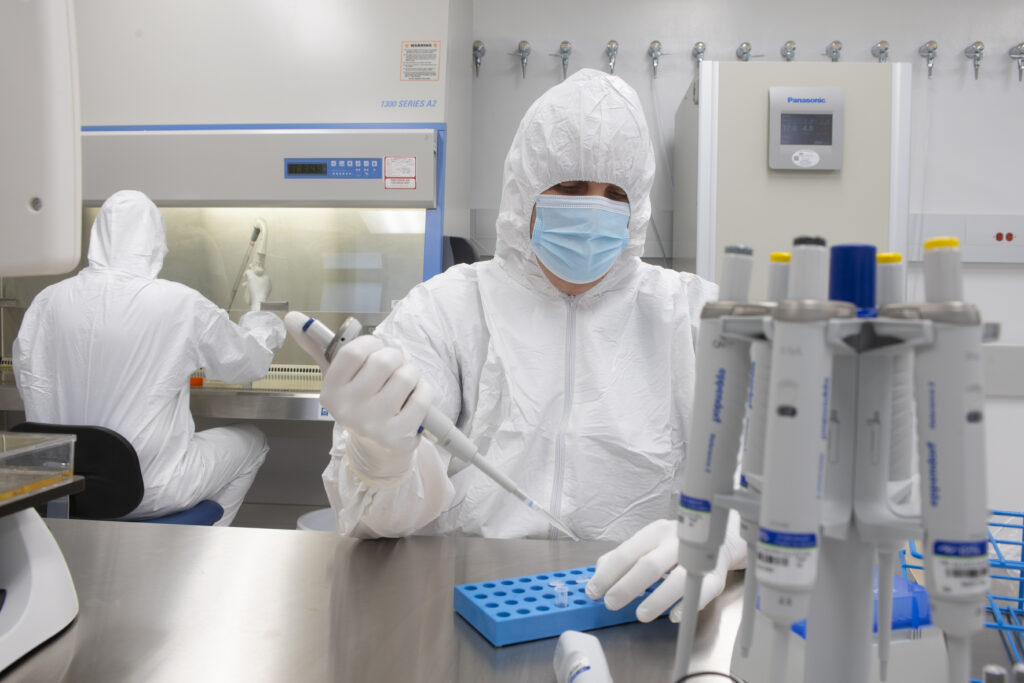 Collaboration, Clinical Trials, and Cell Therapy
Today, Hegazi is part of a team of four physicians; each has three weeks in clinic and one week of inpatient rounds at the hospital. In addition to meeting with patients, Hegazi also has standard meetings with administration, finance, and the other members of his team. Additionally, he meets with the research office to review patients who are enrolled in clinical trials. On top of that, he gives lectures and teaches the fellows.
All of Hegazi's patients are 18 or older and have developed blood cancers. His role varies from being their primary oncologist to providing a second opinion, informing about clinical trial options, or overseeing bone marrow transplants. Among the procedures and courses of treatments he oversees are allogenic stem cell transplants, which are from a donor to the patient, typically to treat leukemia or myelodysplastic syndrome. Hegazi and his team also provide cell therapy for melanoma, lung cancer, cervical cancer, and head and neck cancers via tumor-infiltrating lymphocytes (TIL) therapy. TIL therapy uses the patient's own immune cells from the solid tumor to kill tumor cells.
"There are those people who love to think outside the box, who love to come up with ideas that haven't been touched before," Hegazi says of the scientists behind the array of new therapies being developed. "I don't come up with the ideas, but I bring the clinical trials to be available for my patients here."
Hegazi gives the example of chimeric antigen receptor (CAR) T-cell therapy, which involves using immune T cells, a type of white blood cell, to fight and destroy cancer cells. The available CAR-T therapy targets one marker for leukemia and lymphoma.
"We are looking at adding more targets to make it an even more successful therapy," says Hegazi. "We are trying to attack the cell from more angles to increase our chances to eradicate the disease."
Increasingly, the approach is to find ways to help the body destroy the cancer itself.
"You can help the body's own cells detect the cancer and kill it on its own and have a better outcome than giving more chemo," says Hegazi. "We take the patient's own lymphocytes out. In the lab, we introduce genetic material in the DNA of those lymphocytes that makes them capable of detecting the cancer. Those cells are able to kill the cancer cells on their own, but they don't have the cancer marked. So when you put the genetic material in them, you put a marker on top of them that marks the cancer. They engage with the cancer cell and kill it."
This technology and approach is all very new and still being developed. Additionally, costs for these treatments are unmanageably high. But Hegazi sees a brighter future ahead with academic medical centers such as UofL Health manufacturing their own cells.
"The therapies that we have to send to be manufactured and come back to us are very expensive," says Hegazi. "In the future, I believe healthcare systems—especially academic healthcare systems like UofL Health that have the ability to manufacture their own product—will bring down the cost and make manufacturing much more streamlined by making what we need on site."
A Patient's Advocate
Hegazi understands that patients and their families dealing with these diseases have more than enough to handle beyond having to worry about unmanageable healthcare costs. He is in the fight with them for better treatments, less cost, and, most importantly, better outcomes.
"When you go into this field, you find yourself being the best advocate for patients when they develop what they have, because you've seen it and you know what it's like," he says. "You want someone who has been through this many times to tell you, 'What do I expect, how am I going to feel, where am I going to be?' I might not be able to put out fires, but when we have to face it and the patient has to go through, I will hold his hand and we will do our best together to get through. My goal is that they understand what we are doing and what are we promising them. You have to be as real as possible, as supportive as possible, as caring as possible with compassion and sympathy."
Hegazi stresses that transparency and honesty are crucial in communicating with the patients and helping them understand what they are facing and what their expectations can be. The expected outcomes aren't always favorable, but Hegazi and his team pledge to be with the patient and their families every step of the way.
"Even when we lose the battle, that doesn't mean my relationship ends with the patient's family, says Hegazi. "I do my best to attend the funeral or visitation. My team does the same thing. We connect with the families on a very human level. Their loss is huge to us. We share that with them because their families become members of our team in caring for the patient."
Though the reality might be that they aren't actually family, Hegazi's perception says otherwise.