Lexington Clinic Orthopedic Surgeon Tharun Karthikeyan, MD, embraces the advantages of the ROSA robot
LEXINGTON A master craftsman not only possesses remarkable skills, but also knows what tools to use, when to use them, and why. The skill comes in utilizing the tool to its full capacity.
Orthopedic surgeon Tharun Karthikeyan, MD, has made a career of using his keen eyes and steady hands to perform delicate knee and hip replacement surgeries. It is fair to say he has mastered the craft. A native of West Virginia, he graduated from James Madison University. He continued to study his profession of choice, honing his skills at the University of Pittsburgh School of Medicine, where he also completed an orthopedic surgery residency and a trauma fellowship. He completed a total joint fellowship at OrthoCarolina Hip and Knee Institute in Charlotte, North Carolina. In 2012, he brought his talents to Lexington Clinic's department of orthopedics and sports medicine, specializing in joint replacement.
For the ensuing decade, the techniques that Karthikeyan used to perform hip and knee replacements remained largely unchanged. He consulted with patients and their families before surgery, explaining the marginal risks, recovery process, and likely outcomes. He carefully planned every surgery with his team, mapping out the processes, becoming more precise and more efficient. He and his surgical team had virtually perfected the procedures and were overwhelmingly successful in helping the majority of their patients have positive outcomes. But despite all the training, skill, and practice, there was still room for improvement. That improvement came with the addition of a new team member who goes by the name of ROSA®, the Robotic Surgical Assistant, manufactured by Zimmer Biomet.
"I was hesitant at first because knee replacement was my bread and butter," admits Karthikeyan, who also serves on the Board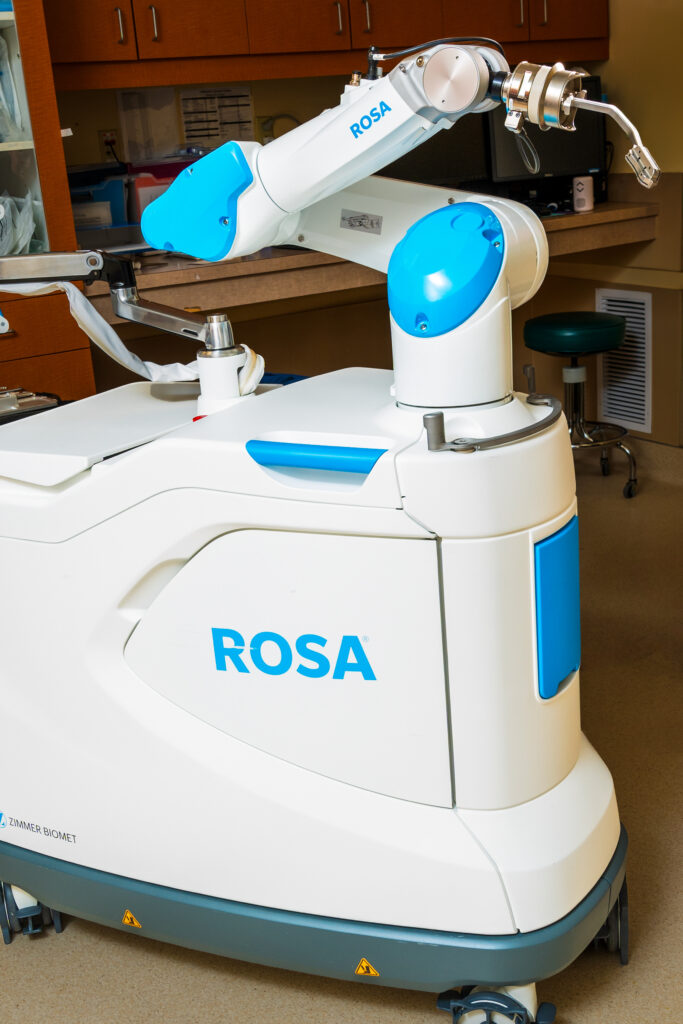 of Directors of Lexington Clinic and is the Director of Hip and Knee Surgery at Saint Joseph Hospital. "We were efficient and had good outcomes with patients. It didn't feel like we had a problem to fix. But the reality is, that while a knee replacement is a very good and reliable operation, there are still about 10 to 20 percent of total knee replacement patients that don't really love their knee replacement. Robotics is going to be the technology that unlocks the secret of how to bring that dissatisfaction rate down."
Lexington Clinic began exploring the possibility of robotics for knee replacement in 2022, evaluating the leading robots on the market before choosing ROSA. Karthikeyan and his team acquired ROSA in January 2023 and, after training, performed their first procedure using ROSA in early February. Now, Karthikeyan uses it multiple times per week. "Anyone who is a candidate for a knee replacement is a candidate for a robotic knee replacement," he says. "We use the robot for almost every knee replacement."
Physician and Patient Education
Today, there are only two ROSAs in use in Kentucky. As an educational consultant for Zimmer Biomet, Karthikeyan provides surgeon-to-surgeon education on the use of ROSA robotic technology. Surgeons from Kentucky, West Virginia, and Indiana have come to Lexington Clinic Surgery Center to observe Karthikeyan and his team perform total knee replacements.
"Those are some of my favorite days," says Karthikeyan, who was the first surgeon in Lexington to employ this robotic surgical system for knee replacement. "It's exciting to share the technology and to answer questions."
Karthikeyan performs surgeries on Mondays, Wednesdays, and Fridays. Approximately 55 percent of those surgeries are knee replacements, with the other 45 percent hip replacements. He sees patients in the office on Tuesdays and Thursdays. The average age of his joint replacement patients is 63 years old and evenly split between men and women.
During the patient consultation, Karthikeyan encourages patients to try nonsurgical options if they have not already done so. He explains what a knee replacement is, using a model as a visual aid, and discusses recovery time and the importance of physical therapy.
"There are often misconceptions about what a joint replacement looks like," says Karthikeyan. "For knee replacements, people get the idea that the bone is just lopped off here and lopped off there and it's just a big piece of metal. But we actually keep the bone and just cut off the arthritic ends and essentially cap them. Another common misconception is the longevity of the implants. People think that
"Anyone who is a candidate for a knee replacement is a candidate for a robotic knee replacement,"- Tharun Karthikeyan, MD, orthopedic surgeon, Lexington Clinic Department of Orthopedics and Sports Medicine
their hip or knee replacement is only going to last 10 or 15 years, but we can get 30 to 40 years or longer out of the modern materials." With less than a year of experience utilizing ROSA, Karthikeyan and his team already have become experts in the process. They can perform the robotic knee replacement in about an hour, which is essentially the same amount of time as needed for the conventional total knee replacement surgery.
Regardless of the robot's capabilities, the success of every surgery still relies on the skillful work of Karthikeyan and his team. ROSA is a tool that hasn't replaced them but has enhanced what they are able to do.
We have a team that is very well versed in these operations," Karthikeyan says. "Many times, I don't have to say a word. They know what the next step is and I just hold my hand out and the instrument is there. There is no single one of us who could do this on our own. Everyone understands that their role is critical and that, ultimately, we all work for the patient."
Investment Begets Better Outcomes
Putting the patient first is what led to the decision to purchase ROSA in the first place. While it is too early to get an accurate picture of the long-term advantages of a knee replacement using the robot, other benefits are already apparent.
"Even a very high-volume, experienced total knee surgeon is going to have a margin of error in terms of estimations of angles, thicknesses, or distances. The robot is more accurate in estimating those variables," says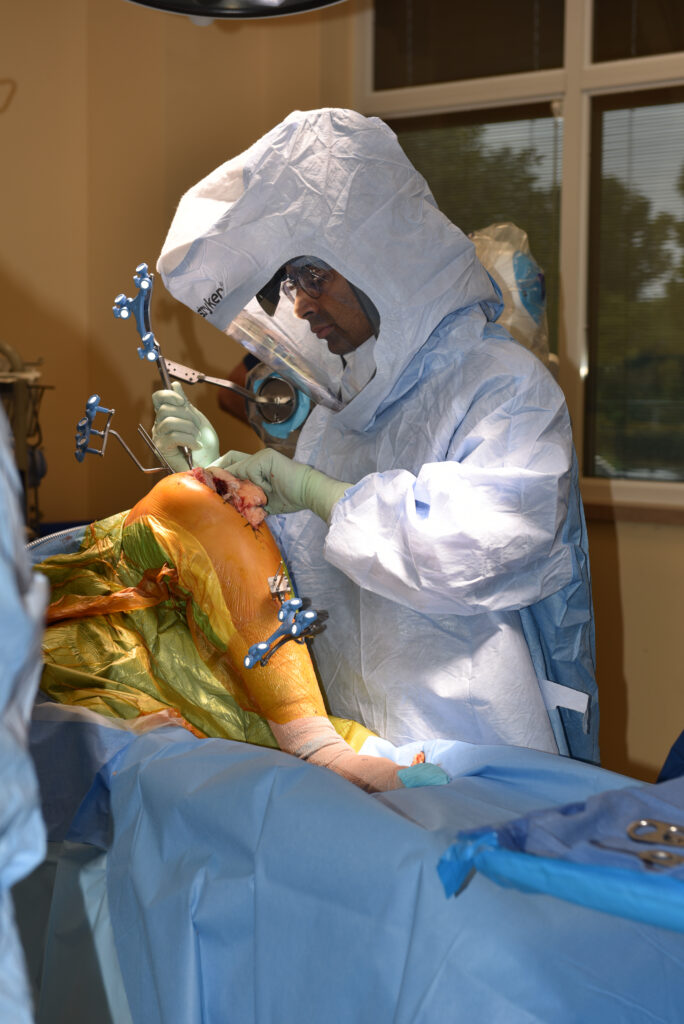 Karthikeyan. "A knee replacement depends highly on the accuracy of those measurements. The robot also allows us to make minor adjustments virtually, before we make any actual cuts to see how that will affect the overall behavior of the knee in terms of range of motion. So we can make minor adjustments and test them in real time before we ever make a cut. That's not something we can do with traditional instrumentation."
Also in the future, at least for Karthikeyan, is the use of the robot for hip replacements. In the meantime, the master craftsman will continue to fine tune his skills with ROSA and the knee replacement procedures. Once a skeptic, he is now a firm believer in the benefits of the robot for his patients, his team, and even himself.
"The benefit for the patient, we think, will be an earlier recovery and a longer lasting more natural feeling knee replacement," he says. "The benefit to me is that I can feel more confident in the knee replacement that I just executed for that patient."