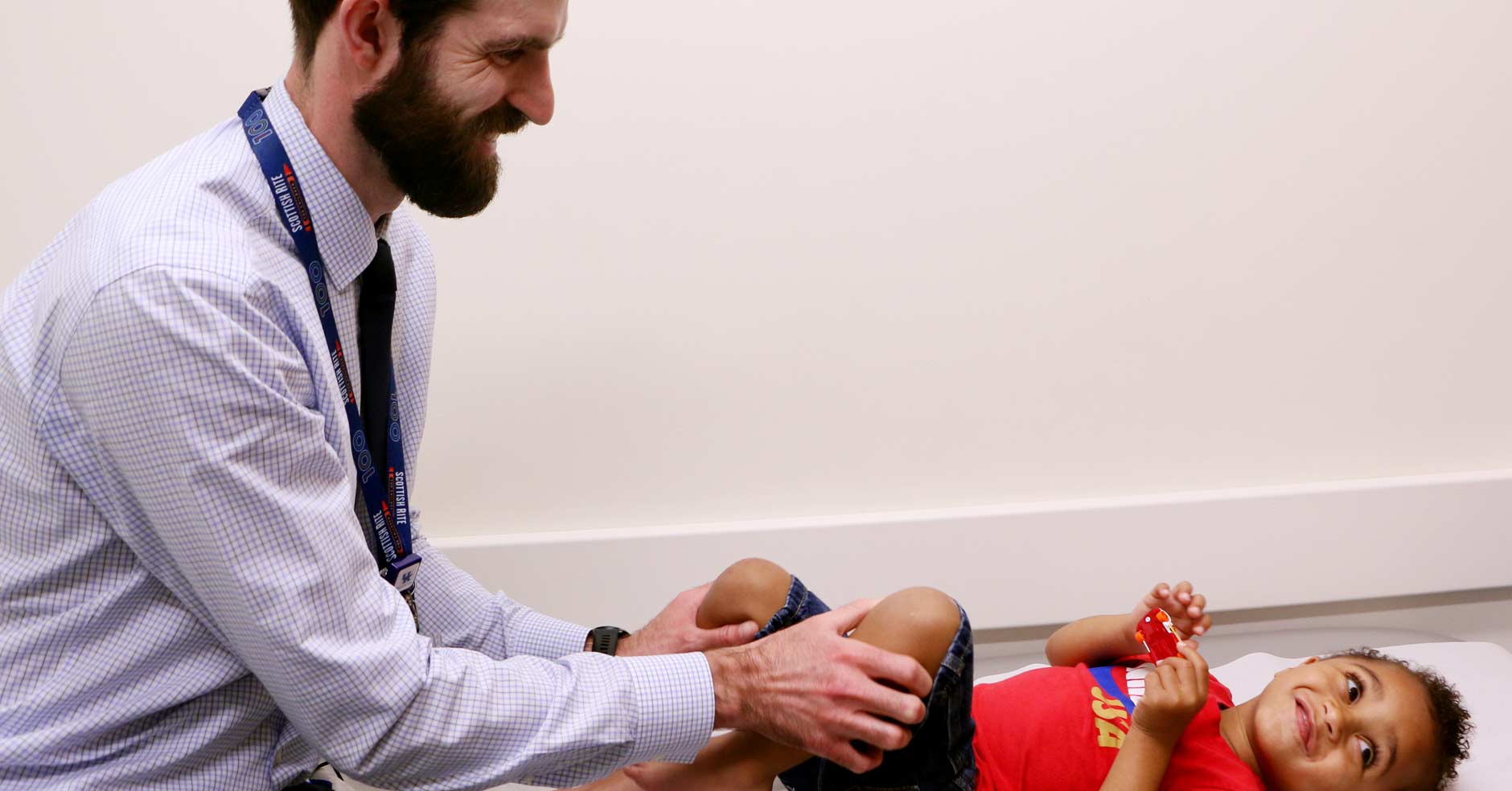 Pediatric orthopedic surgeon finds joy in treating children
Tell us your education, medical training, and work history.
I grew up in Boulder, Colorado. I completed my undergraduate education at UC Berkeley in California and then did my medical training in St. Louis at Washington University Medical Center where I met my wife. We were medical students together and then matched together at UC San Diego for residency. After orthopedic surgery residency, I did my pediatric orthopedic fellowship at Scottish Rite for Children in Dallas. I started at Shriners and UK in the fall of 2022 with my wife starting in the OB-GYN department at UK at the same time.
Tell us how you became interested in pediatric orthopedics.
My love for pediatric orthopedics began during my first rotation of third year medical school, working with Dr. J. Eric Gordon at Washington University in St. Louis. Dr. Gordon is a big name in the pediatric orthopedic field and also a truly caring and nice person. Seeing the positive difference he was able to make with his surgeries and his incredible rapport and calm confidence with his patients and families was inspiring. So, my initial interest in orthopedics was specifically because of my interest in pediatric orthopedics. My interest in pediatric orthopedics was then furthered during my residency training in San Diego where I was fortunate to work at Rady Children's Hospital with a number of renowned pediatric orthopedic surgeons.
I enjoy working with kids because there is an incredible opportunity to impact them in a positive manner for the rest of their lives. By addressing a significant lower extremity deformity or some of these bigger problems that we treat, a pediatric orthopedic surgeon can have a huge impact on a child's quality of life. Even with something like a fracture, kids are motivated and want to get back to doing the things that they love to do and being able to participate in that process is rewarding. In addition, I really enjoy the interaction with families as pediatric orthopedics is a team effort.
What brought you to Kentucky and Shriners Children's Lexington?
I came to Shriners Children's Lexington through a fellowship connection with several of my partners having also trained at Scottish Rite in Dallas. My interest in Shriners specifically really goes back to being exposed to the Shriners system early in my medical career and the amazing care that I saw Dr. Gordon and Dr. Perry Schoenecker providing as part of this institution. The mission of Shriners has always resonated with me — taking care of the kids that may have no other resources and may have no other place to go. Being able to help the families that really need us is incredibly gratifying. Walking the halls at Shriners, you see people who have been here for 15 or 20 years or longer because they're all committed to the same goal, which is trying to make sure that we're doing the right thing for each patient.
Describe your patient population and presentations?
My practice is still growing, but in general it is focused on the lower extremity. For the most part that means things like clubfoot, hip dysplasia, and lower extremity deformities and deficiencies as well as neuromuscular conditions. A lot of these kids have something that's either happened at the time of birth — or around the time of birth — and has created challenges that we can help with as they move forward. In addition, I also take care of a wide range of acute injuries. Presentations are varied, and that is one of the things I enjoy about pediatric orthopedics. Within one clinic you can see a foot, a hip, and an upper extremity issue, and that variety, as well as the ability to take care of the entire patient, is something that is unique to pediatric orthopedics.
Describe the challenges and rewards of being a pediatric orthopedic surgeon at Shriners Children's Lexington.
Over the last several months, I have become acutely aware of the limited health resources that a lot of our patients have. The challenge with surgery is often the perioperative care and ensuring that patients are going to be successful when they go back to their home environment. For instance, is a patient going to be able to rehabilitate from the surgery that you're doing?
One of the advantages of Shriners is that we have many services on site to help patients as much as we can during visits. For instance, we have prosthetics and orthotics; we have the therapy groups and we have multiple different orthopedic and non-orthopedic subspecialties all under one roof. So, when we have patients that travel from several hours away because they don't have access to resources closer to home, we try to provide as complete of an approach to care as we can.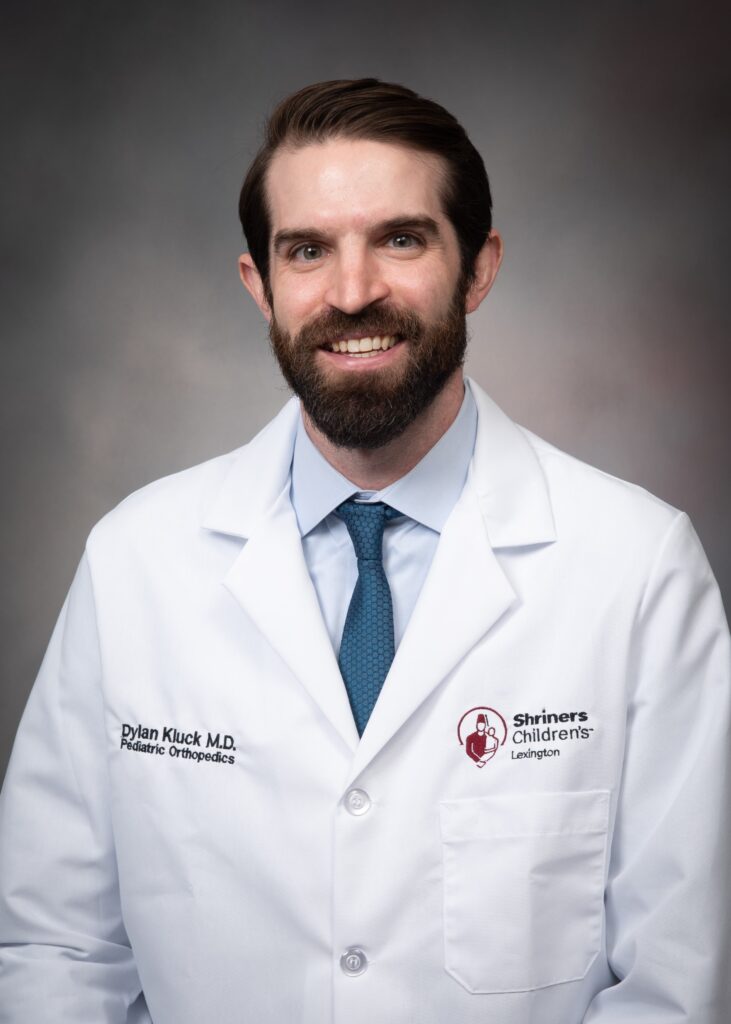 The rewards of working at Shiners are that we see a lot of kids that come in that have had no healthcare and need a lot of help. Often, families are not here for small problems — they're here because they legitimately need care and often have nowhere else to go. At the same time, my partners have worked hard to establish a sense of trust with the care at Shriners Children's Lexington within the surrounding community and we also provide care for more common pediatric orthopedic conditions and acute injuries. As a surgeon, I enjoy being at an institution where we can provide care for a variety of conditions ranging from simple to complex with a focus on always prioritizing the patient first.
Can you talk a little bit about what the partnership with University of Kentucky means in the ability to provide great care?
Shriners has many resources that we can offer, but the physical Shriners Lexington building is an outpatient clinic and surgery center. It is really important to have that academic partnership with the University of Kentucky because it then allows us to take care of both the outpatient and the inpatient care for some of the more complex cases. For instance, my colleagues are routinely doing spine surgeries across the street, and I will perform some of the bigger, lower extremity cases there as well. Having the level one trauma center and the expertise of all the personnel associated with the University of Kentucky helps us take care of the unique and challenging conditions that we see at Shriners.
What are the most common misconceptions about your specialty among non-pediatric orthopedics and other specialties that you want to address?
I think sometimes primary care providers feel bad about referring something that's not obviously a surgical problem, but in truth we see a lot of things that are not surgical and can often still help these families by educating them on the non-operative things that we can do as part of their care. In addition, we may have the expertise to pick up on something that's more subtle, and that is ultimately our role as specialists!
Describe your personal philosophy of care.
Pediatric orthopedics is unique in that care very much does depend on the collaboration between the patient, the provider, and the family. To that end, one of the challenges in pediatric orthopedics is that just because you can do something doesn't mean it's the right thing for that particular patient and family. I think to have a good outcome in pediatric orthopedics you need to have full buy-in from the family and make sure that they're comfortable with the plan of care, you have to have the patient's best interest in mind, and you have to work very closely as a team to achieve that outcome. I really try take this dynamic into consideration as I outline a treatment plan. I strive to make sure the family understands that they have options and that they understand the risks and benefits of the different things that we're proposing so that we can make the best decision for their child and for their family as a whole. As such, I focus on spending as much time with each family as they need to make sure they get the care they deserve.