The pandemic shined a light on the importance of research in infectious disease
LOUISVILLE The COVID-19 pandemic had an immediate global impact, changing the way we live our lives. Some changes, such as virtual school, were temporary. Others, such as increased use of telehealth, are here to stay.
At Norton Healthcare in Louisville, Kentucky, a big change came in the organization's way of working with infectious diseases.
"Everybody now is trying to plan how to get ready for the next pandemic, assuming that COVID-19 was a rehearsal, because a new virus with only a 1% mortality rate is a very mild pandemic," says Julio Ramirez, MD, chief scientific officer at the Norton Infectious Diseases Institute. "With this mild pandemic, we did so poorly. Imagine if we get a bad virus. One of the areas of being better prepared is to have research in the field. COVID-19 brought the concept of the Norton Infectious Diseases Institute to Norton Healthcare. There are multiple areas that we can do research on infectious diseases and we plan to do that."
"There's a dearth of information in pharmaceutical research into infectious diseases. Being able to participate in both clinical trials as well as investigator-initiated research has been really interesting. This helps solve some of those problems concerning which antibiotics we should use for which patients," says Ashley Wilde, PharmD, BCIDP, director of Infectious Diseases Clinical Programs and Research at Norton.
Meet Ashley Wilde, PharmD, and Julio Ramirez, MD
Wilde was born in Minnesota but spent most of her formative years growing up in Indiana. She earned her PharmD at Purdue University, then did a pharmacy residency at Hartford Hospital in Hartford, Connecticut. She then returned to the Midwest, joining Norton in 2011.
Ramirez, who has been in Louisville since 1987, was born in Argentina. He attended La Plata Medical School and did his residency in internal medicine at the University of Chile. He completed a residency in internal medicine at Lincoln Medical Center, then his infectious diseases fellowship at the University of Louisville. He joined Norton Infectious Diseases Institute to guide infectious diseases research in 2021.
"Usually in the area of research we tend to develop expertise in a particular area, a particular field," Ramirez says. "I was interested in the field of respiratory infections, primarily pneumonia, and this has been my area of research over the years."
Wilde was interested in the treatment and study of infectious disease early in her career as well.
"As a pharmacist, infectious disease is very interesting because it challenges how you approach and manage patients," Wilde says. "With research there is much that needs to be known about the best management because infectious diseases really struggle getting industry research. Unlike other specialties, like cardiology where medications can be taken every day for the rest of your life, antibiotics do not fall into that area."
Wilde's scope of work involves a unique mix of both patient care and research.
"My team oversees the use of antibiotics in patients in the hospital," Wilde says. "I help support them when it comes to figuring out best approaches. I also support some of the clinical trials going on at Norton Healthcare in a variety of capacities, whether it's working on protocol development, or manuscript development, or even serving as a research pharmacist on some of our investigational studies."
Wilde also has a one-year infectious diseases residency training program in which she serves as the program director and as a preceptor.
In his role at Norton, Ramirez is nearly 100 percent involved in research activities. His patient interactions are generally limited to seeing patients who are involved in a clinical study. His primary focus is on research involved with the field of respiratory infection.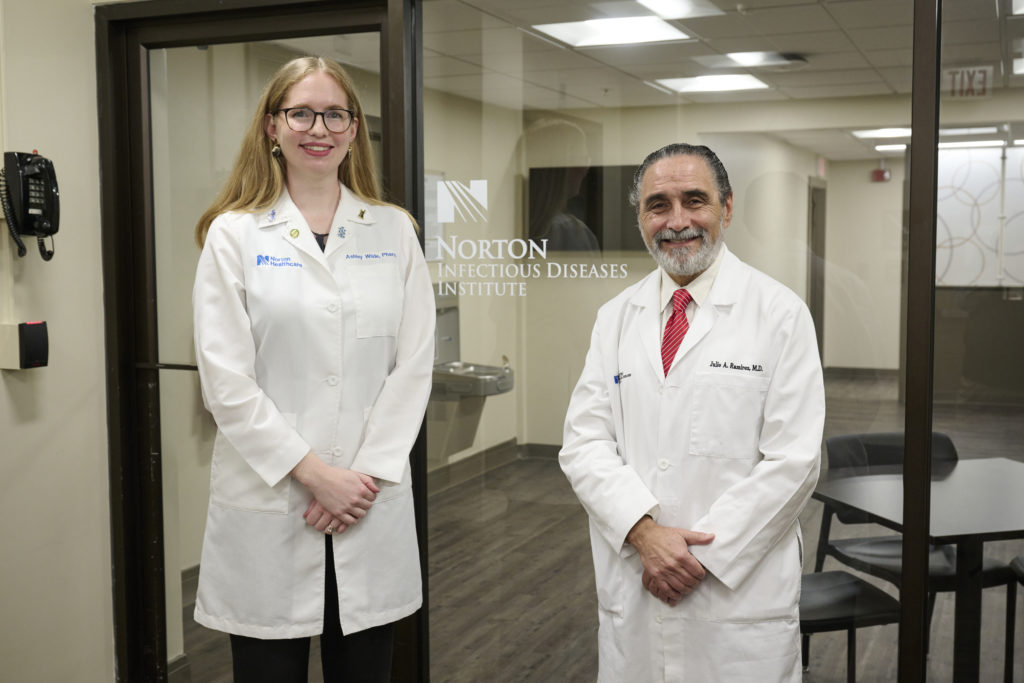 "When you do training for infectious diseases, there's not a single area of medicine that you're not going to see patients because infections happen all across the board," Ramirez says. "We interact with all the specialties."
"A lot of what I do is to optimize patient outcomes by helping people understand when antibiotics need to be used and when they don't," Wilde says. "Kentucky has, for reasons that we don't fully understand, very high antibiotic use. Data from the CDC shows that Kentucky has the fifth-highest antibiotic prescriptions per 1,000 population in the United States. Culturally, our patients get prescribed a lot of antibiotics either because of comorbidities that particularly affect the southeastern United States or because there is an expectation that when we go to see a provider for symptoms that an antibiotic is prescribed."
Is Infectious Disease a Cultural Issue?
One of the challenges in researching the impact and treatment of infectious diseases is understanding the various cultural and environmental reasons for varying outcomes, even within the same state. For instance, if outcomes in rural Appalachia differ from those in urban Louisville, what specific cultural, economic, or geographic factors contribute to those differences, and why?
"One of the challenges that we have doing research in infectious diseases is getting minorities to be represented in clinical research," Wilde says. "One of the things that we do at Norton Healthcare is really try to support specific efforts to encourage minorities to participate in clinical research so that we don't keep perpetuating this under-representation when we extrapolate the results to a population."
For example, Ramirez pointed out that studies on pneumonia determined that socio-economic status — not ethnicity — was the primary reason for infection in pneumonia patients.
"It's not their race that predispose them to infection," Ramirez says. "It's their socio-economic position."
It is data-driven insights like that which both Ramirez and Wilde say makes their work so important. The answers all not always clear. Medical professionals are doing their best to treat their patients based upon best practices. But those best practices can change when presented with new information.
"The primary misconception of the public is that we know a lot in medicine, but in reality, we know probably 50%, and the other 50% is still for us to learn in infectious diseases," Ramirez says. "If you have a physician that in the last three years didn't change the way that he treats patients, this physician has not studied. You need to keep evolving because we keep learning."
"When we work with providers trying to get the right antibiotics to the right patients, I think a lot of people have the perception that we're telling them that they were doing it wrong," Wilde says. "What we're really trying to do is collaborate with them to try to optimize those clinical outcomes."
And trying to be better prepared for the next pandemic.
"If people were not aware of research in infectious diseases, COVID-19 changed the spectrum," Ramirez says. "The importance of doing research in infectious diseases became very clear to the worldwide population."