UofL Health urologist sees innovation and holistic care as her future in urology
LOUISVILLE/SHELBYVILLE Exhilaration is what Kellen B. Choi, DO, FACOS, and UofL Health and UofL School of Medicine faculty urologist experiences each time her choices for patient care result in relief from pain or discomfort. But then, passion by its nature ignites many peak moments like this, and the thrill that her chosen specialty of urology excites within her is palpable. For Choi, these exhilarating experiences travel a broad-based, complex root system whose limbs are many. There are the surgical and clinical branches, and the teaching, advisory, investigative, and innovative branches as well. This surgeon planted her seeds in the opportunity rich medical landscape of Louisville, Kentucky. Her tree is flowering
Foundation Stones
Choi's first roots were watered in the small town of Daejon, South Korea. From an engineering father and elementary school teacher mother was spawned the family's first doctor. Choi's easy laughter comes often and we hear it now. "My family was quite surprised. My brother hated the sight of blood, emphatically rejecting medicine, while I knew from age eighteen that I wanted to be a doctor!"
Foundation stones still had to be laid however, and the family moved to College Station where her father pursued a PhD at Texas A&M in the early 1990s when she was in elementary school. For the prodigal daughter, medical training began after five elementary school changes, a return to Korea, and a resettling back in Houston when she was in high school. Choi received her undergraduate degree from Texas A&M in biomedical science, following in her father's footsteps as an Aggie, then completed her medical graduate work at University of North Texas Health Science Center. West Virginia's Charleston area Medical Center welcomed her to begin an engrossing five-year urology surgery program.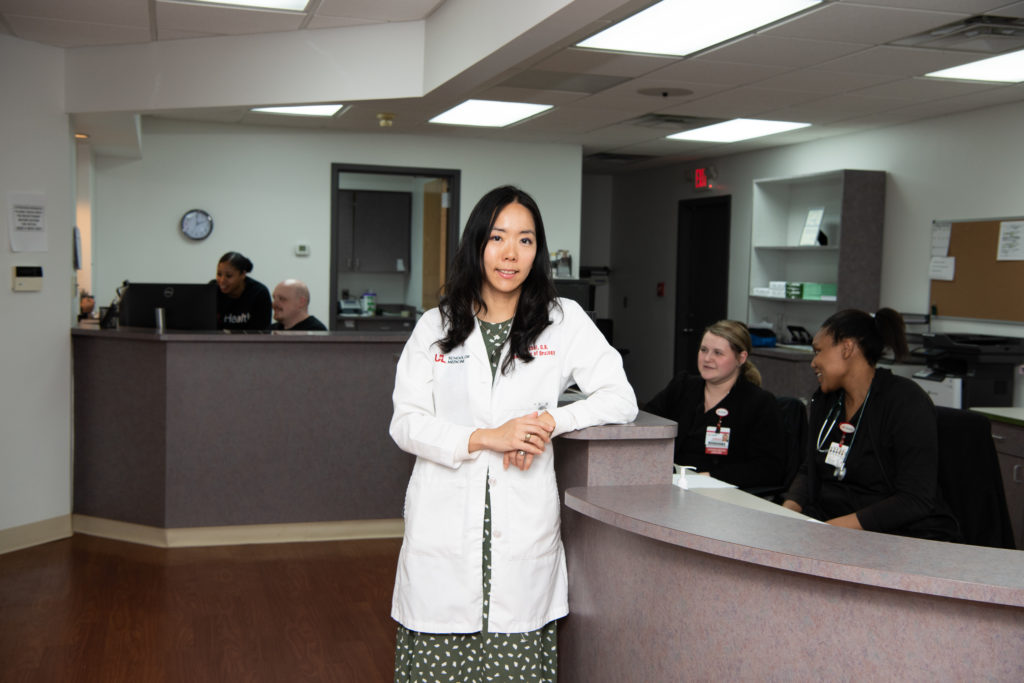 "I originally imagined a pediatric path, but realized I was drawn to the adult population even more," says Choi. "I was shadowing my favorite attending and got to see so many cool surgeries and fell in love with operating," she recalls. Once graduated, good standing and good luck conspired. Providence lowered a colossal cornerstone into her laudable foundation when she became a pupil of Steve Siegel, MD, a world-renowned urologist in neuro-urology and sacral nerve modulation. Choi's reconstructive urology fellowship ensued. They travelled to Mayo Clinic as part of her training with him. It was there she was exposed to the bladder pacemaker.
It was time to build a nest, and in the late winter of 2017, new roots were put down in Kentucky. Choi's husband Alex Ng, MD, pulmonologist, critical care specialist and faculty member of UofL, had done training as a fellow there, and she had interviewed there previously. Fortunately, they discovered that opportunities for both a pulmonologist and a urologist existed in Louisville. "We knew it was a great place to raise a family and we have been here ever since."
Principal Concerns and Progressive Approach
"I discovered a passion for this specialty because it is like surgical family medicine for the urologic system. Over time I might treat a man for enlarged prostate, his wife for incontinence, their daughter for prolapse and maybe their son for vasectomy. In urology, I get to do the work up, direct the course of care, operate if necessary and follow up too. I never have to hand my patients off. I love the continuity of care and the deeper human connection," says Choi.
The field by its nature brings Choi patients who are experiencing difficult and painful dysfunction. They must talk to her about delicate and embarrassing symptoms, so it is necessary to develop trusting relationships quickly. Choi gets to the heart of things on the initial visit learning about the patient's family, social support, and even hobbies to help them be more comfortable. "Only then can I make the best plan for them. No two bodies are the same," says Choi.
An identical presentation may arrive in patients with very disparate systems of belief, support, lifestyle, and access, and so she chooses individually tailored modalities for each patient. It is clear that Choi's rapport with her patients is not only important to them and to her personally, but her understanding of the whole person can contribute to their outcome. "I am very good at making connections with all kinds of people," she says. "We moved so often when I was young, I had to!" Choi's understanding is incisive and her emotional intelligence keen. In the medical realm, that is no small thing.
Treating the Whole Body
"My holistic approach to patient care was built into my osteopathic training," Choi relates. "Non-invasive, non-surgical first. I go step by step, applying this methodology, and employing behavioral modifications first." This doctor understands how aberrations in the musculoskeletal system can affect urologic function, and she uses her knowledge to inform her investigations. Misaligned hips alone can lead to pelvic floor dysfunction, which can cause voiding problems. "I seek to discover and treat underlying cause. Surgery is always my last resort, but if necessary, my patients appreciate that I am a surgeon."
Choi's principal concerns are general urology, complex voiding dysfunction, neuro-urology, female patients with pelvic organ prolapse, and reconstructive urology. With the lighthearted, laser direct candor she uses so successfully in her practice, she sums up her intentions concerning voiding dysfunction. "I help those who can't pee to pee, and those who pee too much, to not," she says.
There is a pervasive misconception that urology is for males only. Women have kidneys and bladders too! Anyone can be challenged with difficulties within the urologic system. While her treatments for testicular issues are clearly male and vaginal prolapse problems clearly female, Choi treats both for cancers, kidney stones, excretion leakage from front or rear, and various bladder problems. "Referrals foster important exchanges, and I love that collaboration," says Choi. "Studies suggest collaboration among doctors corroborates with more successful outcome."
Neuro-urology is a subspecialty for this busy doctor, and she speaks passionately about innovation when working with spinal cord injury, MS, and Parkinson's patients for UofL Health – Frazier Rehabilitation Institute. "Neurologic systems affect each for various reasons. When the heart is irregular, heart pacemakers are used. When the bladder is irregular, the bladder pacemaker is used." Choi also employs the da Vinci® robot, performing ten to fifteen percent of her surgeries for chronic testicular pain and severe vaginal or bladder prolapse this way.
The innovations exciting her now are two new procedures at UofL Health – Shelbyville Hospital. Choi is now offering the minimally invasive UroLift® procedure to help men with enlarged prostate. And, just installed in her clinic on the hospital campus is the region's only video urodynamics testing. Choi's voice quickens as she describes it. "A fully leaded room surrounds a dynamic machine with a video component. We see the bladder filling and emptying, enabling fully accurate readings for function in real time."
More Hats than Days
Choi is principal investigator for a clinical trial for a novel bladder pacemaker. She dedicates a research day for clinical trials while conserving a couple of days each for clinic and surgery. She is also a teacher of humanities, compassionate medical care, and pedological, problem-based courses while serving as advisory dean. The work is gratifying. "I love plugging into first year students, educating, guiding and following them clear through their fourth year." Choi surely enjoys the fruits of her labor as she increasingly sees her female students considering her specialty. "They see a woman who has successfully navigated motherhood and a career as a surgeon. They are inspired, but also students inspire me to be better."
There must be quite a few young women aspiring to walk in her footsteps. Choi's tree, it seems, is still burgeoning.