Cardiothoracic surgeon finds a home in Central Kentucky
"I really customize their medical treatment before and after surgery to their unique situation." — George Dimeling, MD, Cardiothoracic Surgeon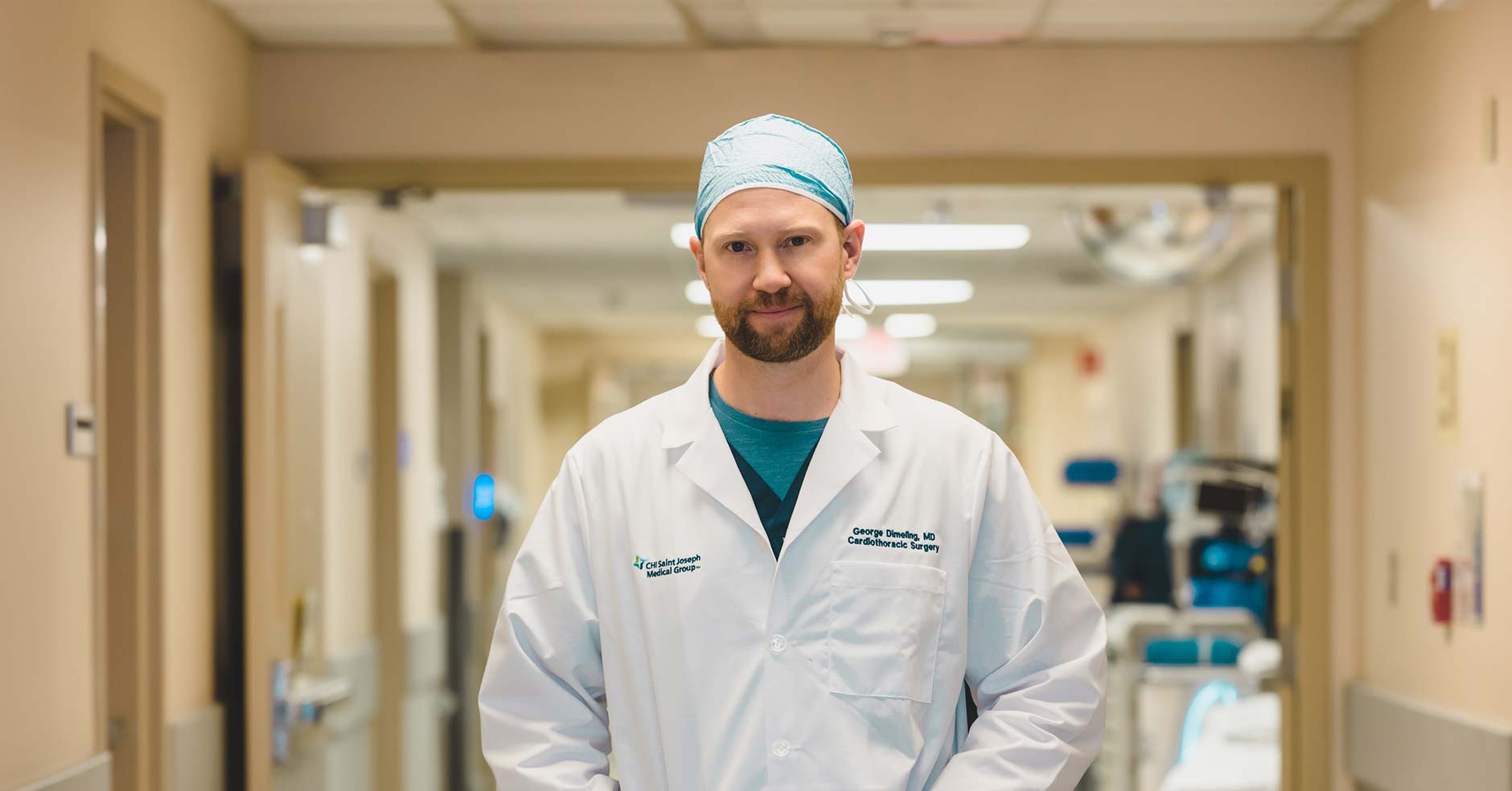 LEXINGTON The collegial culture and institutional values at CHI Saint Joseph Health in Lexington bring out the best in many healthcare providers. For cardiothoracic surgeon George Dimeling, MD, it lets him ensure that his patients feel known and cared for. He leverages the communication and collaboration of his environment to bring what he calls "boutique treatment" to them. Whether Dimeling is providing lifesaving heart surgery or a more elective, preventative procedure, his approach is the same. "I really customize their medical treatment before and after surgery to their unique situation."
A Pittsburgh native, Dimeling was inspired early. His interest in cardiac surgery arose when, as a teenager, he witnessed a heart transplant. A serendipitous favor from a neighbor allowed him to shadow the entire process from meeting the patient prior to surgery until the final stitch. The impact was lifelong and inspiring. Dimeling has remained in touch with that surgeon, and he has even kept in contact with the patient.
After receiving his medical degree from Drexel University's College of Medicine in Philadelphia, Dimeling did an integrated residency program at Stanford University with six years of cardiothoracic surgery training. His first position was in Norfolk, Virginia, where he developed the aortic surgery and mitral valve surgery programs at Sentara Heart Hospital, bringing many innovations from his Stanford program. His use there of TEVARs and the David procedure, the valve-sparing aortic root replacement for an enlarged aortic root wall, and his work in charge of their blood transfusion protocols garnered attention, and Cleveland Clinic recruited his whole team. With the onset of the pandemic, he relocated to Lexington to be closer to his wife's family.
His Typical Workload
Dimeling's weekly routine is similar to most cardiothoracic surgeons, though his approaches can differ. He does an ample amount of bypass surgery, but he prefers to use multiple arterial graphs. He says, "Though 85% of surgeons don't use these, I believe they are better for the patient because they last longer and the native blood vessels improve circulation following the surgery." Dimeling says he is among only a handful of surgeons who choose to never stop the heart when employing a heart bypass machine during surgery. Instead, he employs an aortic pump assist. He says this technique reduces the risk of stroke, blood transfusions, and kidney injury.
Dimeling also treats patients with valvular disease and is trained to perform open or percutaneous valve replacement. Dimeling is also trained in aortic surgery to repair aneurysms and tears in the aorta. He says few facilities offer this, yet patients with connective tissue diseases such as Marfan's Syndrome often need it. Another of his specialties is mitral valve repair, often an elective surgery that relieves shortness of breath from a lifelong heart murmur, which typically worsens with age. Dimeling considers this a valuable quality of life procedure "because it allows people to have a lifelong issue resolved." He also welcomes complicated surgical problems such as surgery corrections and aged valve replacement repairs.
Dimeling's patient population is not what it might have been 40 years ago, he says. "As we learn more about cardiac surgery and coronary disease, we are finding that the traditional populations are changing," he explains. He sees more women whose impaired heart conditions are being detected earlier, and young people whose drug abuse has strained their hearts. There are now more people in their 70s and 80s who are getting bypass surgery. He explains that "Our ability to support older patients with physical therapy and other types of post-op care allows many older patients to go home in 3–4 days." He currently has a load of about 175 cases per year, a relatively low number which plays to his strength — and his patients' benefit.
Boutique Treatment
Dimeling's schedule, commitments, and work environment have allowed him to develop a patient-centered approach that he calls "boutique treatment." While this may connote special care for an elite patient population, that is not what it means to Dimeling. He simply treats each patient with 360-degree attention. "I treat the patient as a whole. This starts with building trust. If you take the time to connect with a patient, to really listen to them, the barriers come down. Getting them to trust me, and me to trust them, is very important because of the complicated procedures I am doing," says Dimeling.
Boutique treatment extends to other needs. He pays careful attention to new medications so he can fine tune patient regimens, and he is an advocate for patient physical fitness.
"Oftentimes I will take them by the arm and walk them around the ward with the nurse or the physical therapist," he says fondly.
Dimeling sees each patient on his rounds each day, stating, "That is when you get to deliver more doctoring than just cardiac surgery fixes. I deal with a lot of other patient issues." He gets involved in their post-discharge care and lets patients know their relationship can continue. Each patient hears from him, "Once I have had my hands in your chest, I am always available to you."
A Highly Valued Environment
Dimeling has long had his vision for boutique treatment, and CHI Saint Joseph Health has proven to be the fertile ground to make it manifest. There are multiple factors that have enabled this. Foremost is the palpable culture of collegiality, collaboration, and attentiveness among the professionals there. He states that "It is really something I have not experienced in any of the other hospitals I have been in. Physicians talk to each other like they are human beings, and they listen." Regular meetings across disciplines facilitate this, as do casual lunches together in the hospital dining hall. This plays into his ability to deliver the boutique experience because everyone can weigh in. Dimeling can do what is best for each patient.
Dimeling considers this culture of CHI Saint Joseph Health something of a throwback. The un-anxious pace, attitude, and respect bespeak a commitment to service that Dimeling thinks comes from the nuns who founded and ran Saint Joseph. "I have heard lots of stories about the nuns, and I love every one of them." More than anything, he concludes, "It comes from the current culture, a lot of people here feel that this work is a mission."
Dimeling also discerns a congruity in the values of the patient population. He is encouraged and spurred on by the Central Kentucky family values of support and togetherness. He says, "I have never seen more family and friends in the waiting room and by the patients' bedsides. It is really special!"
Dimeling's personal philosophy of care allows him to develop a crucial and highly valued program at CHI Saint Joseph Health. Two components have been with him for a long time. He believes you must stay current and be compassionate, putting yourself in the patient's shoes. The third is taking form here in Lexington. He summarizes, "Boutique care is key. You must surround each patient with care on either side of surgery; you must think of each patient and their personal and financial capabilities."
Dimeling knows that CHI Saint Joseph Health is the right place to make that possible. He concludes, "I do feel that there is a sense of mission here."