LOUISVILLE As a specialty, it can be argued cardiology dates all the way back to the 1620s when William Harvey observed and demonstrated blood circulation. The field, however, continues to evolve in fascinating and life-saving ways, as with the emerging subspecialty of cardio-oncology.
Baptist Health Louisville offers one of the few cardio-oncology programs in the nation where cardiologists, oncologists, and radiation oncologists all come together to provide this integrative care to cancer patients. Three key members of the Baptist Health team are cardiologists Mini K. Das, MD; Rebecca McFarland, MD; and Jamie Kemp, MD.
The role of cardio-oncology is to identify, assess, monitor, and treat any conditions of the heart that may occur as a result of chemotherapy, immunotherapy, or radiation therapy. These conditions include pericarditis, arrhythmias, coronary artery disease, valvular damage, hyper- and hypotension, and overall heart failure.
According to Das, "We are trying to attack this from a multidisciplinary process, both from cardiology and oncology, because you don't want to just treat the heart and not treat the tumor and vice versa."
Das comes from a family of physicians. Her father is an internist, her mother a psychiatrist; one sister is a pediatrician, and the other a cardiologist. She attended medical school at University of Alabama School of Medicine in Birmingham, then completed both her residency and fellowship at Mayo Clinic College of Medicine and Science in Rochester, Minnesota. Following, she served on staff at Mayo Clinic prior to entering private practice in Tennessee before joining Baptist Health where she has been for almost 20 years.
Cardio-Oncology: A Burgeoning Subspecialty
Over the past decade, the medical community has realized and addressed the need of hand-in-hand cardiac care and cancer treatment. Thus, the subspecialty of cardio-oncology emerged.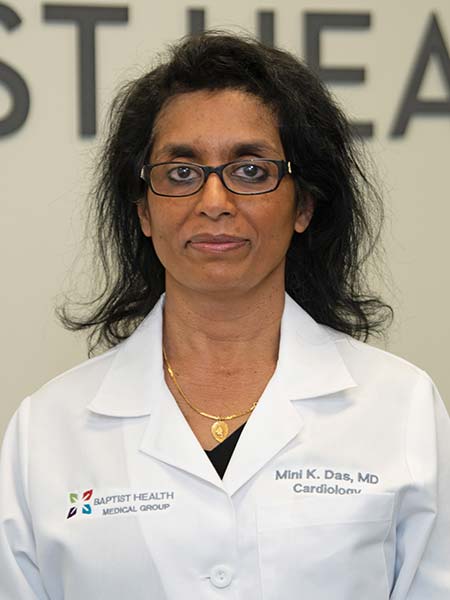 McFarland explains, "There are certain chemotherapeutic agents and types of radiation protocols which increase cardiovascular risk. The patients receiving those therapies are referred into cardio-oncology. We also evaluate patients who have cardiac risks or known cardiovascular disease and are entering into chemotherapeutic regimens that require additional monitoring of their cardiac pathology."
McFarland received her medical degree from the University of Toledo in Ohio and remained at the University of Toledo Health Science Campus for her residency and fellowship.
Not Just Breast Cancer
One might assume it is only the treatments for cancer of the chest area, such lung as breast, that carry risk, but this is a misconception. Despite the type of cancer, there is usually some risk of cardiac side effects from treatment. As Kemp points out: "Over time, some — but not all — breast cancer treatments can increase the risk of congestive heart failure, weakness of the heart muscle, coronary artery disease, strokes, and high blood pressure. Rapidly developing treatments for other types of cancer, including some lung cancers, some blood cancers, and kidney cancer, have also been identified as potentially leading to increased risk as well. Additionally, some radiation treatments may incur cardiac risk over time."
After graduating from the Washington University School of Medicine, Kemp did her residency and internship at Warren Alpert Medical School of Brown University in Rhode Island. She followed up with a fellowship at the University of Louisville School of Medicine and Department of Cardiology.
McFarland adds, "Oncology has made so many advances offering effective targeted therapy for cancer, but some chemotherapeutic regimens affect other organ systems. Patients are referred to us based on the planned oncologic therapy and their history of cardiac disease and risk factors. Referrals are usually not based on the type of cancer."
New Guidelines for Assessing Risk
For patients entering or undergoing cancer treatments, the physicians perform a comprehensive cardio-vascular disease assessment beginning with a thorough medical history to gauge risk factors along with a physical exam. The next step is often an echocardiogram with strain imaging to evaluate heart function. Blood work to detect biomarkers is also common. In addition, the doctors may utilize a traditional stress test, chest x-ray, or MRI.
Many of the risk factors for the development of cardiac side effects are predictable, as they are common comorbidities. These include high blood pressure, diabetes, elevated cholesterol, obesity, prior heart abnormalities/disease, and a family history of coronary disease. Das reiterates: "We know that people who have diabetes, have high cholesterol, have high blood pressure, are sedentary, who smoke, who are overweight, and who already have underlying heart disease are going to be at much higher risk for having a complication. So, those are the people that we really focus on. You want to make sure they are followed closely."
Specific oncology drugs also have higher instances of being linked to heart disease. Among these are anthracycline drugs, such as doxorubicin (Adriamycin), trastuzumab (Herceptin®), cyclophosphamide (Cytoxan®), fluorouracil (5-FU), and mitoxantrone (Novantrone®), along with others.
A two-pronged treatment regimen also garners greater risk. "If you have a patient that's had chemo and radiation, they are the highest risk, because they have already had one potential insult and now require another. They are considered the higher risk population," says Das.
However, it can still be difficult to predict exactly who develops cardiac complications. Das explains, "To what degree cardiac complications occur is interesting because not everybody has the same risk. In addition, not every drug has the same risk profile. Some are very dose dependent. However, many are not and are more dependent on the receptors they target which are present on the tumor but can also be present in the heat and vascular system, which then leads to some bleed over negative effects to the heart and vascular system thus leading to toxicity."
To offset the unpredictability, the European Society of Cardiology recently released new guidelines for assessing risk based on a combination of factors and organizing them by specific drugs, which had not been done previously. Based on which drugs patients have been administered in conjunction with age, gender, and the risk factors previously mentioned, patients are given a ranking of low, intermediate, high, or very high risk. This risk determines baseline testing, frequency of evaluation, and subsequent cardiac treatment. As is often the case, Das expects the American College of Cardiology will follow the Europeans' lead and adopt the latest guidelines or a version of this in the future.
Simultaneous Treatment Is Key
Once risk has been established, a treatment protocol is put in place. "If we see changes from their baseline, we start to understand that that person is starting to have some negative effect, and we try to incorporate heart failure medicines. Hopefully with subsequent improvement in cardiac function we do not have to stop the drugs that fight the tumor so they can complete their treatment for the cancer," Das explains. "At the end of it, the goal is the heart will stay strong, so that down the road, we can potentially deregulate the meds. At the end of the day, we have cured the tumor without sacrificing the heart."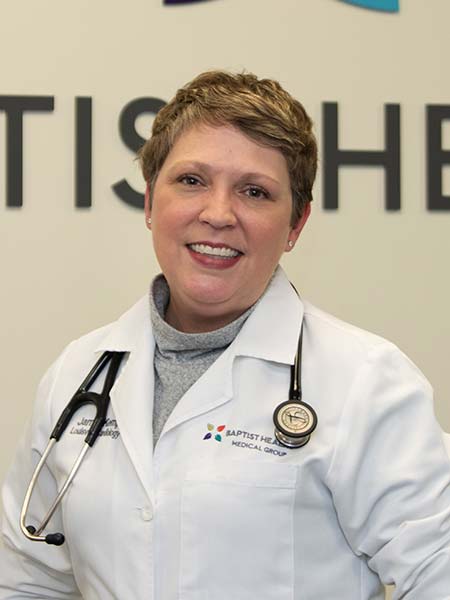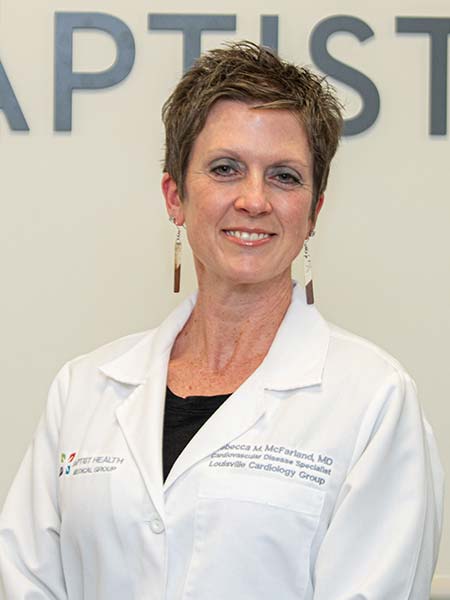 Flexibility, balance, and cooperation are key when it comes to treating cardio-oncology patients. McFarland states, "It is challenging as chemotherapeutic treatment plans can be fluid with frequent changes. Patients' therapies, the dosage of the therapy, the timing of the therapy, all change depending upon patient tolerance of the cancer treatment and response of the cancer to the treatment."
She continues, "It's a balance of what is important for their cardiac issues as well as their oncologic issues. For cardiologists treating oncology patients, it is important that we maintain flexibility and timeliness with visits and testing, to ensure that we are not delaying what is an important therapy for that cancer." Ensuring the patient comes through "as healthy as possible requires constant communication between radiation oncology, medical oncology, surgery, and the cardio-oncology teams," says McFarland.
The Proof Is Patient Outcomes
For their work in the field, Baptist Health's cardio-oncology department has been named a Global Center of Excellence by the International Cardio-Oncology Society. There are only 29 facilities in the country and 40 worldwide who have garnered this distinction. Of the achievement, Das says, "We're very systematic and organized. We have very caring, dedicated, knowledgeable staff and we have had a lot of support from administration. We're the first one in the state to get accreditation from the International Cardio-Oncology Society. We are humbled to be charged with this task."
The department's greatest achievement is positive patient outcomes. McFarland states, "We want them to beat the cancer, but we don't want them to have survived the cancer only to then suffer significant morbidity or mortality due to cardiac disease. So, the best of all worlds is to closely follow these patients, to initiate early effective therapy from a cardiac perspective that allows them to survive the cancer and also survive any cardiac pathology that could arise as well."
Das notices that patients, who have been consumed with their cancer diagnosis and treatment, find hope in the fact that the team is focused on their overall health and quality life after cancer. She gleans satisfaction in making certain that her patients know they are not just identified as a tumor and helping them look forward to a future beyond.
Kemp echoes this sentiment: "I love providing cardiac care for our oncology patients and working with that team. Knowing that we can help our patients live longer, healthier lives is very fulfilling."