Spine surgeon Kathryn McCarthy, MD, returns to Norton Leatherman Spine Center
"I want to make sure people understand that I'm new to Norton Leatherman Spine Center, I'm new to Louisville, but I'm not new to spine surgery." — Kathryn McCarthy, MD, Norton Leatherman Spine Center
LOUISVILLE The rhyme in the old kids' game goes "Step on a crack, break your mother's back." Much like the "floor is lava" game, no real harm came from any unfortunate missteps, but the thought of a broken back still sounds quite traumatic to young and old alike.
Fortunately, there are highly skilled surgeons such as Kathryn McCarthy, MD, spine surgeon at Norton Leatherman Spine Center in Louisville, who are trained to put even the most broken Humpty Dumpty back together again.
"It's not always cookie cutter. There are multiple types of surgeries," McCarthy says. "But by and large, spine surgeons think about things like, 'How do we keep this person as functional as possible,' recognizing that there's got to be an intervention of some kind. So how do we leave the lowest footprint possible?"
McCarthy's first steps toward becoming a surgeon began in Little Rock, Arkansas, where she was born and raised. McCarthy attended Notre Dame University for her undergraduate degree, then attended the University of Arkansas for Medical Sciences for her medical degree. She completed an internship and residency at the Northwestern University's McGaw Medical Center, then accepted a fellowship at the Norton Leatherman Spine Center from 2011–12. For the next 10 years, she was back in Arkansas where she practiced at Ortho Arkansas.
Her father, Richard, is an orthopedic spine surgeon and her younger brother Michael is also a spine surgeon, but family influence wasn't her only draw to the profession. Personal experience and the ability to heal played a significant role as well.
"The power of a single intervention in terms of restoration of health status," she says is what drew her to becoming a spine surgeon. "I myself have undergone a major cardiac procedure, having had a valve replacement when I was a young woman. I was able to benefit from a surgical intervention that allowed me to maintain my functional status. That's point number one. Point number two is that I had a built-in mentor who was passionate about what he did and shared that passion and joy of his own profession, which naturally bled into an interest."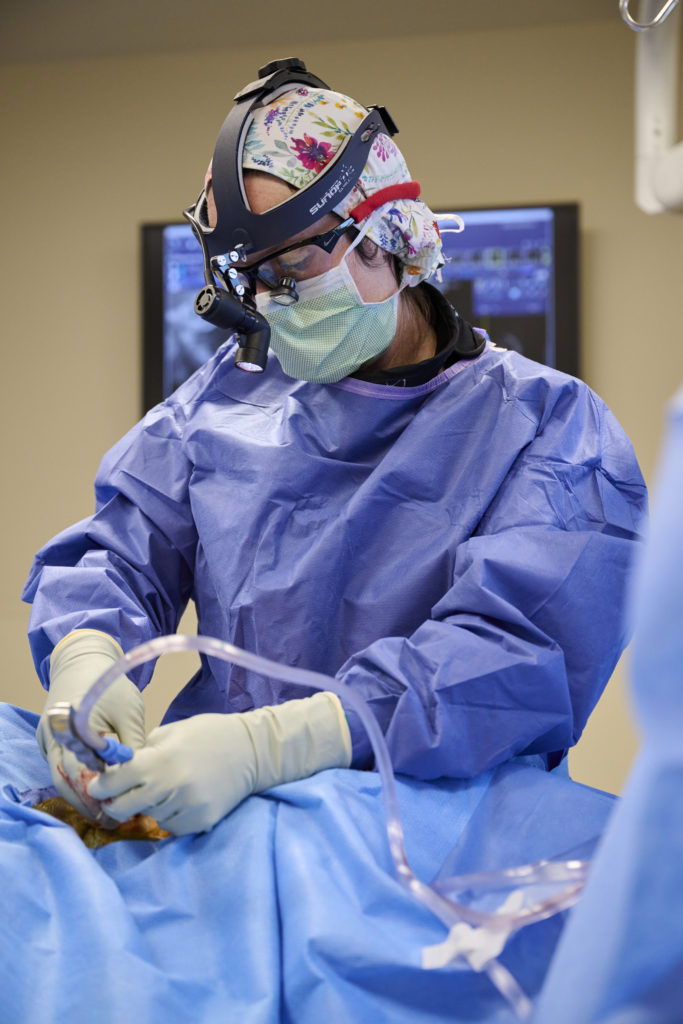 That interest became her profession. She and her husband, who is an anesthesiologist at Norton Audubon Hospital, have four children. They were settled and content in Arkansas, but when the opportunity to return to Norton Leatherman Spine Center came, they both knew it was an opportunity too special to pass up.
"When a place like Norton Leatherman Spine Center calls you and says, 'We have an opportunity that we think might be a good fit,' you don't ignore the call," McCarthy says. "Furthermore, you start to really get in touch with some of those feelings of, 'Wow, I could join something much bigger than myself—the idea of a mission and a systems approach that not only impacts the here and now of caring for patients in the year 2022 and during my career, but also impacts how we develop standards of spine care moving forward. So here I am, having moved my family of four small children and my husband because of that vision and the mission that has been so well established in that space."
A Unique Place for Spine Surgery
McCarthy says that Norton Leatherman is unique to the region.
"You have a research arm, an education arm, and a practice arm that all come together to provide patients an excellence in care that has not been duplicated in this region," she says. "What has been created at the Norton Leatherman Center is a center steeped in tradition, steeped in excellence, and steeped in the pioneers of what's driving what we do today. This is a space where things are evidence-driven. Doing things that are not founded in the evidence will never stand up in a space like this. It's not just surgeons making decisions about surgery, it's surgeons guiding people through the matrix of asking, what's best for me and what's best for the long-term function of my patient."
McCarthy spends two days a week in the clinic where she sees both pre- and post-operative patients, as well as referrals and inpatient consults. Norton Leatherman holds meetings of residents, fellows, and attendings on Mondays and Thursdays, which McCarthy also attends. She typically spends three days a week in the operating room. She sees a wide range of patients, from adolescents to older adults. Presentations include a wide range of conditions, including disc herniation and scoliosis.
"The treatments are diverse, inclusive of minimally invasive techniques, moving into some of the newer technological advancements that we have, but also employing some of the gold standard techniques that we've established as the main line of treatment," McCarthy says. "A lot of the focus in the world of spine surgery is about trying to maintain function while trying to alleviate pain."
McCarthy points out that one successful procedure does not guarantee that other procedures won't be needed in the future. "Human backs are made to work like an accordion, not a hinge," she says. "There's been this misconception that it's a failure if you have to go back in later and address a level above or below where you've already had a surgical intervention done. I try to outline for my patients that that's not failure. I tell them that 'You've gotten to live your life and you've used your back, and another level has now deteriorated.' Thankfully, by and large, we have the capacity to address that."
It is a capacity that she does not take lightly. Neither is she dismissive of her potential influence on future female spine surgeons.
"I think the question is, 'Am I a female spine surgeon or am I a spine surgeon who happens to be female?'" McCarthy says. "Whether you are a man or a woman, to be employed at Norton Leatherman Spine, you are part of something much bigger than yourself. Perhaps I bring a little bit of a different flare or a longer set of hair, but I am honored and humbled and will carry the banner proudly to be a part of this space, in this center."
None of this is a child's game or silly rhyme. It's a profession. It's a life. McCarthy is winning at both.