Jacob Trapp, DO, Joins CHI Saint Joseph Medical Group in Lexington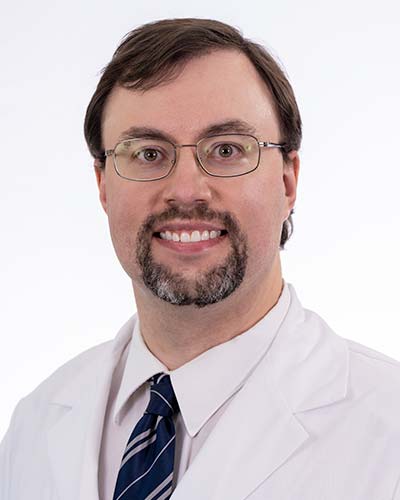 LEXINGTON Jacob Trapp, DO, has joined CHI Saint Joseph Medical Group – Primary Care in the Palomar Center. Originally from Michigan, Trapp earned his doctorate in osteopathic medicine at Michigan State University and completed his internships and residencies in Michigan, Pennsylvania and Ohio before moving to Lexington, where his fiancée is a pharmacist.
"The most important thing when it comes to patients is that you have to take them as a whole individual – not just medical problems, but also mind, body and spirit," says Trapp.
"My favorite experience is when I'm really able to help a patient and have done something to improve their lives, and they come back and say, 'Dr. Trapp you've really made a difference.'"
Trapp's residency training included a year of internship with Henry Ford Allegiance Health in Jackson, Michigan, one year of clinical anesthesiology with the University of Missouri in Columbia, Missouri, and three years of Family Medicine in New Richmond, Ohio; at The Wright Center for Graduate Medical Education, based in Scranton, Pennsylvania. Residents in the program do clinical training in needy communities across the United States.
Trapp is a member of the AMA and the American Osteopathic Association. A big fan of all things Disney, Trapp and his fiancée, Caroline Johnson, a hospital pharmacist at UK HealthCare, will be married at Walt Disney World Resort later this year.
Zaiba Khan, MD, Joins CHI Saint Joseph Medical Group – Primary Care in Lexington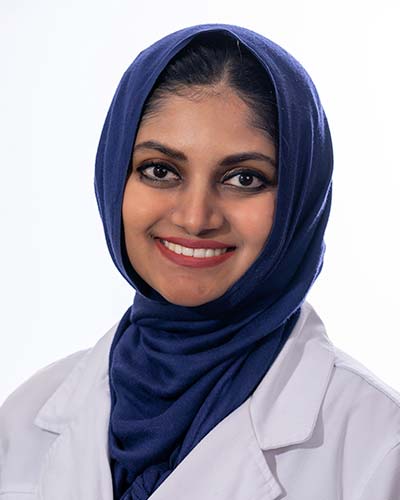 LEXINGTON Zaiba Khan, MD, has joined CHI Saint Joseph Medical Group – Primary Care in the Palomar Centre. Khan comes to CHI Saint Joseph Health after several years as a family medicine resident in the DeTar Family Medicine Residency Program at Texas A&M.
Khan completed her undergraduate education at the University of California, Irvine. During that time, she changed her career path from journalism to medicine after a trip to India where she worked with underserved community members.
"I encountered a girl who was the victim of abuse and could not communicate her needs," Khan says. "I was able to get to know her personally because I was closer to her age. It made me realize that sometimes you need people in your life who will advocate and speak for you, which is how I became interested in medicine."
Khan earned a bachelor's degree in public health and continued her education at Atlantic University School of Medicine, where she graduated with her medical degree in 2017. She received her Educational Commission for Foreign Medical Graduates certification (ECFMG), which recognizes international medical graduates. Additionally, Khan is certified in family medicine, advanced cardiovascular life support (ACLS), basic life support (BLS), pediatric advanced life support (PALS), and is a member of the AAFP.
Amanda Vickers, DO, Joins CHI Saint Joseph Health – Primary Care in Wilmore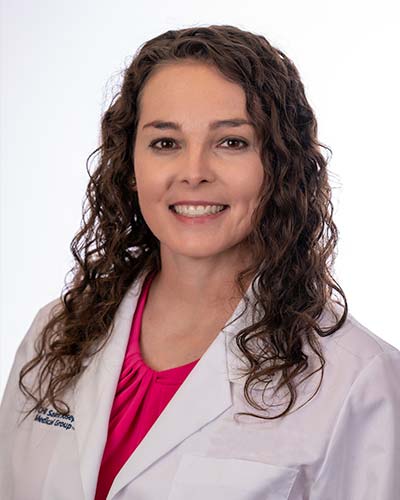 WILMORE Amanda Vickers, DO, has joined CHI Saint Joseph Health – Primary Care in Wilmore. Vickers comes to CHI Saint Joseph Health after several years as a medical director and an attending physician at Dyess Air Force Base in Texas and two years as an attending physician in a family medical group in Jefferson City, Missouri.
Originally from a small town in Arkansas, Vickers grew up in a military household; her father, uncle, and grandfather inspired her to join the service. She served at Dyess Air Force Base in Texas from 2014 to 2019 as a medical director, attending physician and family medicine allergy extender. In 2019, she moved to Missouri to work as an outpatient primary care physician and realized her passion for educating patients on the importance of preventive care.
"I'm the kind of doctor that teaches," says Vickers. "I feel like my patients should know their medications, why they take them, and what it will do for them." Vickers stresses a critical aspect of preventive care is women's health. "As women, we neglect ourselves. Even though we are often the cornerstone of the family unit, we often forget our health care." She says it's crucial to stay up to date on preventive screenings and educate yourself on your body and how to take care of it so you can self-heal.
After receiving her bachelor's degree in chemistry, mathematics, and biology from the University of Arkansas at Monticello in 2007, Vickers attended medical school at Edward Via College of Osteopathic Medicine in Blacksburg, Virginia. She completed her residency in family medicine at the University of Missouri in 2014.
Vickers has received the Air Force Outstanding Unit Award, Meritorious Unit Award, Global War on Terrorism Service Medal, Air Force Training Ribbon, National Defense Service Medal, and the Meritorious Service Medal.
Casey Clark, MD, Joins CHI Saint Joseph Medical Group – Primary Care in Winchester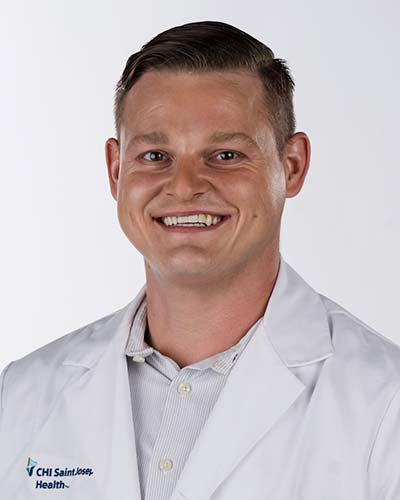 WINCHESTER Casey Clark, MD, a Vanceburg, Kentucky, native with a passion for helping improve health care in his home state, has joined CHI Saint Joseph Medical Group – Primary Care in Winchester. Clark comes to CHI Saint Joseph Health after completing a residency in internal medicine and pediatrics with UK Healthcare.
Clark completed his undergraduate and medical education at UK. Clark says he grew up in an impoverished community and had never been exposed to the idea of practicing medicine, so he didn't consider it a potential career path until he went to college.
"Because of my history and where I grew up, I've maintained an interest in rural health care," Clark says. "I grew up in a family where no one was in medicine, but once I had this exposure to science in, it was an immediate fit. I knew this is what I needed to be doing."
Clark graduated from UK with a BS in biology, is a member of the university honors program and graduated magna cum laude. Upon entering medical school, he participated in UK's Rural Health Scholars Program and Rural Physician Leadership Program. Both programs vet students interested in practicing in a rural area after they complete their medical education and training. The selection process is competitive, and the program allows students to complete multiple clinical rotations across Kentucky, depending on their specialty. Clark has received awards, including being named Internal Medicine-Pediatrics Teacher of the Year and Graduate Medical Education Resident of the Month at the University of Kentucky.
Thoracic Surgeon Nabeel Gul, MD, Joins Baptist Health Medical Group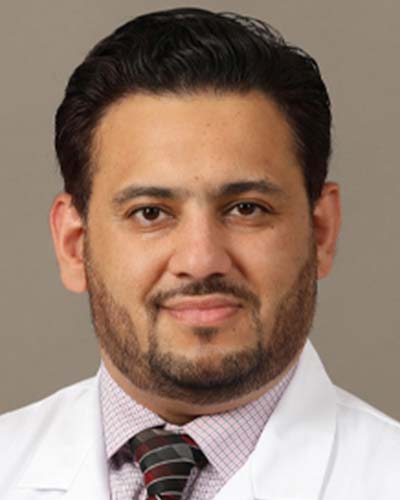 NEW ALBANY Thoracic surgeon Nabeel Gul, MD, has joined the Baptist Health Medical Group. Gul is a board-certified general surgeon and fellowship trained in thoracic surgery, thoracic surgical oncology and critical care. He specializes in robotic and minimally invasive surgical treatment for patients with disorders of the chest, including lung, esophagus, diaphragm and chest wall.
He is a graduate of Jinnah Sindh Medical University in Karachi, Pakistan and completed general surgery residency at Jinnah Postgraduate Medical Center, University of Minnesota and State University of New York at Buffalo. He completed surgical care fellowship at Washington University in St. Louis, thoracic surgery fellowship at Baylor College of Medicine, and thoracic robotic fellowship at the American Association for Thoracic Surgery.
Gul earned several honors including the Baylor Professional Educator Appreciation and Recognition award; Michael E. DeBakey VA Medical Center Best Catch award; Arnold P. Gold Humanism and Excellence in Teaching award; Worthington B. Schenk Resident Teacher of the Year award; SUNY Buffalo Best Overall General Surgery Resident; Louis A. and Ruth Siegel Award for Excellence in Teaching; and was named to the Gold Humanism Honor Society in 2017.
To schedule an appointment with Dr. Gul, call 812.949.5575 or 502.895.2295. He has offices in both New Albany, 2125 State St., Suite 3; and Louisville, 3950 Kresge Way, Suite 402.
Baptist Health Leads the Way in Treating Atrial Fibrillation with New OCTARAY Technology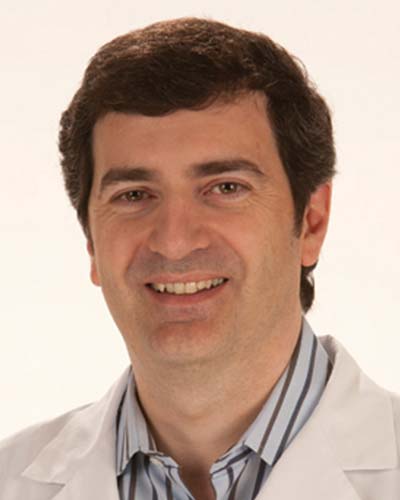 LEXINGTON In July, 2022 Gery Tomassoni, MD, an electrophysiologist at Baptist Health Lexington, was one of the first physicians in the state to use an innovative new tool in the treatment of atrial fibrillation (AF) when he performed an ablation on a patient's heart using the OCTARAY Mapping Catheter.
Traditionally, an additional mapping catheter (PENTARAY) is used to reconstruct the heart anatomy and locate the cardiac sites for ablation. Now with the new OCTARAY technology, the time required to create the atrial anatomy is shorter and identification of the ablation sites is more accurate.
"OCTARAY technology provides additional catheter splines resulting in a higher number of electrodes that also have a shorter distance between them. In addition, the electrodes have a higher recording fidelity. As a result, the electrical signal quality is significantly improved," explained Tomassoni.
"Electrical mapping of the chambers using OCTARAY technology is more efficient resulting in a faster acquisition of both the electrical signals and reconstruction of the overall heart anatomy. Reduction in procedural time and enhancement of workflow efficiency can improve patient care. Less time in the procedure is better for the patient because you're reducing the potential risks associated with longer procedures," said Tomassoni.
Baptist Health Names New Chief Medical Officer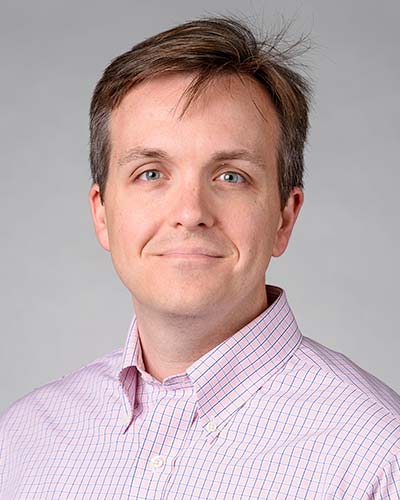 LEXINGTON Lee Dossett, MD, has been named chief medical officer at Baptist Health Lexington, effective Nov. 1. Dossett has been with Baptist Health Lexington since 2009 and has served as a hospitalist and in many leadership roles, including director of hospital medicine, chair of the Department of Medicine, president of the medical staff, chair of the credentials committee, and vice chair of the hospitalist service line.
He is also a Board of Health member for Lexington-Fayette County and president-elect of the Lexington Medical Society. He received both his undergraduate degree and Doctor of Medicine from the University of Kentucky. He completed his residency at The Ohio State University.
Lexington Clinic Welcomes New Physicians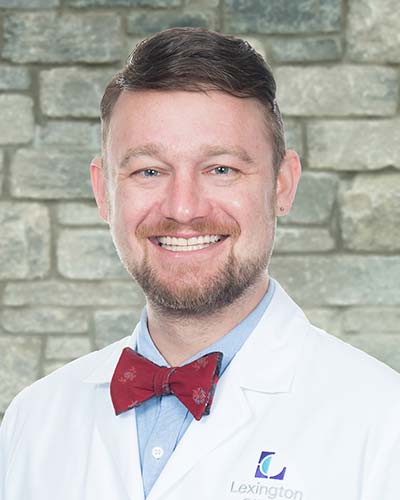 LEXINGTON Lexington Clinic welcomes new physicians: Alexander Patterson, MD, Christian Warner, MD, Eric Schmidt, MD, Rebecca Adams, MD, Robert Lavey, MD, Matthew J. Zimmerman, MD, and Rebecca Geile, MD. Alexander Patterson, MD, joined Lexington Clinic Allergy based out of the Lexington Clinic East location. Patterson completed his fellowship training in allergy and immunology at Washington University and Barnes Jewish Hospital, St. Louis, Missouri. He received his medical degree from the UK College of Medicine and also completed a combined Internal Medicine and Pediatrics residency there.
Patterson specializes in diagnosing and treating allergies, asthma, and immunologic disorders. His professional interests involve food allergy, rhinitis, urticaria, angioedema, drug allergy, and immunodeficiency in both adults and children.
---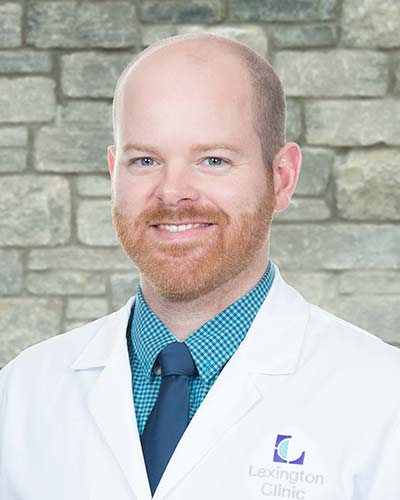 Christian Warner, MD, joined the Lexington Clinic Ophthalmology at the Lexington Clinic East location. Warner received his medical degree from Marshall University Joan C. Edwards School of Medicine, Huntington, West Virginia. He completed an internship in internal medicine at Marshall University and a residency in ophthalmology at West Virginia University.
Warner provides services in comprehensive ophthalmology for adults and children; diagnosis, management, and surgical treatment of glaucoma; diagnosis, management and laser treatment of diabetic retinopathy; small incision cataract surgery; and diagnosis and surgical treatment of eyelid disorders.
---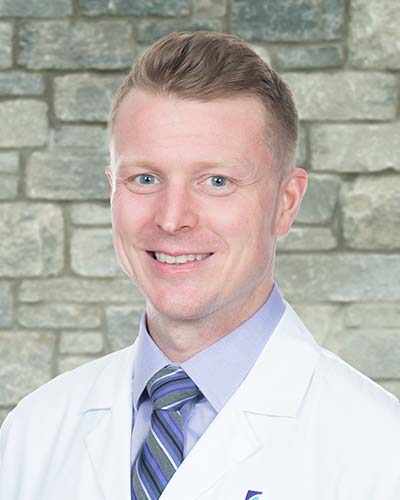 Eric Schmidt, MD, joined the Lexington Clinic Neurosurgery at the CHI Saint Joseph Office Park location. Schmidt received his medical degree from the UK College of Medicine. He completed a residency in neurosurgery at the Cleveland Clinic in Ohio with fellowships in spine surgery and epilepsy surgery.
Schmidt provides consultation services in cranial, spinal and peripheral nerve surgery, including primary and metastatic brain tumors, vascular lesions, spinal tumors, deformative and degenerative spinal disease, medically-refractory epilepsy, pituitary tumors, Chiari malformations, and compressive neuropathies. Schmidt's professional interests include complex spinal pathology, surgical management of intractable epilepsy, and neurosurgical oncology.
---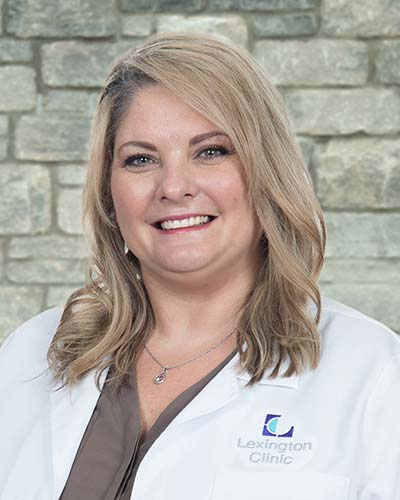 Rebecca Adams, DO, joined Lexington Clinic East. She received her DO degree from the University of Pikeville-Kentucky College of Osteopathic Medicine and completed her family medicine residency at St. Elizabeth Healthcare in Edgewood, Kentucky.
Adams is board-certified in family medicine and provides services in general family medicine, geriatric medicine, women, adolescent and children's health issues, and preventive medicine. Her professional interests include patient education and patient centered care.
---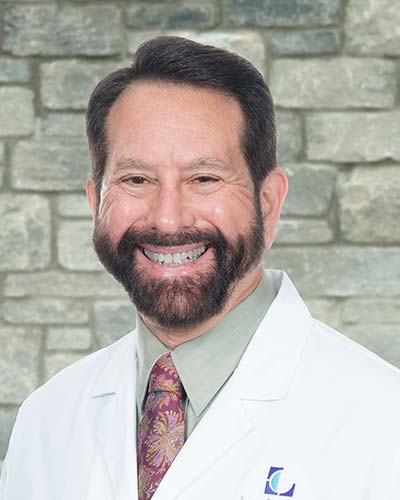 Robert Steven Lavey, MD, MPH, joined Lexington Clinic Radiation Oncology at the CHI Saint Joseph Office Park location. Lavey is board-certified in radiation oncology by the American Board of Radiology. He received his medical degree from Stanford University in California and his MPH in epidemiology from the University of California, Berkeley. He was chief resident and completed his radiation oncology residency at Duke University Medical Center, North Carolina.
---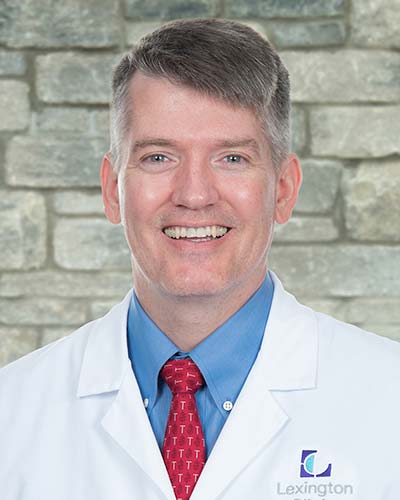 Matthew J. Zimmerman, MD, MSPH, joined Lexington Clinic Cardiology. Zimmerman received his medical degree from the University of Louisville and completed a residency in Internal Medicine there as well. Zimmerman is fellowship trained in cardiology and interventional cardiology. Providing services in general cardiology, he performs stress tests, nuclear cardiology studies, trans-esophageal echocardiography, and vascular ultrasound.
---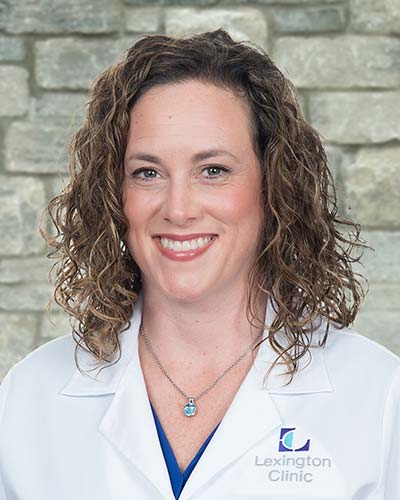 Rebecca Geile, MD, joined Lexington Clinic in Richmond. Geile received her medical degree from the UK College of Medicine and completed her residency there as well. Geile provides general internal medicine services to adult patients, including management of acute and chronic health conditions.