Orthopedic surgeon Stephen P. Makk, MD, repairs the lifestyles of his patients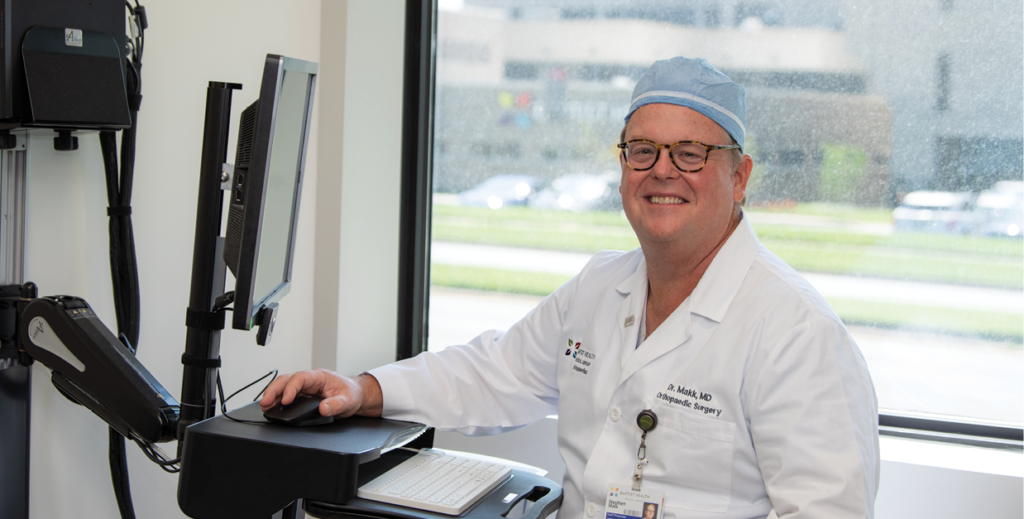 LOUISVILLE A connection on a matchmaking app doesn't always lead to marriage. A team with the highest payroll doesn't always win the championship. And a hospital filled with all the latest state-of-the-art equipment and gadgets isn't guaranteed to heal every patient. The tools and the money and the data might all be in place, but ultimately, it still comes down to the people involved.
"It's more the carpenters than the tools," says Stephen Paul Makk, MD, MBA, an orthopedic surgeon at Baptist Health in Louisville. "The tool doesn't necessarily make you a better carpenter, but it can make you more accurate. You still have to have the skill to use it, know when to use it, what the benefits are, and how to use it properly. I am proud to practice with the orthopedic team at Baptist Health."
Makk finds reward in knowing that proper use of the tools at his disposal can often lead to successful patient outcomes in which a significant piece of a person's life is improved or restored.
"With orthopedics you can fix lifestyles," Makk says. "I like the hands-on things we can do to get people living better."
Makk witnessed those capabilities firsthand as a high school senior at St. Xavier in Louisville. An all-around athlete, he swam, played tennis, and then tore his meniscus and ACL in his right knee playing football and had to have arthroscopic surgery, which was a new procedure at that time. Makk's father, Laszlo, was a pathologist, and his brother, also named Laszlo, is a gastroenterologist, so Makk had a medical career in mind before his knee surgery. But seeing how the procedure could repair his knee and restore his mobility inspired him to become an orthopedic surgeon.
That journey began at Tulane University, where he graduated with degrees in biology and economics. He went on to obtain his MBA from Northwestern University. He attended the University of Louisville School of Medicine, where he also completed his orthopedic residency. His wife, Cheryl, is an orthopedic nurse practitioner.
A New Day at Baptist Orthopedics
Formerly a private practice, Makk's practice, Louisville Bone and Joint Specialists, joined Baptist Health five years ago. It was a move that made a great deal of sense considering Makk's practice had been located on the Baptist Health campus since it was founded.
"We had a very good working relationship with the hospital before we decided on employment to formalize that relationship," he says. "It just made good sense to join a large hospital system, and it's been a nice working relationship for both organizations." He enjoys the collaboration of the employed and private practice surgeons that are at Baptist Health.
Makk was recently involved in helping redesign Baptist Health's orthopedic center's operating rooms. The 12 operating rooms include 10 dedicated to orthopedic surgery, one for bariatric surgery, and one for general surgery. Rather than the operating rooms needing to be changed over with new equipment and devices depending on the type of surgery being performed, the rooms are able to be prepared much more quickly and efficiently. The staff is largely focused on orthopedics, making their work more proficient as well.
"The team you're working with can anticipate things, they learn the procedures well, and it makes the procedure go more quickly," Makk says. "Sometimes when you're in the OR you might not have all the equipment in there. You get ready to close and you don't have the right suture or right dressing. The people who work with you every day know what you need."
Additional efficiency built into the redesign is the positioning of the pre-op room very close to the operating room. The family can even wait in the pre-op room during the surgery.
"It's a premier center that's focused largely around the orthopedic patient, which is a population that is greatly growing in needs, wants, and desires," Makk says. "We can have two operating rooms where we can finish one operation and then start another. Total joint replacement is estimated to go up 300 to 400 percent in the next decade alone. We wanted to proactively have a premier center that was designed around the patient experience. The facility and infrastructure, not just the operating rooms, but the pre-op and post-op areas, physical therapy — are making that more and more possible."
Makk's surgery day is Tuesday. He does total hip and knee replacements. The center is complemented by the latest technology including computer navigation and surgical robotics. "Like any procedure, you have to match the patient to how you do it," says Makk.
Using the Procedure That Works For the Patient
That matching process begins with determining the indication for surgery. Some patients can be treated with injection therapy, activity, or weight loss. Ultimately, Makk says, the indication for surgery is clear.
"The indication for surgery is very straightforward. It is pain that is not relieved by an adequate trial of non-operative therapies," he says. "You want evidence-based treatments and therapies. If those fail, then your option becomes surgery. One of the big pushes over the last several years is having lower body mass indices for patients to have surgery. What we've found in orthopedics is that if your body mass is too high you have an exponentially increased chance of complications, including things like infection, blood clots, and other things you don't want. We actually turn away people and tell them they have to lose some weight because the body mass is too high."
For those who are able to move forward with surgery, they are apt to find their hospital stay to be considerably shorter than it would have been a few years ago. What was commonly a three-to-five day stay a few years ago is now often considered outpatient with the patient going home the same day or next morning after the surgery. The shorter stays are due to less invasive surgical techniques and better methods for blocking pain and rapid recovery pathways.
"The patients have to pass several criteria after the surgery," Makk says. "We have to make sure they can eat, drink, use the bathroom safely, get up, and if they're not doing well in any of those departments, we'll keep them overnight. Probably more than 90 percent are able to go home after a night in the hospital."
Quality Measures Are Key
To help ensure that the decisions that are best for the patient are being made, Baptist Health utilizes large quality committees to follow metrics and track patient outcomes.
"Quality is actually measuring details and data and seeing if there's a difference from what is expected," Makk says. "A big part of it is trying to standardize what we do based on evidence and not just surgical preference. We have been able to develop best practices by measuring quality indexes and then making changes in how we practice medicine based on that. That's the future of medicine."
He continues, "Our committees are composed of employed and private practice physicians who work together to maximize patient outcomes. This is unique in our community."
Makk makes evidence-based decisions on how best to treat his patients but makes sure the patients are equally involved in the process to determine their course for care.
"I try to evaluate each patient as well as I can and to provide the best treatment recommendations that I can based on their needs, wants, and desires," he says. "There are no guaranteed outcomes. You can practice great medicine and not get optimal outcomes. But you want to do the best you can within your skill set for each patient."
While placing comprehensive data and quality tools in the mind and hands of a welltrained carpenter doesn't guarantee success, it certainly measures up as a winning strategy for physician and patient alike.