Weekend warriors and professional athletes get the same treatment at Back Talk Chiropractic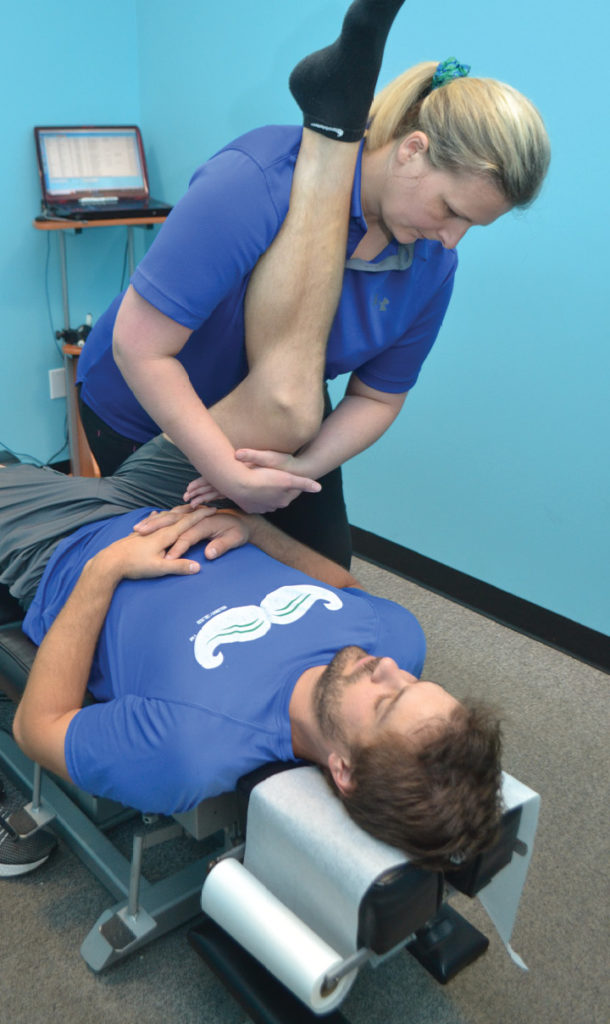 LEXINGTON Tamera Tolson, DC, DACBSP®, proprietor of Back Talk Chiropractic, holds a certification from Diplomate American Chiropractic Board of Sports Medicine, the highest level of certification in chiropractic medicine.
Back Talk Chiropractic is a full-service chiropractic practice serving Central Kentucky. Tolson also serves as the official chiropractor for the Lexington Legends and Wild Health Genomes professional baseball teams. Tolson, a former Montgomery County High School athlete, was drawn to chiropractic medicine because of injuries she suffered playing basketball.
Tolson received her undergraduate degree from Morehead State University and took her doctorate in chiropractic medicine at Palmer College of Chiropractic in Port Orange, Florida.
The Back Talk Chiropractic patient population is typically between 15 and 65 years old, with the common chiropractic presentations of neck and lower back pain from bulging and herniating discs. Additionally, because of her work with athletes, Tolson has an interest in extremity work such as shoulders, hips, feet, ankles, rotator cuffs, and plantar fasciitis.
Her common treatment plans are adjustments, stretching, e-stim (electrical stimulation) for constricted muscle groups, decompression, strength training, and dry needling for soft tissue trigger point release.
Back Talk Chiropractic recently moved to its expanded location on Liberty Road in Lexington to handle its increased patient volume.
A current theme is that sports medicine is also family medicine and preventative medicine. Do you agree?
Sports medicine does entail aspects of family medicine and preventative medicine where providers can suggest over the counter medication, provide wound care, give dietary advice, prescribe exercises/rehab, and provide emergency procedures. In general, sports medicine is not classified under family medicine. Family medicine encompasses the basic needs for treating heart disease, diabetes, infections, etc. Dependent upon the complexity of the condition, the patient will then be referred out to the appropriate source. I would agree that sports medicine is encompassed in preventative medicine. Functional movement assessments are a tool used to help identify dysfunctional movement patterns that can cause an athlete to become injured. A rehabilitative program can then be created to strengthen the area or areas of deficit to prevent injury. Sport medicine providers can also suggest appropriate dietary concerns to individual athletes based upon their needs and goals. This also helps reduce risk of injury and reduce the risk of creating any nutritional deficits that could harm the athlete.
Do you see this in your practice?
I do. Family medicine provides for the basic needs for patients, and when more advanced conditions are apparent, a referral is made. Family medicine is more of an entry point of care for patients. While working with sports medicine providers, they do focus on prevention when it is appropriate to the case and treatment.
Does regular chiropractic treatment aid in prevention of sports or work injuries?
Chiropractic has many different benefits. One of those benefits involves prevention of injuries, especially in the sports setting. In order to receive such benefit, chiropractic must be started in the off-season along with rehabilitative measures such as strength and conditioning. It is important for an athlete to come to the office to be checked structurally and functionally. Functionality can be checked through range of motion, balance, coordination, and functional movement patterns. Based upon those results, a plan can be created to help the deficits an athlete possesses, and they can be trained to reduce or eliminate those deficits, thus reducing injury pre-season and in-season.
Talk about being the official chiropractic provider of the Legends and Genomes.
It has been an exciting year for Back Talk Chiropractic starting when we were announced as the official chiropractic provider for the Lexington Legends and Wild Health Genomes. What this entails is the athletes are exposed to and offered chiropractic services twice a week at the field of play. All the athletes have access to our expertise and treatment dependent upon their goal. This is the first time in the league's history that they have a chiropractor available for the signed athletes.
What does this mean to Back Talk and to you personally?
All of us at Back Talk Chiropractic are extremely honored to have such an amazing opportunity to work with these athletes. The medical staff have been welcoming, and we work together as a team to provide the best care for the elite athletes. It is a dream in the making, and this is just the beginning. We're all looking forward to what the future may hold.
How does working with professional athletes differ from working with the rest of us?
For the most part, working with professional athletes is not all that different from working with the weekend warrior. Treatment options and protocols are very much the same. The big difference is the goal and time. When a professional athlete is injured, you have to provide the most effective treatment available to get the athlete back on the field. Time and performance are money. Professional athletes are paid to perform and to get results. You cannot tell a professional athlete to go easy or take time off. Quick recovery is essential. Goals are also important to professional athletes. They already have a good idea of what they need because they have been through it already. They are typically more eager to meeting goals because their career depends on it.