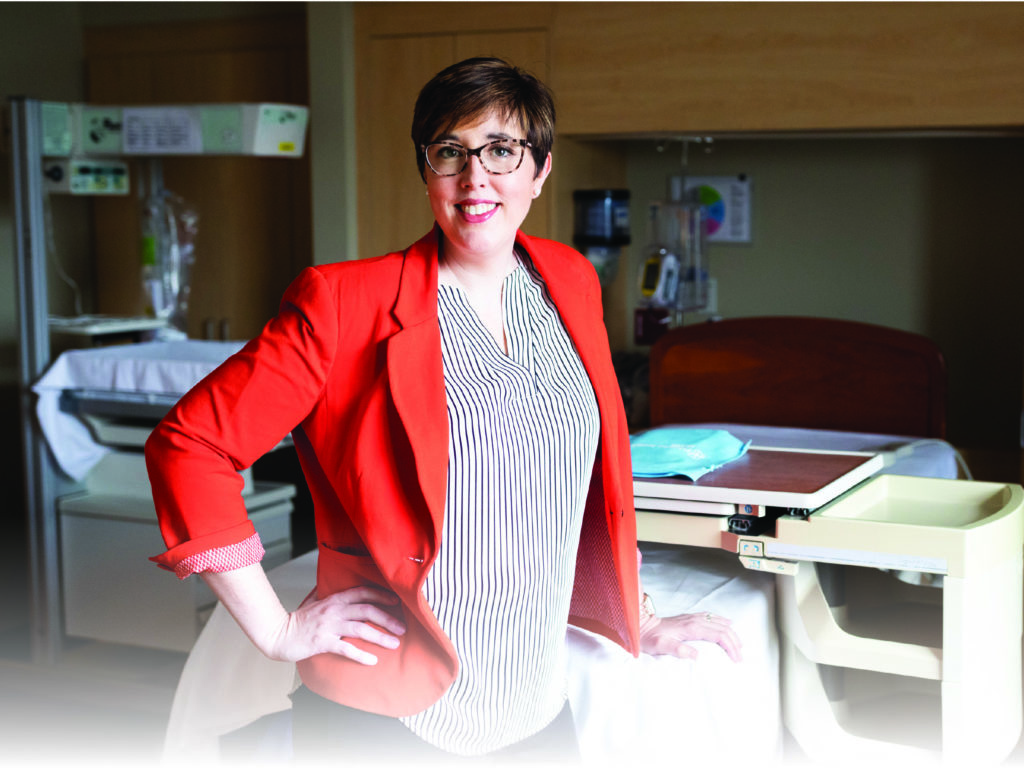 BARDSTOWN A few people actually know what they want to be when they grow up. They dream about it and prepare for it their whole lives. Most people, however, figure it out as they go along, often starting down one path, then changing course a few times before the destination becomes clear.
Hannah Hall, MD, FACOG, falls into the latter category. She grew up in Louisville, received her undergraduate degree from Murray State, and attended the University of Louisville School of Medicine, intending to be a pediatrician or pediatric oncologist. She was heading the right direction, but when she did her pediatric rotation, she didn't enjoy it as much as expected. Then came the detour in the form of an obstetrics rotation.
"The first time I delivered a baby, I had a smile on my face for a week," says Hall, who did her residency at Saint Louis University. "When I did my OB rotation and couldn't get enough. I think God put me where I needed to be."
After completing her residency, she eyed a return to Louisville. Again, she was heading the right direction, but her destination was CHI Saint Joseph Medical Group — Obstetrics and Gynecology in Bardstown, not Louisville.
"I always liked the idea of being in a rural area," says Hall, who lives on a small farm with her husband and their two daughters. "One of the benefits of being in a rural area is that you treat families, not just individuals. I'll see a woman and then her daughter, her sister, her cousin, and her best friend."
Hall admits that she was initially drawn to OB-GYN because of the obstetrics component, but her experience in caring for women through all stages of their lives has helped her develop a strong appreciation for the gynecological aspect of her profession. She treats women of all ages, and her practice is nearly evenly split between obstetrics and gynecology, with pregnancy care, treatment of abnormal bleeding, and annual exams among her most common cases.
Hall's typical week includes three full days in the office, one day of surgery, and one flex day that includes meetings and administrative work. Some weeks she is also on call at the hospital, which means she has to juggle her schedule and, if necessary, rely on her partner Carmen Folmar, MD, FACOG, to cover for her.
"I can't say enough about her," Hall says of Folmar. "She's wonderful. We work very well together, which really helps when it comes to being able to trade off. We rotate the OB patients between the two of us, so they get to know both of us and are comfortable with both of us for delivery."
Hall says that teamwork is seen across the entire Bardstown CHI Saint Joseph Medical Group, to the ultimate benefit of patients.
"When you can work as a team, it becomes so helpful to figuring out what's going on with patients, and providing timely care," Hall says. "Having such a close-knit group of physicians allows us to reach out and get patients the appointments they need in a timely fashion and skip some of the red tape that can hold you up in other situations."
Treating the Whole Woman
Hall says that she and her colleagues often step outside their areas of focus to help fill a patient's needs. For instance, there are no psychiatrists in Nelson County, so it's not unusual for Hall's patients to open up to her about personal issues not directly related to their obstetric or gynecological care. Hall understands that it is part of rural health care, and it's a role she is happy to fill.
"What you see in a rural area is that we wind up doing a lot, because there aren't as many specialists here," she says. "When you're taking care of people, you're taking care of the whole person. Sometimes that means that we are addressing someone's high blood pressure and sometimes that means we are addressing a patient with depression and anxiety."
Hall says it is important not to dismiss those patient concerns that fall outside the usual parameters of her specialty and profession. She says women all too often ignore their own healthcare while they focus on their children and partners.
"Women's health is affected not just by their physical health, but also their emotional health and their psychiatric health as well," Hall says. "I have become so passionate about women's health care and trying to help women through all the situations they are going through. Women really are a vulnerable population. Women's health care is often not prioritized by a lot of different people, including women themselves."
Many women, for example, think that seeing their primary care physician is enough. While she encourages her patients to see their primary care physicians, Hall says it is imperative that they keep their obstetrics appointments as well.
"It's a big problem because more and more primary care doctors are not doing breast and pelvic exams; they are not doing pap smears," Hall says.
Adopting New Technology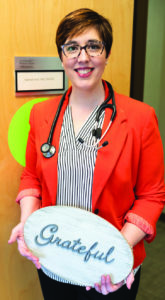 One way it is easier for new moms to keep their appointments is via telehealth. Hall says that telehealth visits help moms avoid the struggle of getting a newborn out of the house and exposing them to germs. The postpartum visits can be done via telehealth. Generally, those are done at 6 weeks, but Hall also does a 2- or 3-week visit with patients considered to be at risk for postpartum depression.
Other innovations in women's health care include the use of nitrous oxide to help control labor pain. Hall says it can be particularly helpful for women who are too far along to have an epidural.
"It gives them something they can control, which I think is really a powerful thing — giving women control of their health care," Hall says.
Hall's passion for women's health has led her to participate in the Woman and Infant Clinical Institute, a national organization which has recently been focusing on improving response to hypertension in pregnant women.
"When a pregnant woman comes in and has severe high blood pressure, our goal is to get them treated with antihypertensives within 30 minutes and also make sure they get magnesium sulfate for seizure prevention." Hall says. "We have made great strides, not just here but in facilities across the nation. These are the things we are doing that are really impacting maternal health care and trying to lower maternal morbidity and mortality in the nation."
Hall's passion for her work proves she was right to follow the signs when that first baby delivery made her so happy. It is clear that she is right where she was meant to be, doing what she was meant to do.
"I want to be an advocate for women's health care," she says. "One of the great benefits of being in a small town is I'm able to see them through their pregnancies and when they are done having children, help them get through that menopausal transition. I want to take care of women in every aspect of their lives as much as I can."