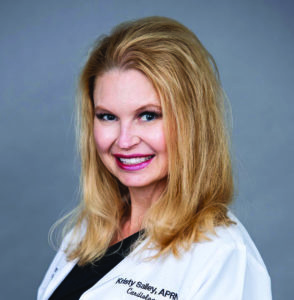 LEXINGTON Individuals in Central and Eastern Kentucky with uncontrolled hypertension have a new ally in their struggle with "the silent killer." Physicians with hypertensive patients have a new resource. Kristy Salley, APRN, CHC, with Lexington Cardiology, part of Baptist Health Medical Group, is now a certified hypertension clinician. She specializes in uncontrolled hypertension and is accepting patients through the Baptist Health referral system.
Salley is the first APRN in Kentucky to achieve certification in hypertension from the American Hypertension Specialist Certification Program. She has been a cardiology nurse practitioner for six years, having received her nursing degree and APRN certification at Eastern Kentucky University. On her own initiative she researched the steps necessary to pass the certification test.
"No one in the practice knew I was studying for this," she says, "but when I received my official hypertension clinician certification, my colleagues were elated and very supportive."
Lexington Cardiology and Salley began the specialized in-office hypertension program in May 2021. Obstacles with COVID-19 restrictions initially affected patient flow. Salley says that the practice used telehealth visits effectively and has seen a return of in-office visits as COVID-19 infection rates have declined.
Individualized Patient Care
The patient population that Salley believes she can help the most are patients with refractory hypertension who are on multiple anti-hypertensive medications with comorbidities such as coronary artery disease, diabetes mellitus, chronic kidney disease, obesity, and peripheral vascular disease. She says she often rules out patients for secondary causes of hypertension such as renal artery stenosis, hyperaldosteronism, or pheochromocytoma.
"With my certification, I provide expertise in the management of refractory hypertension with consideration of concomitant medical conditions. I follow and work closely with my patients to improve their blood pressure and overall health outcomes. I obtained my certification in hypertension so I could better serve our population of patients in Kentucky," says Salley.
Kentucky's prevalence of hypertension is around ten percent higher than the national average. Uncontrolled hypertension can lead to serious complications such as heart attacks, strokes, and organ damage. Salley states that she saw the need for Kentuckians to have a skilled health care provider with additional training specific in hypertension. For this reason, she chose to pursue this avenue to help the community.
Salley recalls a specific example of her work. "I had a patient with a long-standing history of hypertension with average blood pressure around 200 systolic. She was frustrated and felt defeated, thinking she just had to live with it. I worked with her, adjusted some of her medications that were causing other adverse reactions, and diagnosed her untreated sleep apnea that was also contributing to her elevated blood pressures. Her blood pressure is now consistently around 120 over 70, and she is thrilled."
"Each case is so patient specific," says Salley. "My goal and personal philosophy are to provide safe, holistic, patient-centered care to the best of my abilities and to treat each patient with respect, dignity, and empathy," says Salley.