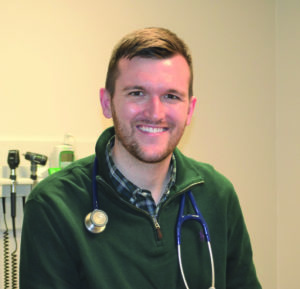 LEXINGTON If you spend very much time talking shop with Ben Neltner, MD, the word "under-served" is likely to come up.
To be sure, he sees a broad cross-section of patients as part of his primary care practice in Lexington with CHI Saint. Joseph Health Medical Group – Primary Care. But the tone in his voice changes — and the passion comes through — when he discusses helping the underserved.
Like the motto of the Hard Rock Café, "Love All, Serve All," he embodies the popular chain's tagline daily.
"What I love the most about my job is fostering relationships with patients and helping them get to where they can trust me and have somebody to believe in," he says. "It is a wide variety of patients from all kinds of backgrounds; I have CEOs and people who are homeless."
While Neltner didn't intentionally seek out the underserved, circumstances during his training lit a fire in the Northern Kentucky native that still burns bright. When he was in high school, he volunteered at St. Elizabeth's hospice center. During residency, he worked in a free clinic with mostly uninsured patients and also helped staff a refugee clinic in Charlottesville, Virginia.
"Those experiences were absolutely invaluable," he says, "and it was great training to work with those underserved populations. I have refugees in my patient group in Lexington, so my experience really helped me to understand what they face."
"What I love the most about my job is fostering relationships with patients and helping them get to where they can trust me and have somebody to believe in."
New City, New Job, New Baby, New Challenges
After graduating from Covington Catholic High School, Neltner attended the University of Louisville for both undergraduate and University of Louisville School of Medicine. It was at UofL where he met his future wife Caitlyn, a budding pediatrician and Winchester, Kentucky, native.
The two did a couples match for residency in Charlottesville, Virginia, before being called back to their home state last summer: Ben to work at CHI Saint Joseph Health and Caitlyn to work at Commonwealth Pediatrics.
"We wanted to move back to Kentucky, and Lexington was in between our hometowns, so it worked out really well for us," says Neltner, who became a first-time dad in January when he and Caitlyn welcomed a baby girl.
Neltner has enjoyed the challenges of navigating his first few months of full-time practice and all the newness. For him, the key is building relationships.
"A lot of times when you meet the patients for the first time, there can be mistrust and questioning," he says. "But, when they get to know you, it can be like helping a family member. With a lot of the patients I've had, even in the short time — nine months — I've been here, there is already a great relationship."
So far, his job in primary care includes seeing patients coming in for one of three primary things: wellness exams, chronic disease management, and acute visits.
"The patients are coming to you for anything, and we have to be flexible," he says. "I love the wide scope of patients we see."
Different Ways of "Seeing" Patients
The rapid introduction and implementation of telemedicine over the past couple of years has altered the way doctors interact with patients. For Neltner, it is another new thing he takes in stride.
"Telehealth been wonderful for our practice," he says. "What I have found, especially in my patients that are underserved, is they don't have dependable transportation and utilize loved ones to help them."
The role for those same loved ones — kids and especially grandkids — has shifted from chauffeur to computer consultant as they help get them online for telehealth visits. An obvious result is fewer cancelled appointments, but another benefit is allowing an extra set of ears to hear care instructions.
"With the geriatric population, I've had instances where getting a visual on their living room or their kitchen gives me an understanding of what their home situation is, and that's been helpful," Neltner says.
Telehealth also has been impactful for people with mental health issues. Neltner notes that patients with severe anxiety and depression, for instance, have a hard time getting out of the house and may skip an appointment.
"The other real strong argument that's been used for years is people in rural areas that don't have as good access to healthcare and specialists," Neltner says. "Our preference is still for the in-office visit, but it is better than them not being seen."
Teamwork Really Does Make the Dream Work
Neltner sees teamwork as a crucial part of everything he does. In his role as a general practitioner, his "teammates" come in two types: patients and coworkers.
"It is important to me to establish, from a patient's very first visit, that this is a mutual relationship," he says. "I'm going to respect what they have to say and they are going to respect what I have to say, then we will come to decisions together."
He cites having access to other professionals on the CHI Saint Joseph Health team, ranging from referral specialists and imaging schedulers to social workers and case managers to on-site pharmacists, as making it easier to provide more comprehensive care.
"I absolutely love my clinic," says Neltner. "We have a lot of resources here, and it takes a team to manage patients with multiple or complex medical issues."
This can be especially beneficial for people who come to Lexington from rural communities, where such resources may not be available, and certainly aren't found in one place.
And it is the sense of satisfaction from providing more holistic services to patients, and building relationships with them along the way, that helps Neltner stay on task with overserving the underserved.