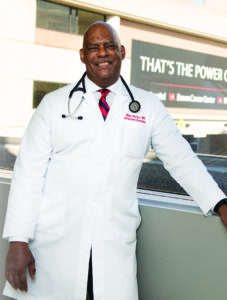 LOUISVILLE Mark Burns, MD, FACP, has a passion for infectious disease that could be called, well, contagious. It's one that he shares for the betterment of his patients, community, and colleagues as assistant professor of medicine in the Division of Infectious Diseases at University of Louisville School of Medicine and in his practice with UofL Health.
"I got into medicine to help people," says Burns. "My philosophy is simple. You treat everyone as though they were a member of your family or a loved one. Even though you may not have personal relationships with these people, there are others who do."
Burns was with his mother and sister when he first thought about becoming a doctor. A little boy of about 5 years old growing up in Louisville, Burns went with his sister and mom to a local laundromat. While his mother, a former nurse's aide, did the laundry, Burns played outside with his sister, who is now an RN, also at UofL Health. They were playing with a stray dog when Burns was bitten. His injuries weren't serious, but the potential for infection led his mother to take him to the hospital.
"I remember looking around seeing a lot of people in the waiting room with all these different injuries, people who were actively bleeding," Burns says. "When the doctor came out and took me back, I was just so impressed with the way he looked. He had the long white coat and appeared very confident in what he was doing. I was just so impressed. After getting my shots and going through that experience, I told my mom, 'That's what I want to do when I grow up.'"
Like many little boys, that goal came and went as he got involved in sports, graduated from duPont Manual High School, and played junior varsity basketball at the University of Louisville. After two years at UofL, he transferred to The Ohio State University, where he earned a bachelor's degree in respiratory therapy.
Burns then came back to Louisville, attending the University of Louisville School of Medicine from 1984–88. He stayed at UofL for his residency in internal medicine. He did emergency medicine at the VA hospital until 2015, when he returned to UofL for a fellowship in infectious disease.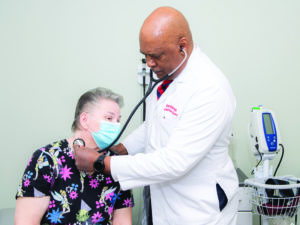 "I thought about a potential career in sports, but I never lost interest in medicine," Burns says. "As time went on and reality set in, I realized probably the best path for me would be a path through some type of medical field. My goal when I went to Ohio State was to be a respiratory therapist only because I wasn't totally confident that I could do the advanced classroom work. But I ended up doing really well there and made the dean's list, and after gaining that confidence, I realized that maybe medical school was not such a foregone conclusion. The rest is history."
Treating a Wide Patient Population
Burns credits Julio Ramirez, MD, a former infectious disease specialist at UofL Health, who served as mentor to him. It was Ramirez who opened Burns' eyes to the importance of infectious disease.
"After speaking with him, I felt I could probably make a greater impact in the field of infectious disease," says Burns, who initially was interested in pulmonary critical care. "I realized that infectious disease encompasses a very large group of diverse patients. Every area of medicine deals with infection. I thought this way I could be involved in all different areas of medicine. I felt I could have the greatest impact that way."
Now, Burns takes care of patients and teaches as well. His work includes consulting on new patients and rounding on established patients in the hospital. He does outpatient care in a bone and joint infection clinic and an HIV clinic.
Burns treats infectious disease of all types, including viral, bacterial, fungal, and parasitic infections. Most of his patients are over the age of 18 and present with what Burns calls "difficult to treat infections." He says that, while anyone can have a severe infection, those most at risk are patients who are immunocompromised whether due to medication or diseases such as diabetes, kidney disease, HIV, or tuberculosis, to name a few. He says solid organ and stem cell transplant patients can also have dangerous infections.
"The body recognizes when something is foreign and can have certain reactions," Burns says. "These reactions are initiated and promulgated by the immune system. The goal is to keep these organs from rejecting by trying to suppress the immune system. It is a double-edged sword because it can suppress the immune system to the point where it can't fight infection. That's where we come in. We find out what the problem is and the best way to approach the problem. We sometimes have people on medications ahead of time to avoid some of the more common problems that can occur."
Comorbidities and COVID-19
People with comorbidities such as heart problems, obesity, chronic lung disease, and sickle cell anemia, to name a few, are also at higher risk of having infectious disease.
"When they have an infectious disease problem, it seems like it's always worse," Burns says. "COVID-19 is a perfect example of that. They are at higher risk of being hospitalized or even dying versus someone who does not have those comorbidities. People who have lower socioeconomic status tend to have these comorbidities and, unfortunately, it puts them not only at higher risk getting an infectious disease, but having it more severely and, in the case of COVID-19, having a worse outcome."
Like most of the world, Burns has been heavily impacted by the COVID-19 pandemic. He found himself frequently collaborating with other physicians treating those patients hit hardest by the virus.
"The primary danger comes when COVID-19 affects the lungs," Burns says. "Our colleagues in pulmonary critical care were dealing with the complications of that, and they relied upon our expertise to see if there was anything we could do to help facilitate treatment of the virus."
A Spokesperson During a Pandemic
One of the things Burns has done in addition to treating COVID-19 has been to educate the general public about the virus and, particularly, about vaccinations. He has been a frequent public speaker during the pandemic, spreading the word about vaccines and trying to clear up some of the fears and misconceptions.
"I've preached about the vaccines ever since they've come out and railed against the fact the people don't want to be vaccinated because of the reasons that I hear," Burns says. "For whatever reason, when we talk about COVID-19 vaccine, it seems like it's very difficult to get people to realize that this is a vaccine and it is here to help you. In general, people have been receptive. I found that people had questions and they just wanted their questions answered."
While devastating, Burns finds the science of COVID-19 fascinating. He has seen other serious infectious disease outbreaks throughout his career, but none quite like COVID-19.
"COVID-19 opened up a new chapter in infectious diseases," says Burns, who was involved in the clinical trials for the Johnson & Johnson vaccine. "Coronaviruses in and of themselves are not new. Human coronaviruses were first discovered in the 1960s. Even the combination of human and animal coronaviruses is not new. SARS (severe acute respiratory syndrome) back in 2002 was probably the first one of these human/animal coronaviruses. About 10 years after that we had the development of MERS (Middle East respiratory syndrome). COVID-19 is the first one to develop into a worldwide pandemic. The interesting thing about COVID-19 is how it progresses and re-infects different cells in the body."
Infectious Disease is a Specialty
Of course, other infectious diseases have not gone away. From HIV to hepatitis to parasitic and viral diseases, Burns sees them all. He collaborates with podiatrists to treat patients who have open wounds or diabetic foot ulcers that can lead to osteomyelitis. He works with orthopedic surgeons who may have a trauma patient with an open wound or broken bones that get infected.
"I urge physicians not to hesitate, but to rely on your infectious disease doctors," he says. "We are specialists. We have been trained in this area and deal with this every day. Physicians are very knowledgeable, but the infectious disease specialist will know a bit more about a particular type of disease or infection."
Burns likens infectious disease specialists to any expert in a field of study. Everyone needs to ask a specialist for help sometime.
As a physician and educator, Burns' passion for what he does is indeed spreading.