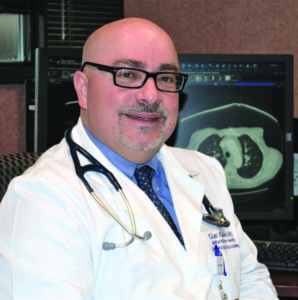 LEXINGTON As a pulmonologist in the time of COVID-19, Eliseo Colon, MD, has had a busy two years. The practice leader at CHI Saint Joseph Medical Group – Pulmonary and Critical Care Medicine in Lexington now finds himself emerging from the pandemic with a new set of preoccupations and a return to his career-long focus. He must now address both the evolving field of long COVID and utilize new technologies for early intervention in sufferers of severe respiratory illness. This bifocal attention is demanding, but he finds hope and inspiration in it.
Colon, a native of Puerto Rico, was educated and trained in New York and joined CHI Saint Joseph Medical Group in 2011. As a pulmonologist in central Kentucky, his patient population is skewed toward men over 50, and he has long been an advocate of early screening for high-risk patients. Normally, his practice receives referrals for patients from all over the eastern half of the Commonwealth, but during the worst of the pandemic, he spent over a year focusing on critical care. Like so many medical professionals, this time on the front lines enlightens his return to pre-pandemic practices.
Long Covid: Diagnosing, Treating and Understanding
Colon sees the positive trends away from COVID-19 related acute respiratory issues in his patient population on a daily basis and is now developing clarity of the dynamics of long COVID-19. The general consensus is that long COVID-19 is a suite of symptoms — fatigue, shortness of breath, physical weakness, cough, some cognitive issues — that are in evidence some 4–6 months after illness. While pulmonologists are gathering data about patients with persistent symptoms, diagnosing long COVID-19 is less of a concern than treating the symptoms.
Emerging primary concerns currently include pulmonary clotting and cardiac inflammation. Colon says that "COVID-19 has a higher incidence of pulmonary blot clotting," which has required an increase in use of anticoagulants (blood thinners) to head off the threat of pulmonary embolism. Myocarditis, due to either the virus or the body's own immune system, is regularly observed in long COVID-19 patients. Colon and his colleagues work together to identify these patients, and he says, "The treatment depends on how symptomatic they are." Like many respiratory illnesses, co-morbidities tend to exacerbate the symptoms of long COVID, says Colon.
Getting Back to What He Does Best
After 18 months in the depths of the pandemic, Colon and his fellow pulmonologists are beginning to be able to return their focus to the preventative measures and early detection services that they offer at CHI Saint Joseph Health. He remains a vocal advocate for low-dose CT scans for his high-risk patients, smokers and miners, in particular. Outpatient services like lung cancer screening and the pulmonary rehabilitation program, which were of limited availability during the worst of the pandemic, are now back to pre-pandemic levels.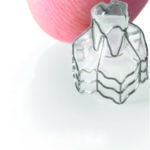 Utilization of valuable technologies is once again an important part of Colon's practice. Endo-bronchial valves, placed in people with severe COPD or emphysema, have continued to evolve in their usefulness. These small, one-way valves, first approved by the FDA three years ago, are designed to reduce gas trapping and hyperinflation in patients with severe emphysema. They can be as small as 4 mm across and can be removed as needed.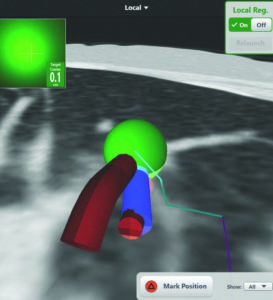 Colon is also excited about a computer guided navigational tool that aids in the detection of small peripheral nodules that are possible indicators of lung cancer. Electromagnetic navigational bronchoscopy provides access to the most distant regions of the lungs. Colon explains, "After a CAT scan suggests a point of concern, this allows us to investigate more closely." He says that the screen readout provides a pathway through the bronchi to the suspect nodule, which allows him to go in at that point and biopsy. Finding these smallest lesions aids in early diagnosis of lung cancers.
Colon is adamant about smoking cessation and really values the bronchoscopy tool, but, more than anything, he wants his general practitioner colleagues to push their high-risk patients to seek opportunities for early detection. He says that "The survival rate of lung cancer patients is over 90% for people who go through early screening."
With a personal medical philosophy that "You have to take care of your mind and your body," Colon is glad to be back helping patients avoid the worst outcomes of severe respiratory illness. He will continue to contribute to his field's understanding of long COVID, but his primary focus will be utilizing the technology and treatment programs proven to aid early detection efforts.