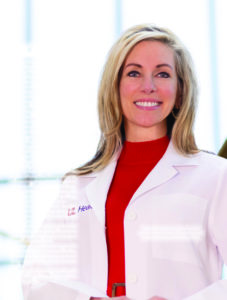 LOUISVILLE NASA control director Gene Kranz is often credited for saying, "Failure is not an option." He claims those exact words were not said during Apollo 13's failed 1970 lunar landing, however he did use them later to title his autobiography because they reflected NASA's mission.
The mission of UofL Health – Advanced Heart Therapies Program shares certain similarities with NASA. It aims for successful outcomes. It is forward-looking and not daunted by tough challenges. And, its success is driven by collaborative teamwork
Stephanie Moore, MD, cardiologist and director of the program's Heart Failure Clinic, says the program treats many conditions that stem from various causes. Because heart disease affects people of all ages, genders and ethnicities, having many tools in your toolbox is crucial.
"We have lots of options, all the way from lifestyle changes and medications to a transplant or heart pump," says Moore. "Every day you learn about someone's life. What is important to them. Then our team gets to work to help make our patients' lives better."
Recent figures from the Centers for Disease Control and Prevention peg heart disease as the leading cause of death for men and women nationwide. Moore notes that while significant progress is being made against coronary artery disease (CAD), heart failure is on the rise.
Moore says, "I'd like to increase awareness about the importance of prompt referral to an advanced heart failure program or center."
As a general rule, she suggests all patients hospitalized for heart failure should be assessed for referral to a heart failure center. Referral is definitely indicated if patients have an ejection fraction under 30 percent, have had one heart failure hospitalization, and cannot climb a flight of stairs without stopping.
"You can refer a patient too late to an advanced heart failure center, but you can never refer someone too early," she says.
Collaboration Is Key
Collaboration is a hallmark of UofL Health – Advanced Heart Therapies Program. The program's transplant clinic demonstrates the effectiveness of this approach.
Typical transplant work teams include physicians, coordinators, nurses, pharmacists, dietitians, physical therapists, and social workers. These experts work together to max-imize optimal outcomes for each patient.
Multidisciplinary teams make the care process simpler and more effective. It's common for patients at UofL Health to see a surgeon and cardiologist at the same time.
"Our primary aim is for patients to keep their own hearts and have them function as maximally as possible," Moore says. "If surgery is indicated, all related departments work together to get patients back to a good quality life."
Family support is a critical part of the program. Family members learn what patients should and shouldn't do. If questions arise, nurses and transplant coordinators are just a phone call away.
"Support groups and transplant coordinators get to know one another well," says Moore. "Caring about one another is a necessity."
Promising New Treatment Options
UofL Health – Advanced Heart Therapies Program continually assesses new and emerging information, technologies, and treatments. Gene therapy and newer more innovative heart pumps and pacemaker-like devices for example, stand to generate major changes.
"As a field, we're at the forefront of some genetic therapies for cardiomyopathy or heart failure," says Moore.
She notes that recent news of a human transplant involving a genetically modified pig heart makes xenotransplantation "an exciting prospect."
In the meantime, stronger, improved medications are making a big impact against familial hyper-cholesterolemia and heart failure. Less invasive cath lab procedures are improving the diagnosis and treatment of valve disease and often entail minimal need for inpatient admission.
Heart Disease Can Be Prevented
Despite the effectiveness of advanced therapies, Moore wants people to know that heart disease is largely preventable.
It's no secret that Kentucky is part of a region known for a high incidence of heart disease. Beyond genetic factors, high smoking rates and poor dietary habits likely contribute to this.
"I urge everyone to invest in healthful lifestyle choices," says Moore. "Make sure you exercise, eat some vegetables, if you smoke try to quit, and get eight hours of sleep daily."
Moore, who is also UofL School of Medicine faculty, keeps a busy schedule but strives to practice what she preaches. Her day generally starts with a 6am workout at the gym or yoga studio. From there she's off to the hospital for rounds.
Mornings are typically spent seeing patients whose treatments range from a transplant to an artificial pump or VAD, a ventricular assist device. Moore enjoys educating her patients about the need to combine lifestyle choices and changes with advanced medical therapeutic options.
Her central message is simple but critical: "Your number one aim should be to try to avoid heart disease."
Transplant Cardiology Becomes a Professional and Personal Mission
Moore, who is originally from northeast Ohio, did her undergraduate work at The Ohio State University. She became a pharmacist and found she enjoyed working with patients. She was admitted to the University of Cincinnati College of Medicine and continued to work as a pharmacist part-time until she graduated in 1994.
She practiced internal medicine at the University of Cincinnati and soon fell in love with cardiology, which led to a fellowship at the University of Utah. During her seven years in Utah she met and married her husband, had two sons, and found her calling as a heart transplant cardiologist.
After four years with Utah's busy transplant program, Moore and her family relocated to the Boston area. Moore is a current member of faculty at Harvard Medical School and previously an associate physician at Massachusetts General Hospital. Twenty years later, with her boys in college, she had the opportunity to transfer to Louisville and help grow UofL Health – Advanced Heart Therapies Program while continuing her passion to serve patients with heart failure in Kentucky. She brings with her Midwest charm, compassion, and medical expertise in the field of heart failure, transplant and ventricular assist device.
"I feel I've come full circle," she says. "When you find something you love, you're very lucky, even when the work might go from dawn to dusk."
UofL Health's heart program strives to be thorough and patient-centered. Moore says it reflects her personal philosophy to treat people as if they are dear friends.
She strives to remember that everyone she interacts with has loved ones and families. They're important to their communities and deserve respect, dignity, and the best care possible.
"Never underestimate the power of a positive outlook," says Moore. "Hope is a powerful medicine."