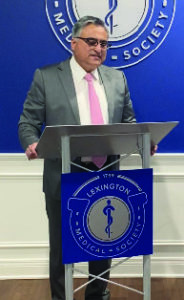 LEXINGTON Khalil Rahman, MD, a Lexington nephrologist, was installed as president of the Lexington Medical Society (LMS) on January 11, 2022, at a virtual ceremony attended by past Lexington Medical Society presidents, dating back to 1978. James Borders, MD, a Lexington internal medicine physician, was recognized for his outstanding leadership as the LMS president in 2021. Borders' tenure started during the pandemic, and his focus was to communicate to the community throughout 2021 on the importance of COVID-19 vaccinations, masking, and social distancing.
Rahman, a graduate of Dow Medical College in Pakistan, completed the nephrology residency program at the Baylor College of Medicine. He is a graduate of the University of Louisville's MBA program. He joined Nephrology Associates of Lexington in 1994 and was appointed its president in 2015. He is the president of the medical staff at Saint Joseph Hospital in Lexington and on the Renal Physician Association Healthcare Practice Committee. Rahman, as LMS President, will focus on practice management education, retention of physicians, and rebuilding the relationship between the healthcare community and the public.
The 2022 LMS leadership includes Angela Dearinger, MD, vice president, and Tina Fawns, MD, secretary treasurer. Lee Dossett, MD, is the president-elect, and Hope Cottrill, MD, is the vice president-elect.
The Lexington Medical Society is a non-profit 501(c)(6) organization that supports physician members to improve the practice of medicine and the health of the community. The LMS, established in 1799, is one of the oldest medical societies in the country.
Learn more about the Lexington Medical Society and its programs at lexingtondoctors.org.