LOUISVILLE To borrow from Spider-Man, with great power comes great responsibility. Another way to say that is, just because you have the ability to do something, that does not always mean you should. For instance, modern medicine makes it possible to fix an arterial blockage, but that does not always make it the best option for the patient.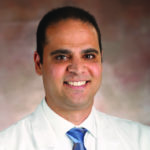 "That every blockage in the artery needs to be fixed is a very common misconception in terms of cardiovascular disease," says Mostafa Osman El-Refai, MD, interventional cardiologist at Norton Heart & Vascular Institute in Louisville. "We have more and more data now that suggest that if you have a blockage that we would consider obstructive, that unless you're having a heart attack or chest pain, we can actually treat that with medications for a long time. The only benefit you get out of fixing a blocked artery in a stable setting is improving chest pain. It is not to prevent heart attack, and it is not to prolong life."
El-Refai admits that opting not to perform a procedure to fix the blockage is counter-intuitive to his training as an interventional cardiologist, but the decision is all about what is best for the patient.
"I do procedures, but I actually am more excited about the non-invasive things," says El-Refai, who is also the medical director for quality at Norton Heart & Vascular Institute. "More and more we're realizing that a lot of these things, if caught early, we can treat with medications and prevent people from needing procedures."
The Path to Cardiology
Born and raised in Louisville and a graduate of duPont Manual High School, El-Refai knew early on that he would become a physician but didn't come to cardiology until well into his medical training.
"The only benefit you get out of fixing a blocked artery in a stable setting is improving chest pain. It is not to prevent heart attack, and it is not to prolong life."— Mostafa Osman El-Refai, MD, Norton Healthcare
"We have a lot of family friends that are physicians, and I volunteered at the VA and a couple of other hospitals when I was in high school," he says. "I knew with my first exposure to the medical world that I would want to be a physician."
He went to undergraduate and medical school at Ain Shams University in Egypt, then interned and did his residency at Henry Ford Hospital in Detroit. He served as the chief medical resident at Baylor College of Medicine in 2014 and completed a cardiology fellowship at Baylor in 2017, then an interventional cardiology fellowship at Baylor in 2018. He then came back to Louisville and joined Norton Heart & Vascular Institute. He also completed a master of science in clinical investigation sciences from the University of Louisville School of Public Health and Information Sciences.
"My interest in heart disease actually came after medical school as I did my internal medicine training and rotated through cardiology," he says. "How interesting and complex it is and the variety of things that cardiovascular doctors take care of just piqued my interest."
In Clinic and the Cath Lab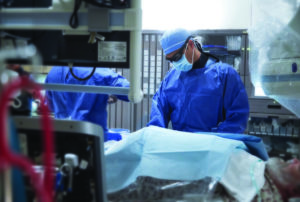 El-Refai sees patients both in the clinic and the hospital and finds both environments rewarding. The hospital visits generally involve performing procedures on patients dealing with acute illness, such as heart attack, congestive heart failure, or arrhythmia. The outpatient clinic setting is naturally more casual and provides an opportunity to connect with patients.
"It's a busy and wide array of things that cardiologists do, which is why I love it so much. You never have a dull moment," he says. "When we see patients in the clinic, it's a very rewarding experience. Maybe someone had a heart attack and you put a stent in there, and now you're seeing them in the clinic when they're walking, and talking, and happy. So it gives you a nice perspective in the clinic. That's where you really build good relationships."
El-Refai credits his broad education with preparing him to build those relationships and connect with people of all backgrounds. Not only does that make the overall physician-patient experience more positive, but it also makes it more effective. With patients becoming increasingly involved in their own healthcare decisions, it is important that they understand their condition and their options.
"It's my job to communicate," he says. "I've modified the way I explain certain things. If I say a phrase that someone doesn't understand, it kind of triggers in my mind that maybe I need to reframe that. Houston has the largest medical center in the world, and Baylor offered a wide variety of clinical experiences. We got to experience the VA, the county hospital, the Texas Heart Institute, as well as a private suburban hospital. Those unique experiences really made me more prepared to interact with a wide variety of patients no matter where I meet them."
A Diverse Patient Base
Increasingly, some of those patients are younger than the expected 60+ year-old patient population. While most of his patients are in their 60–80s, El-Refai does see patients as young as 18. The number of heart attacks in younger patients has increased, he says, but largely the increase in these patients coming to a new Norton Heart & Vascular Institute Young Adult Cardiology Clinic is due to better awareness.
"We're seeing a lot more people being invested in their health at a younger age and asking, 'Are these symptoms normal? Should I be worried about my heart?'" says El-Refai, noting that sedentary lifestyle, diet, and smoking frequently play a role in heart issues in younger patients. "Information is so widely available online now that it triggers a lot of questions. But if you see a 33-year-old with chest pain, they are much less likely to have heart disease than a 65-year-old with chest pain. So the statistics are important, and perspective is important."
Regardless of the age of the patient, El-Refai says that data, clinical research, and perspective are essential in helping determine the best course of care. That process results in the repetitive and consistent use of best practices for every patient to assure overall quality of care.
"Every human being is going to make a mistake," he says. "So you have to put systematic processes in place to allow you to translate all that good clinical data into practice in a way that there are fail-safes in making sure every patient gets the outstanding care that they deserve."
El-Refai provides an example of stable angina patients on medical therapy that continue to have chest pain with exertion. These patients can often be treated with cardiac catheterization, which can often be scheduled as an outpatient procedure. He says that diagnostic procedures are becoming more patient-friendly as well.
"There's still a significant portion that get cardiac catheterization for both diagnostic and therapeutic purposes, but I think that's going to move much more towards only for therapy, and the diagnostic portion will all be non-invasive, which probably is the right thing to do," he says. "I really don't want to do anything that doesn't need to be done."
Knowing how to do it is half the battle. The rest is knowing when to do it — or not.