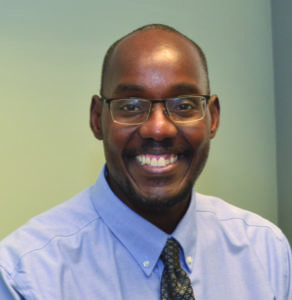 LEXINGTON When he was a child growing up in Kenya, Fred Odago, MD, was never pressured to become a physician, not even by his uncle, who was himself a doctor. Nonetheless, Odago's family called him "Doc," never knowing how prophetic the nickname would prove to be.
While it might seem that they spoke into existence his eventual interest in the medical field, the reality is that Odago took a long and unique path to his current position as a neurologist at CHI Saint Joseph Medical Group in Lexington.
His mother was a math teacher, which seemed to explain why he took an interest in science as a medical researcher. Odago came to the United States in 1998 to attend Berea College in Kentucky. Having no family in the United States, he relied on the resources provided by Berea College to help absorb the culture shock.
"When you come to the U.S. as a student you're in the midst of an environment where you have to kind of figure things out," Odago says. "I was very lucky at Berea College since they have a host family program. My American host family guided me through those initial phases in this country. That was invaluable in my transition to life in the U.S."
After graduating from Berea College, Odago did not immediately enter medical school. Instead he spent the next decade working in biotech companies and research labs at the University of Kentucky and Case Western University. He enrolled in biomedical science courses and earned a master's degree in toxicology before ultimately enrolling in medical school at the UK College of Medicine. By the time he completed medical school in 2016, he was a father in his 30s. He performed research in neuroscience at UK for a year before returning to do his residency, which he completed in June 2021. He joined CHI Saint Joseph Medical Group on August 1, 2021, as a clinical neurologist.
"There is a misconception that, when it comes to neurological conditions, we cannot do much. There is the perception that these are conditions that patients will just have to deal with. I beg to differ with that impression of neurology."— Fred Odago, MD, CHI Saint Joseph Medical Group – Neurology
Mentorship Created a Career Path
Neurology had interested Odago before medical school, and his interest piqued when he met and shadowed neurologist Dr. David Blake at Saint Joseph Hospital and Cardinal Hill Rehabilitation Hospital. "That was how neurology came to mind even before medical school," says Odago, who also considered a career in internal medicine.
Now, Odago is fully into his routine at CHI Saint Joseph Health. He drops his kids off at school in the mornings and is at work in the clinic by 8:30 AM. There he takes care of patients with neurological disorders such as migraines, epilepsy, multiple sclerosis, myasthenia gravis, amyotrophic lateral sclerosis (ALS), dementia, and stroke.
Regarding stroke care, he notes that the clinic follow-up visit is essential in limiting the risk of further strokes. Odago says, "I want to make sure they don't have a subsequent, even more catastrophic stroke. I do testing for heart conditions such as abnormal heart rhythm that needs to be addressed to prevent another stroke. Sometimes they have abnormal blood vessels and limited flow in the blood vessel that will need to be addressed via vascular surgery."
These tests are intended to help reduce the risk of subsequent neurological disease. That is the type of work that Odago says makes neurology more important than is sometimes perceived.
"There is a misconception that, when it comes to neurological conditions, we cannot do much," Odago says. "There is the perception that these are conditions that patients will just have to deal with. I beg to differ with that impression of neurology. What we do as neurologists has significant practical implications."
Advances in Migraine, ALS, and Alzheimer's
Odago points to advances in migraine treatment, which includes many new medications that are highly targeted to help reduce or even prevent the disabling impact of severe migraines.
"I think migraines are starting to be recognized as a significant cause of disability," Odago says. "In the past, people used to just find a way to live with it. Today, people are starting to appreciate how many options are available in migraine treatment."
According to Odago, migraines can be triggered in a variety of ways, including weather changes, particular smells or odors, menstrual cycles, or flashing lights. The treatment process can include, in select cases, obtaining head imaging (MRI) to rule out any underlying abnormalities. Once those abnormalities are ruled out, medication can help control the migraines and minimize the symptoms in many cases.
Odago says that major strides in neurology are leading to more effective treatment of MS, ALS, and Alzheimer's.
"People think that when they develop neurological conditions such as dementia, there's nothing that can be done," Odago says. "I believe in the next five years we will be addressing diseases such as Alzheimer's and ALS differently from how we're looking at it today. In Alzheimer's disease, there is active research on effective medication to prevent its progression, but also trying to identify patients who are at risk of getting dementia and prevent them from progressing down that path."
Odago says advancement in identifying biomarkers can help lead to early detection of risk and allow patients to work with their caregivers to develop a preventive plan. These biomarkers can also help assess treatment response and potentially guide future neurology research.
Patient-physician collaboration is an essential component of Odago's philosophy of care.
"I need to meet the patient where they are," he says. "It's like a partnership. The patient has to be involved in the shared decision-making process."
Similarly, Odago stresses that neurologists must be seen and valued as an essential part of the patient's health care team.
"The role of a neurologist in the care of a patient cannot be overstated," Odago says. "It is very critical. We help fill in the gaps to make sure the patient is getting the resources they need. The patient will be very happy to have us in their corner."
After all, it's always good to have a "Doc" on your side.