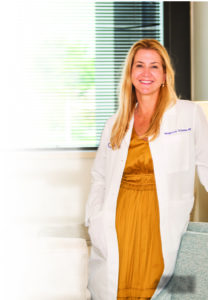 LOUISVILLE The years 1971-1972 were pivotal for cancer treatment for women in the U.S. Three prominent, well-known women, Betty Ford, Happy Rockefeller, and Shirley Temple Black, publicly announced that they had breast cancer. President Richard Nixon declared a "war on cancer," and Title IX of the Educational Act, which mandated equal access to all educational opportunities for both sexes, led to more women than ever before entering medical school.
By the mid 1990s, breast cancer awareness had entered the American cultural mainstream and pink ribbons were a recognizable symbol promoting mammogram screening and treatment. Breast cancer is still the deadliest cancer for women. But now there's a new focus on screening and treatment for other female cancers, such as ovarian, uterine, cervical, and endometrial. Teal-colored ribbons for ovarian and cervical cancer awareness are the new signs of the times.
Enter Women First of Louisville
If Title IX in 1972 resulted in more women entering medical school, by 1988 the result was Women First of Louisville Obstetrics and Gynecology, the first all-female practice in the area. Founded by and for women, the medical practice was dedicated to bringing a unique female perspective and the latest technology to provide women of all ages with comprehensive obstetrical and gynecological care.
With 11 board-certified female physicians at the helm, Women First is no stranger to leading the way in women's health care. Their goal is to ensure that each phase of comprehensive care, from evaluation with state-of-the art equipment to the diagnosis and surgical solution, can be performed right in the office.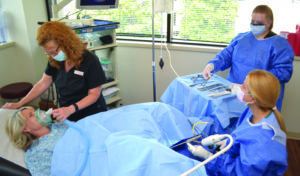 By offering many minimally invasive, in-office surgical procedures, Women First has found the way to optimize the patient experience. "We have continued to broaden our strategies so that we can better meet patient demand for convenience as well as cost-effective, quality care," says Executive Director Denise Kirkham. "We currently offer in-office services such as endometrial ablations for heavy periods, treatment of abnormal pap smears, and bladder Botox® for urinary incontinence. By expanding into a larger surgery suite over two years ago, we offer a more comfortable and caring environment for our patients."
Meet Margarita Terrassa, MD
After completing her undergraduate degree at Syracuse University in Syracuse, New York, Margarita Terrassa, MD, who is board-certified in obstetrics and gynecology, received her medical degree from Ponce School of Medicine in Ponce, Puerto Rico and completed a residency at Tulane University Hospital in New Orleans, Louisiana.
The majority of doctors now specializing in OB-GYN are female, creating a paradigm shift in women providers caring for women. Terrassa, who serves as the medical director for the Women First in-office surgery and procedure suite, says, "We are very proud to be the pioneers in offering surgical procedures in the comfort of our own office space."
Specialty-Focused and Patient-Oriented
Decades ago, an OB-GYN practice was judged successful by the number of babies delivered. Think the "baby boom" from 1945 to 1965. A gradual shift occurred in the past several decades when OB-GYN generalists began tracking one subspecialty or the other. Some of the Women First physicians practice gynecology exclusively. Some have a mixed practice of obstetrics and gynecology with advanced training in robotic surgery.
With a comprehensive diagnostic approach to caring for all of a woman's reproductive organs, Women First physicians are laser-focused on screenings and surgical treatment of cancer in the early stages. Additionally, not all presentations of abnormal bleeding or pelvic pain are cancerous. That's where the comprehensive care approach is key, as is knowing their patients and their history. "At Women First, we treat our patients how we would want to be treated," says Terrassa. "I treat my patients as if they were part of my family."
The In-House Surgical Suite at Women First
The benefits of having their own in-house surgical suite are numerous, says Terrassa. The atmosphere is calm, comforting, and relaxed. Family members have a private waiting area. The wait time for procedures is much shorter than a hospital visit, because the patients are scheduled for maximum efficiency and turnaround time between patients is less. "Many of our patients refer their friends because their surgical experience was that good," says Terrassa.
The gynecological surgeons at Women First are able to perform a wide range of procedures such as diagnostic ultrasounds for a variety of conditions; endometrial ablation; hysteroscopy for examining the uterine cavity; LEEP (loop electrosurgical excision procedure) to remove abnormal tissue from the cervix to confirm a cancer diagnosis or treat pre-cancerous cells; and urodynamics, which examines the functionality of the bladder when urinary incontinence is present.
When a patient has persistent abnormal uterine bleeding, the Women First surgeons can perform a hysteroscopy-guided examination for polyps, fibroid tumors, and scar tissue. Uterine ablation, heating of the uterine lining, can also be performed to help abnormal bleeding.
When a patient presents with a miscarriage from four to ten weeks of gestation, the Women First surgeons clean the uterus of cellular and tissue debris, under sedation. Patients' partners are encouraged to attend, as it can be an emotional experience for the woman, so it helps to have a partner present. "We care for our patient and her partner with equally comforting care," says Terrassa.
The in-office surgeries can be performed with or without anesthesia, depending upon the patient's preference and the procedure. Most procedures are performed relatively quickly, in 15–20 minutes, and then the patient is able to recover comfortably in the office setting and leave the same day.
Well Woman Care
Every woman needs to begin having pap smears by age 21 and continuing through age 70, says Terrassa. Women First also recommends having the HPV, human papilloma virus, vaccination starting at age 12 through 26. Cases of HPV, and other sexually transmitted diseases such as chlamydia, gonorrhea and syphilis, are still present in the U.S. and are sharply rising, up 30% between 2015 to 2019, according to CDC data, released in April 2021. Additionally, the CDC has identified HPV as a causal agent of cervical, vulva, and vaginal cancer.
"The benefits of getting the HPV vaccination highly outweigh the very rare cases of negative side-effects," says Terrassa. Women First strongly encourages yearly cervical pap smears for their patients. "We listen to our patients' problems and do the appropriate workups, which can include ultrasound that can lead to the early diagnosis of potentially malignant pathology," she says.
Pelvic pain is a common condition for women after childbirth, Terrassa states. "Our typical gynecological work-up for a woman presenting with pelvic pain includes an ultrasound to rule out any masses of the ovaries that could have ovarian cancer pathology."
Birth control pills reduce a woman's risk for ovarian and endometrial cancer because they keep the lining of the uterus so thin that cells do not build up as sites for cancerous cells. "They also prevent ovulation," says Terrassa. Without ovulation, there are fewer possible lingering cells that can mutate into cancer. More common contributing risk factors for gynecological cancer are smoking, obesity and genetics.
Terrassa and her colleagues at Women First strive to educate their patients on the signs of abnormal uterine bleeding so prevention and treatment can take place as soon as possible. Similarly for cervical cancer, she commends pediatricians for vaccinating many young boys and girls with the HPV vaccine to stop the disease from spreading. "I believe we will see fewer and fewer uterine and cervical cancers in the future because of our efforts to educate our patients, because of HPV vaccines, and because the next generation is smoking less and exercising more," says Terrassa.
From 1988 to whatever the future brings, the OB-GYN doctors at Women First of Louisville will be pioneers of comprehensive care.