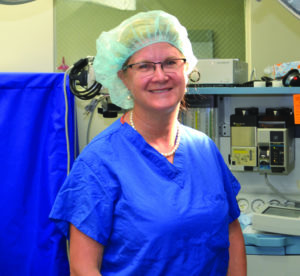 LOUISVILLE/ NEW ALBANY, IN Few physicians can say they have been both surgeon and patient for the same procedure. However, Michelle Palazzo, MD, now performs similar reconstructive surgery to the one she underwent as a patient after being diagnosed with ductal carcinoma in situ (DCIS) and having a subsequent mastectomy and breast reconstruction. Her diagnosis occurred during her chief year of plastic surgery residency at St. Louis University.
Palazzo, a board-certified plastic surgeon with Kleinert, Kutz, and Associates uses this experience to better relate to her own breast reconstruction patients. She states, "I'll share with them that I do understand what they're going through—though not exactly, because everybody's different—and that, 15 something years ago, I was in their shoes and having to learn about what my options were to try to take care of the cancer."
Since her own diagnosis and surgery much has changed for Palazzo, both in her life and in the realm of breast reconstruction. Following her recovery, Palazzo traveled to Washington, D.C., to complete a year fellowship in reconstructive & aesthetic surgery of the breast at Georgetown University under Scott Spear, MD, who was one of the top breast reconstructive surgeons in the nation at the time.
Prior, Palazzo had garnered her bachelors and master's degrees in engineering from the University of Illinois, along with a medical degree from Southern Illinois University School of Medicine. She had also completed a residency in general, plastic, and reconstructive surgery at St. Louis University. After leaving Washington, Palazzo embarked on a one-year fellowship at the Christine M. Kleinert Institute for Hand and Microsurgery in Louisville.
She joined Kleinert Kutz as staff in 2006. Currently, in addition to being a partner, Palazzo is the program director for the Christine M. Kleinert Institute Fellowship in Hand and Microsurgery as well as a clinical professor of hand surgery at the University of Louisville. She is also the current president of the Ohio Valley Society of Plastic Surgeons and the Kentucky Society of Plastic Surgeons.
Since taking on the role of fellowship program director five years ago, Palazzo has worked to make certain both the fellows and faculty are in compliance with all rules and regulations set forth by the Association of Graduate Medical Education. She also works with the over 1,500 alumni fellows who have graduated from the program, which was started by Harold Kleinert, MD, nearly 50 years ago.
Of the position, she says, "It's like taking care of 16 kids from all around the world. And so that's been quite an adventure, but I love working with the fellows."
Every Day is Jam Packed and Different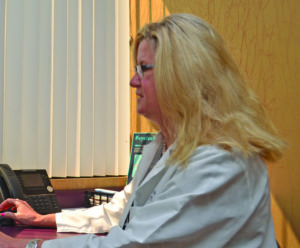 On a weekly basis, Palazzo's schedule is packed with clinic visits; hand surgeries to address issues including carpal tunnel, ganglion cysts, broken bones, and other injuries; and breast reconstruction. She also works with dermatologists on skin cancer cases, especially those that are on more visible areas, such as the face, and are thus more "cosmetically important."
Her patients come from "all walks of age," ranging from toddlers with conditions like congenital trigger fingers to individuals in their 90s with carpal tunnel. "It's all ages, it's men and women. That's one thing that's really cool about plastic surgery is that we work on all age groups," said Palazzo.
Of course, due to her personal experience, some of Palazzo's most rewarding work is with the breast surgeons, primarily with Baptist Floyd and Baptist Louisville, who call on her to complete the reconstruction portion of complex surgeries to achieve the best aesthetic result.
Improvements in Breast Reconstructive Surgery
Since her first exposure as an engineer in graduate school working with a surgeon to determine the strength and longevity of breast implants, Palazzo has seen significant improvements in this specialty. First, in the use of biologic tissue to create a sturdy scaffolding to help support the breast in lieu of having to take tissue from other parts of the body. Tissue expanders with a drain built into them are also now available, which allows the surgeon to access collected fluid and avoid accidentally puncturing the breast implant with a needle.
Another major change is in the planning of incisions and use of different incisions. Palazzo says, "With the plastic surgeon and general surgeon working together, we can plan the incisions for lumpectomy and make better patterns for scars. It's done not necessarily so we can make the scars better, but so that we are able to place them in a better position so that they're less noticeable."
Fat grafting—taking fat from one area of the body to transplant in another—has also made great strides. According to Palazzo, "The use of fat grafting for reshaping the breast in areas that need it after a mastectomy or radiation has also helped greatly with breast reconstruction in recent years."
With these innovations, Palazzo believes in making certain her patients are also aware of all of the latest alternatives for their treatments. She states, "I like the patients to be informed of all their options, so that they can make an informed choice in their treatment and be an active participant in their treatment. I don't want to just tell them what to do."
With a commitment to keeping patients informed, Palazzo addresses two common misconceptions: "Some patients have a concern that they can only get their breast reconstruction done within two years of having their breast cancer or that they can only get it fixed once and can't have revisions. That's a common fallacy that I hear from my patients." She stresses there is no set time limit when reconstructive surgery can be completed and reconstructive surgery does not have to be one and done.
On the flip side, if Palazzo could send one message to oncologists and general surgeons, it would be to involve the plastic surgeon as early in the process as possible. This affords better planning for their surgery, the incision, and all aspects of the procedure. Having patients meet with their plastic surgeon early in the process also leads to greater confidence and comfort on the patient's part.
Palazzo encourages oncologists to "Send patients as early and quickly as they can, so we can plan the steps necessary to get the best aesthetic outcome and treatment for their breast cancer."
From someone who has been both patient and surgeon, that sounds like a good plan.
This slideshow requires JavaScript.