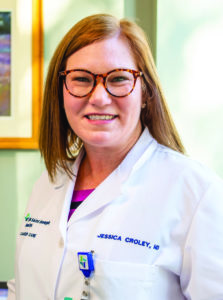 Editor's Intro: Jessica Jones Croley, MD, is the medical director for CHI Saint Joseph Health Cancer Care, which launched an affiliation an affiliate ofwith Cleveland Clinic Cancer Center in 2019. She is board certified in hematology and medical oncology.
MDU Please give us a brief recap of your background and medical training. Why did you choose hematology and cancer care?

(Croley) I am a native Kentuckian and had a great interest in chemistry and biomedical engineering while attending the University of Kentucky. During my undergraduate years, my father was diagnosed with sarcoma and my grandmother was diagnosed with lung cancer, spurring my interest in the applications of biomedical engineering in the field of oncology. I received my medical degree from the UK College of Medicine, where I also completed my residency in internal medicine and fellowships in hematology and medical oncology.
MDU What are your duties as medical director? Do you still see patients in addition to administration?

My role is hybrid. My clinical focus is in breast cancer, but I see patients with a variety of hematologic and other oncologic conditions. As an active clinician, I am more able to see challenges and opportunities from both the patient and provider experience, helping me guide program strategy.
MDU Do you have a particular area of expertise, or interest in oncology?

My area of sub-specialization is the management of breast cancer. Sub-specialization allows me to work more closely with the Cleveland Clinic Cancer Center breast cancer team to ensure best practices in the management of breast cancer. I work closely with radiologists and patient navigators at CHI Saint Joseph Health — Breast Care Center at Saint Joseph East to expedite care from the time of abnormal mammogram or suspicious mass, to establishing care with the cancer team to initiating treatment and ultimately for survivorship care. We are a highly integrated unit that looks at patients holistically and cares for them across their continuum. Breast cancer management is highly complex, and having a team of providers is integral to an individual patient's success.
MDU Describe your involvement in clinical trials

I have been in practice with CHI Saint Joseph Health — Cancer Care since 2013. I am highly involved in quality processes, and have a strong interest in clinical research. Patients under my care have access to over 100 ongoing clinical trials through our national research consortium, CIRI, (CHI Institute for Research and Innovation) allowing them to receive cutting cutting-edge treatment with the comfort and convenience of a community cancer center.
MDU What does a week in your professional life look like?

A typical workweek includes four days of clinical services with one hour of rounding on inpatients at Saint Joseph East, eight hours of outpatient clinic visits and oversight of chemotherapy infusions and one day of administrative services, reviewing treatment protocols, quality of care, optimizing patient resources, and collaborative meetings with Cleveland Clinic Cancer Center liaisons. Throughout the week I participate in various tumor board meetings where new cancer cases are reviewed jointly by medical oncologists, radiation oncologists, surgeons, radiologists, and pathologists. These meetings are specialized by cancer type such as breast, gastrointestinal, or thoracic, allowing greater focus of care and a high level of coordination of individual services for each patient.
MDU Talk about the CHI Saint Joseph Health Cancer Care Center and its transformation over the years within Central Kentucky.

In the past decade, CHI Saint Joseph Health — Cancer Care has evolved tremendously. Initially, we were a group of various providers operating mostly independently across our market. As part of our Cleveland Clinic Cancer Center affiliation, processes have been reviewed across all of these locations and optimized, providing patients a high level of care, whichever entry point they selected. We have streamlined operations beginning at registration including nursing, pharmacy, and support care services as well as our technical treatment protocols to ensure we are providing the highest quality of care as given at Cleveland Clinic Cancer Center, currently ranked No. 5 hospital in the 2021–22 U.S. News Best Hospitals for Cancer.
MDU How has COVID-19 changed cancer care at CHI Saint Joseph Health?

Like with everything, our day-to-day processes shifted to allow social distancing, masking, and other precautions. The biggest change was the increased use of telehealth, which has been a tremendous benefit to cancer patients who may be sick, or weak, or otherwise have difficulty with transportation to and from the cancer facility. Vaccination allowed cancer patients to get back to a more normal lifestyle, but unfortunately the recent surge of the Delta variant is particularly ominous for our immune suppressed patients. I would plead with anyone who is unvaccinated to discuss the safety of COVID-19 vaccines with your health care provider and reconsider to help protect this particularly high-risk population.
MDU What's on the horizon for cancer care at CHI Saint Joseph Health?

Precision medicine continues to grow in the field of cancer treatment. In medical oncology, there are dozens of new drugs approved each year which target individual mutations or other aspects of cancer growth, most of which are more effective and less toxic than traditional chemotherapy. Some cancers are even able to be treated without the use of chemotherapy. More and more, we rely on tumor sequencing to develop a "roadmap" of treatments that are likely to be beneficial over an individual patient's cancer course, as opposed to treating all patients with a certain cancer in the same manner. Radiation oncology is becoming more and more targeted as well. Stereotactic body radiation allows pinpoint accuracy, minimizing radiation to healthy tissues and optimizing the dose given to tumors. Newer techniques often require fewer treatments as well.
MDU Describe your personal philosophy of care.

My personal philosophy of care is holistic cancer care, treating the whole patient with cancer as opposed to the cancer only. Many times, there are barriers to care including patient preference, impact on lifestyle, finances, and other health concerns that factor into decision making for treatment. It is imperative to solicit all of these elements from patients and maintain a focus on function and quality of life while attempting to prolong life with chemotherapy or other cancer treatments. I see the cancer journey as a joint one between the patient and oncologist and feel very humbled to be able to support patients in that.