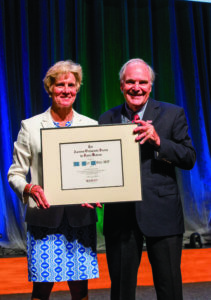 LEXINGTON Long time Lexington Clinic orthopedic and sports medicine surgeon W. Ben Kibler, MD, received the highest honor from his peers and his specialty's society in July 2021 when he was inducted into the American Orthopedic Society for Sports Medicine's (AOSSM) Hall of Fame.
Kibler retired from Lexington Clinic in June 2020 after 43 years of serving his patients and providing insights and education for his colleagues. He was widely acknowledged as a thought leader in shoulder surgery and the role of the scapula, establishing The Shoulder Center of Kentucky.
In addition to complex shoulder surgery, Kibler was accomplished in acute knee injury surgery, sports medicine, and arthroscopic surgeries of the knee, ankle, and elbow.
Before joining Lexington Clinic, Kibler did his residency in orthopedic surgery and completed a neuromuscular disease fellowship at Vanderbilt University. He received his medical degree from the Vanderbilt University School of Medicine.
According to a release from Lexington Clinic on his retirement, Kibler had multiple professional achievements such as:
Developing the first comprehensive sports medicine program in Kentucky
Being the first to provide athletic training services to area schools and sports organizations in Kentucky
Developing three Consensus Conferences on disorders of the scapula
Performing over 23,000 surgical procedures
Founding member of the Society for Tennis Medicine and Science
Head Team Physician for the Lexington Legends since 2001
Within the realm of medical innovations, Kibler:
Was the first to describe the kinetic chain in sports activities
Was the first to describe scapular kinematics and scapular dyskinesis
Wrote and co-edited the first and only book on scapular disorders
Developed concepts of core stability and closed chain rehabilitation
Developed protocols and programs that set the basis for comprehensive shoulder rehabilitation
Developed and described three clinical exam tests for shoulder pathology
Developed and determined outcomes for two operations for AC injury and scapular muscle detachment
Developed the Personal Insight Program to address issues of professional and personal burnout.
In his acceptance speech, Kibler thanked his "practice partners at Lexington Clinic who developed and maintained the highest standards of excellence in Sports Medicine care." He also acknowledged his mentors and colleagues throughout his professional career, Betty, his wife of 51 years, and his sons. In closing he thanked "God, the creator of the amazing human body, for giving him the skills to heal."
Mary Lloyd Ireland, MD, UK Healthcare orthopedic surgeon, presented the Hall of Fame plaque to Kibler. "Dr. Kibler dedicated time and money to research. His articles and research on the scapula and shoulder brought awareness to orthopedists of the importance of the scapula in prevention of injury. He did significant work in this area, particularly in the sport of tennis," she said.
Jed Kuhn, MD, director of orthopedic surgery at Vanderbilt School of Medicine, said Kibler "is a kind, humble man of faith who has been given a unique way of looking at the world. Instead of anatomy, he sees function. Instead of pathology, he sees dysfunction. This has led to a paradigm shift in the way orthopedic surgeons think, considering the patient's function to be paramount in our approach to treatment."
According to their website, the AOSSM grew out of the American Academy of Orthopaedic Surgeons Committee on Sports Medicine, first organized in 1964. In 1972, 75 founding members created the AOSSM as a "scientific outlet for presentation and publication of new ideas" in sports medicine. Every year since 2001, AOSSM recognizes individuals who have made significant contributions to orthopedic sports medicine and the society. The Hall of Fame is considered one of the highest honors given to a society member.