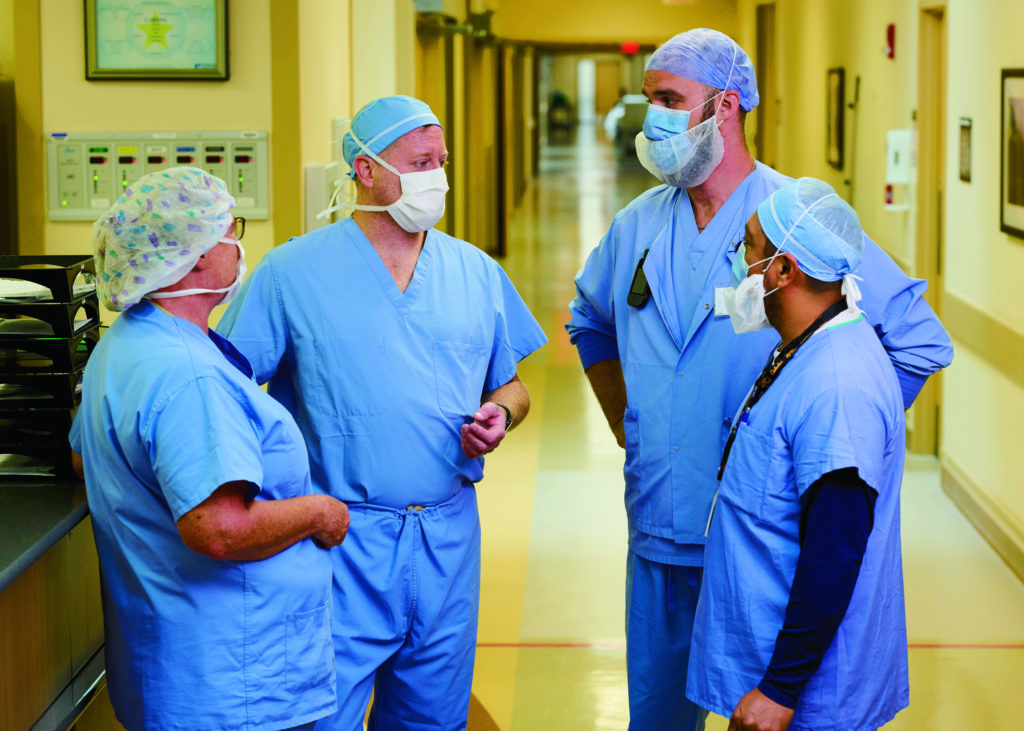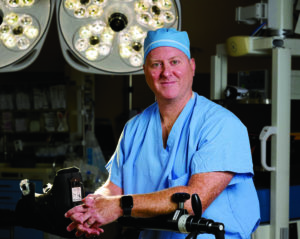 LOUISVILLE Be it high school or college, homecoming is almost always held around a major school sporting event. There's the big game, the reunion, the dance, and the memories. It's a special event, as any homecoming should be. It's a reminder and celebration of community, family, school, and, yes, team.
For Joseph Anthony O'Daniel Jr., MD, homecoming might not include a dance or even a game, but it certainly involves a team. He has joined the team at Norton Healthcare in Louisville as an orthopedic surgeon. What makes the story all the sweeter is that O'Daniel, after 16 years, is returning to his "home team." It's the same city where he swam and ran track and field and cross country for Trinity High School. It's where his family still lives, and where the family of his wife Andrea lives as well.
"One of the really attractive aspects of Norton Healthcare is that they emphasize that they are going to do what they can to provide for the team and support that team concept so that we can focus on providing the best surgeries and outcomes possible," says O'Daniel, who is a fellow of the American Academy of Orthopedic Surgeons.
It is clear that the team atmosphere appealed to O'Daniel and was a key component of his decision to return to Louisville, as was the presence of extended family. "The opportunity to come home and to raise our three children around our parents and their cousins, we think is invaluable," he says.
Invaluable, too, was the experience that O'Daniel gained when he went to the U.S. Naval Academy from 1992–96, immediately after graduating from high school. While there, he competed on the Academy's karate team. "I spent a long time with my teammates there, and it was a very big part of my life," O'Daniel says.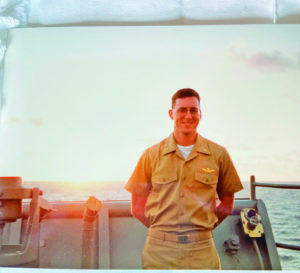 Upon graduation, he served five years as a line officer in the Navy. Then he was accepted to the University of Louisville School of Medicine, where he met his future wife Andrea, formerly Metten, who was also beginning her path to becoming a pediatrician. The Navy offered O'Daniel a military scholarship to attend medical school, which meant he returned to the Navy upon graduating from medical school. What followed was 15 more years in the Navy.
"It provided an opportunity to train with surgeons from all over the United States and to have the newest and best technology at our fingertips to help veterans and our wounded warriors coming back from the wars in Iraq and Afghanistan," says O'Daniel, who trained at Walter Reed National Military Medical Center in Bethesda, Maryland.
Serving in Military Healthcare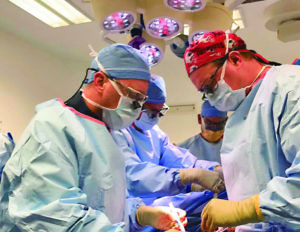 O'Daniel was called to serve in Iraq for seven months in 2007 and 2008 with a Navy construction battalion of approximately 650 sailors, aka The Seabees, who were skilled in construction, carpentry, and heavy equipment. They were deployed to support the marine and army infantry that were there, and O'Daniel, who had just been promoted to Lieutenant Commander, served as the head of the medical department for the battalion.
"I deployed with a team that was responsible for manning the Level 1 hospital in Kandahar, Afghanistan," O'Daniel says. "The Navy was tasked with putting together a group of 16 healthcare professionals that ranged from technicians, foremen, nurses, intensive care nurses, physicians and surgeons, to provide healthcare for all of the NATO forces and injured Afghanis in the southern half of the country. I did around 65 surgeries that were orthopedic specific. A lot of them were gunshot wounds to the extremities or blast injuries from IEDs. The majority of the patients that we took care of were Afghan locals that were either Afghani soldiers or civilians that were injured in the crossfire."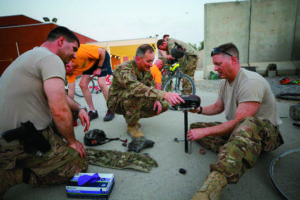 O'Daniel returned to the States in 2008 and completed his residency in orthopedic surgery at the Walter Reed National Military Medical Center in 2013. He spent the next seven years as an orthopedic surgeon in the Navy and was stationed just north of Chicago where Navy recruits go through boot camp. He retired from active duty in 2020 and took a one-year fellowship in hip and knee arthroplasty at NorthShore University in Skokie, Illinois. There, he was exposed to emerging technology, including robotic-assisted and computer-navigated arthroplasty surgeries.
I think there could be a misconception that we are programming a robot and it actually does the surgery," O'Daniel says. "What the combination of the computer and robot allows me to do is to preoperatively plan the surgery in finer detail. Before being exposed to robotic assisted surgery, I think a good surgeon would consistently put the total hip components within five to maybe 10 degrees in two different planes in the coronal and sagittal planes. The emerging technology is allowing us to put it within one degree in two planes and within a millimeter in terms of depth. The computer and robot reinforce your instinct or training."
A Change of Plans
Nearing the completion of his fellowship at NorthShore, O'Daniel planned to go into private practice. It wasn't long before he was approached by Norton Healthcare about joining them as a joint surgeon.
"From the first interaction with the senior recruiters, it was a wonderful experience," O'Daniel says. "They explained to me the Norton Healthcare business model and what a large presence it has in Kentuckiana. I felt it was too good of an opportunity to let go."
O'Daniel plans to focus on joint replacement, but will also treat orthopedic trauma as well as sports injuries. He feels his experience and training have prepared him for these challenging procedures and injuries.
"I believe that orthopedic care has advanced substantially and that we can treat the full gamut of types of injuries and disease," he says. "The opportunity to work with our military veteran population has given me a perspective of compassion that we all face struggles and we're all trying to do the best that we can as we travel through life. It's humbled me to realize that I was very privileged to work with the military which was full of a very young and healthy population."
Preparing for the New Challenge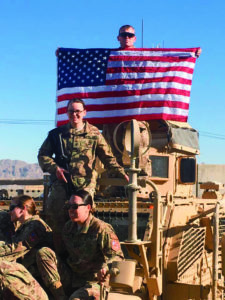 O'Daniel understands that his new patient population might not be quite as healthy outside of the military, and is bracing himself to face the challenges brought on by such risk factors as obesity, diabetes, and smoking. To do that, he will rely on his teammates and their expertise in helping to prepare the patient before surgery and rehabilitate the patient after. He anticipates working closely with other specialists such as internal medicine physicians, cardiologists, rheumatologists, dieticians, and physical therapists to provide the wide range of care these patients will require.
He also hopes to be able to help patients recover more quickly and successfully by getting them home as soon as possible after surgery.
"There is a trend towards minimizing patient stay postoperatively as much as possible," he says. "Whereas perhaps a decade ago, the concept of outpatient surgery was a scary thought to a lot of patients. Now the thought of coming in for a major joint replacement and going home later that afternoon holds wonderful promise because it gets the patients back into their native environment sooner where they are likely most comfortable."
In addition to a healthier patient mindset, the earlier return home helps avoid the risk of nosocomial infections from staying in the hospital. Of course, every patient and case is different. What might be the best course of action for one patient might not be the best fit for another. To that end, O'Daniel is committed to communication and teamwork with the patient and other medical providers on the team.
"I believe that care should be collaborative where, as a physician, I provide the best medical advice that I can and then work with the patient to collaboratively make the best decision for them as an individual," he says. "It could be surgery or it could be something entirely different to help meet their orthopedic needs. Treating every person with dignity and respect are some of the core tenets that I strive for."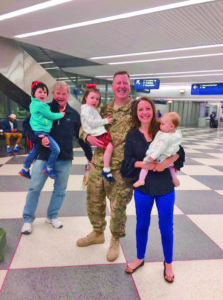 O'Daniel's athletic and military background are evident in his words. He genuinely values what every team member brings to the table and understands that winning — be it on the playing field, battlefield, or in the operating room — takes a combined effort with every team member doing their part and every role being of equal importance.
"In the military it was emphasized that everyone's role was to provide the best outcome possible," he says. "I hold that as one of my tenet philosophies, that every person on the team is a critical aspect of the team. When we roll into the operating room and perform a surgery, there's so much work that goes in pre-operatively to get the patient ready. That's from the medical technician, the x-ray technician, the radiologist, the patient's internal medicine doctors, and often their cardiologist. Certainly, the nursing staff plays a critical role and the administration by supporting your plan. Then, postoperatively, our internal medicine colleagues keeping the patient healthy and medically optimized after surgery. Physical therapists and occupational therapists that optimize as well. I think that if you took away any of those components you would have inferior outcomes."
Even though he's joining a new team, O'Daniel figures to be a quick and welcome fit. Ask any coach and they will surely tell you that a highly-skilled, well-trained, experienced player with a team-first attitude is always a welcome addition. Perhaps even worthy of a homecoming parade.