Baptist Health Teams Up with Intuitive Health, Breaks Ground on Southern Indiana's First Freestanding ER and Urgent Care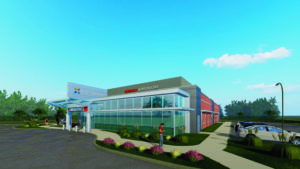 JEFFERSONVILLE, IN It's a $10.6 million partnership that is the first of its kind in Southern Indiana. Baptist Health has joined forces with Dallas-based Intuitive Health to bring the first hybrid emergency room and urgent care clinic to Southern Indiana. A formal groundbreaking was held July 21 and the facility is expected to open in spring 2022.
Baptist Health ER & Urgent Care will be located in the Jefferson Ridge development in Jeffersonville.
The full-service emergency room will be open 24 hours a day, while the urgent care will be open 7 am-9 pm, seven days a week. Emergency room-licensed doctors will examine each patient upon arrival to determine the appropriate care and if it is emergent or urgent care. The patient will be billed accordingly. This new concept helps eliminate unnecessary emergency room visits.
"We are excited to partner with a leader in care innovation to bring this new facility to fruition," said Michael Schroyer, president of Baptist Health Floyd. "There's been tremendous growth in the River Ridge area and we want to establish this emergency and urgent care model to complement the primary care, occupational medicine and physical therapy location that we have located a few miles away. We want to bring the same level of quality patient care that our community has come to know from Baptist Health Floyd."
Some of the features of Baptist Health ER & Urgent Care include:
On-site lab, a radiology suite and multi-slice CT scanners
Commitment to billing transparency.
The facility will be in-network with most major insurance plans and accepts Medicare and Medicaid.
"This facility will be the first of its kind in Southern Indiana," said Baptist Health CEO Gerard Colman. "That kind of innovation is something we're proud of at Baptist Health, and something that Hoosier residents are fortunate to find close to home thanks to the level of care provided by our Baptist Health Floyd hospital."
"The hybrid emergency room and urgent care clinic is just one example of the kind of 'next-generation' healthcare Baptist Health wants to bring to its communities," said Baptist Health chief strategy and marketing officer Jody Prather, MD. "We never lose sight of what's most important to our patients – in this instance, convenience and a great patient experience – combined with the quality of care our patients have come to expect."
The model provides pediatric and adult patients access to care 365 days a year. Each location treats everything a hospital emergency room treats, from allergies to appendicitis.
Louisville Student to Study Bahasa Indonesia on U.S. Department of State NSLI-Y Scholarship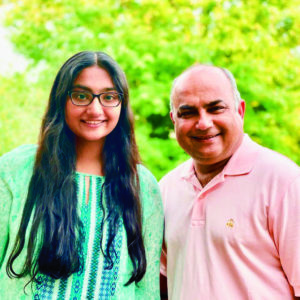 LOUISVILLE Sandhya Lohano, a high school student at Kentucky Country Day in Louisville and daughter of Vasdev Lohano, MD, a Baptist Health endocrinologist in New Albany IN, was awarded a National Security Language Initiative for Youth (NSLI-Y) Virtual Summer Intensive scholarship to study Bahasa Indonesia language for six weeks this past summer.
NSLI-Y is a program of the U.S. Department of State's Bureau of Educational and Cultural Affairs (ECA) that promotes critical language learning among American youth. The 2021 Virtual Summer Intensive program is as an online alternative for NSLI-Y immersion programs that could not take place overseas due to the ongoing COVID-19 pandemic.
Sandhya was competitively selected from approximately 2,500 applicants from across the United States and is one of over 500 students who will study Arabic, Chinese, Hindi, Indonesian, Korean, Persian, Russian, or Turkish as part of the virtual exchange. The NSLI-Y Virtual Summer Intensive program provides robust language and cultural learning opportunities by virtually connecting the participants with overseas teachers, international peers, cultural organizations, and communities where the target language is spoken.
NSLI-Y is part of a multi-agency U.S. government initiative launched in 2006 to improve Americans' ability to communicate in select critical languages, advance international dialogue, and provide Americans with jobs skills for the global economy.
SEND YOUR NEWS ITEMS TO MD-UPDATE > news@md-update.com
Primary Stroke Centers Awarded Recertification from The Joint Commission
LOUISVILLE UofL Health – Jewish Hospital and UofL Health – Mary & Elizabeth Hospital have earned The Joint Commission's Gold Seal Approval® and the American Stroke Association's Heart-Check mark.
Jewish Hospital and Mary & Elizabeth Hospital both underwent a rigorous, unannounced onsite review. During the visit, The Joint Commission reviewers evaluated compliance with related certification standards including program management and delivering and facilitating clinical care. Joint Commission standards are developed in consultation with health care experts and providers, measurement experts and patients. The reviewers also conducted onsite observations and interviews.
"We are very pleased to have earned this approval for two of our hospitals. This clearly documents our dedication to stroke care throughout UofL Health," said Kerri Remmel, MD, PhD, Director, UofL Health – Stroke.
"Our staff has been working together for months in preparation of this visit and with COVID-19 many of these preparations and meetings had to be carried out virtually and with new approaches," said Jason Stiles, executive director of UofL Health – Stroke. "It is a testament of our staff's desire to deliver expert stroke care to our patients no matter what that we have been awarded this certification at both hospitals."
In addition to Jewish Hospital and Mary & Elizabeth Hospital, UofL Health also has a Comprehensive Stroke Center at UofL Hospital.
UofL Health – Jewish Hospital Celebrates 1000th TAVR Procedure
LOUISVILLE On July 22, 2021, UofL Health – Jewish Hospital celebrated its 1000th transcatheter aortic valve replacement (TAVR) procedure. Brian Ganzel, MD, UofL Physicians – Cardiovascular and Thoracic Surgery performed the milestone minimally invasive heart procedure on Patricia Hendricks of Springfield, Kentucky.
"This is truly a team effort because there are so many people involved," said Ganzel. "Cardiologists, surgeons, anesthesiologists, nurses, technicians all come together to pull this off and provide good care for the patients. This also takes dedication from the hospital administration because this is not a cheap endeavor."
"I feel very lucky that I had Dr. Ganzel as my doctor, and I love his staff. I have another whole life to look forward to. I really feel that way now," said Hendricks. "If you have heart problems this is where you need to be."
UofL Health – Jewish Hospital was the first in Kentucky to perform a transcatheter aortic-valve replacement, in 2011. UofL Health – Jewish Hospital is a national leader in advanced heart care," said John Walsh, chief administrative officer of UofL Health – Jewish Hospital. "As an academic health care system, we are committed to advancing minimally invasive heart procedures so patients can quickly return to their loved ones and resume their normal activities."
Doctors at the Rudd Heart and Lung Center at UofL Health – Jewish Hospital perform cutting-edge treatments, and also train physicians from around the world on advanced techniques.
"Our team's expertise is helping save lives well beyond Kentucky and Southern Indiana," said Debra Riley, UofL Health vice president of cardiovascular services. "It's an honor to work alongside people who truly make a difference."
Stephen J. Behnke, MD, Named Chief Executive Officer of Lexington Clinic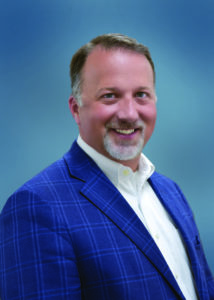 LEXINGTON The Lexington Clinic board of directors has appointed Stephen J. Behnke, MD, MBA, as the organization's new chief executive officer (CEO). Behnke has assumed leadership responsibilities for the oldest and largest group practice, which includes 30+ specialties and has more than 25 locations throughout Central Kentucky.
"It is an honor to be chosen to lead such a prestigious organization like Lexington Clinic," says Behnke. "I look forward to building on its rich history and foundation and working with our clinicians and employees across the organization as we continue to deliver the highest quality integrated health care to our patients."
Prior to joining Lexington Clinic, Behnke has served as chief executive officer, president, medical director and as an attending physician at MedOne Hospital Physicians from 2005 onwards, where his broad understanding and knowledge of overall operations enabled him to play a pivotal role in the Ohio-based organization's growth over the years. As a seasoned healthcare executive with 14+ years of administrative experience, Behnke brings not only impressive experience, but also a new and energizing vision to Lexington Clinic. "Armed with my years of experience at MedOne, I hope to bring the same spirit of innovation, humility and excellence to the team, patients and community in Lexington," says Behnke.
Behnke obtained his MD/MBA dual degree from University of Louisville and is board certified in internal medicine. He has also served as a clinical assistant professor of hospital medicine at the Ohio State University prior to joining MedOne Hospital Physicians.
Lexington Clinic was founded in 1920 and is Central Kentucky's oldest and largest group practice. Lexington Clinic has more than 180 providers and serves more than 600,000 patients every year. Lexington Clinic has providers in 30+ different specialties and has more than 25 locations throughout Central Kentucky.
Franklin De La Cruz, MD, Joins CHI Saint Joseph Medical Group in Bardstown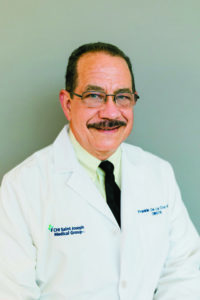 BARDSTOWN Franklin De La Cruz, MD, has joined CHI Saint Joseph Medical Group in Bardstown as an obstetrician and gynecologist. As a practicing physician who has worked in the field for decades, he's now treating the second generation of mothers in the Bardstown area.
Raised in the Dominican Republic, De La Cruz first considered a career in general surgery and completed his undergraduate education at the Universidad Autónoma de Santo Domingo and earned his medical degree at Cetec University. Now, he cares for the patients that he helped deliver more than 20 years prior.
"It's fulfilling to bring someone into life, and then continue to care for them and their offspring whenever they decide to start families," says De La Cruz. "It's a full-circle moment that allows me to feel like I'm part of the families I care for."
Following medical school, De La Cruz gained experience at Pan American Hospital, Miami General Hospital, University of Miami and Westchester General Hospital, where he held various clerkships in internal medicine, surgery, pediatrics and obstetrics and gynecology. While in his obstetrics and gynecology residency programs in Puerto Rico, De La Cruz enrolled in the National Guard and served from 1989 to 1993, until he completed his program. He later moved to Kentucky to join the Kentucky National Guard and served in a variety of military leadership roles until he received honorable discharge from the Inactive Reserve in 2002. Professionally, he's maintained an OB-GYN practice at the Bardstown Women's Center since 1993 and served as the Chief of Medical Staff at the Surgical Center of Elizabethtown from 2004 to 2005.
De La Cruz is currently part of the Passport Health Plan Quality Medical Management Committee, serves as a member of the Kentucky Medical Association Community and Rural Health Committee, and is an associate professor at the University of Kentucky.
Benjamin Neltner, MD, Joins CHI Saint Joseph Medical Group in Lexington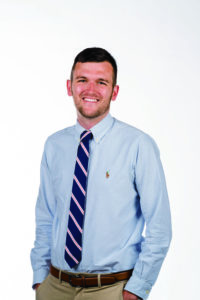 LEXINGTON Benjamin Neltner, MD, has joined CHI Saint Joseph Medical Group – Primary Care in Lexington. Born and raised just outside of Covington, Kentucky, Neltner is excited to return to his home state and treat the underserved populations across the commonwealth.
"The main reason I went into medicine was to serve," says Neltner. "CHI Saint Joseph Health values taking care of the community and indigent populations, and I value serving the truly underserved."
At 15, Neltner discovered his passion for medicine while volunteering at a hospice center in Northern Kentucky. "I saw the immense good that physicians can do for their patients, especially at the end of life – it was inspiring."
Neltner's mission to serve is evident through his years of volunteering at various hospice centers and clinics in Kentucky and Virginia, where he provided complimentary medical care to uninsured and underinsured patients. His services included grief counseling and nursing assistance, as well as preventive care and chronic disease management. Neltner has many leadership experiences, including serving as a primary care provider to refugees at the University of Virginia International Family Medicine Clinic. He is also a member of the American Academy of Family Physicians and the American Medical Association, and he is board-certified in family medicine.
Now at CHI Saint Joseph Medical Group, Neltner is dedicated to providing primary care to the Lexington community through a "shared decision-making and research-based" philosophy.
"The decisions I make are only a small aspect of a patient's overall health," says Neltner. "It really takes a relationship with each patient that is built on trust to make decisions together and to fully treat them."
Neltner attended UofL where he earned his BA in science and his medical degree. He met his wife, Caitlyn Neltner, MD, a Winchester, Kentucky native and pediatrician, while attending the UofL School of Medicine. Upon graduation, the couple moved to Charlottesville, Virginia, where Neltner completed his family medicine residency at the University of Virginia. He and his wife are excited to be back home in Kentucky and get to work.
"The biggest challenges facing Kentuckians right now is the lack of resources," says Neltner. "CHI Saint Joseph Health is making a difference for our community by providing these resources through serving underserved patients, and I'm proud to be a part of this vision."
George Dimeling, MD, Joins CHI Saint Joseph Medical Group in Lexington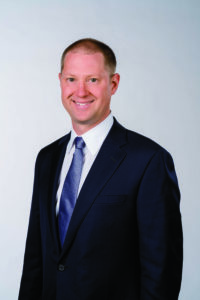 LEXINGTON George Dimeling, MD, has joined CHI Saint Joseph Medical Group in Lexington as a cardiac surgeon – a field he has been passionate about since high school when he had the opportunity to observe a heart transplant. The experience, which he called "life-changing," has continued to motivate him throughout his life.
Dimeling and his wife recently moved to Kentucky from Cleveland, Ohio, to be closer to family. "I find the mission of CHI Saint Joseph Health to be in line with my personal goals," said Dimeling. "My wife's family is from the area, and we wanted to reconnect in the post COVID era."
Before medical school, Dimeling enrolled in the U.S. Navy. He later attended the University of Virginia where he earned a BA degree; he earned a MS degree from Georgetown University, and later completed his medical degree at Drexel University. He completed an internship and residency at Stanford University Hospital and is currently pursuing his MBA. Since 2017, Dimeling has worked as an adult cardiac surgeon in the Norfolk, Virginia, and Cleveland, Ohio, areas. He is board-certified from the American Board of Thoracic Surgery.
Dimeling is a member of the Lexington Medical Society, Kentucky Medical Association, Society of Thoracic Surgeons, Western Society of Thoracic Surgeons, and the Fellow of American College of Cardiology. In 2020, he also began serving as a board member for the American College of Cardiology – Ohio Chapter.
Bilal Aslam, MD, Joins CHI Saint Joseph Medical Group in Lexington
Gastroenterologist brings years of experience to Lexington and surrounding communities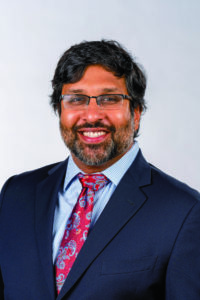 LEXINGTON Bilal Aslam, MD, has joined CHI Saint Joseph Medical Group – Gastroenterology in Lexington. Hailing from a family of physicians, Aslam set his sights on the medical field at a young age and never looked back. With his family as his support, Aslam adopted a medical philosophy that's created close ties that span well beyond his bloodline.
"I try to treat all my patients like family," says Aslam. "It's caring for my patients, but also educating them to the point that they understand the risks and benefits of what you're doing … this can be challenging, so ensuring I've established a familial type of relationship gives my patients a sense of ease and positivity during treatment."
At age 12 Aslam's family moved from New York City to Morehead, Kentucky. "Basically, I've been in Kentucky for the last 22 years," says Aslam. He attended the UK for his undergraduate education and medical school, as well as his residency fellowship.
Aslam has also taught rising high school seniors at the UK's Area Health Education Center (AHEC), where he implemented an interactive, lab-based introductory physiology curriculum. Aslam is fluent in both the Urdu and Punjabi languages, with career interests in advanced/therapeutic endoscopy, gastrointestinal bleeding, and systems-based practice.
"I'm very much looking forward to being part of the CHI Saint Joseph Health," says Aslam. My kids were all born in Kentucky. My sister is a resident at the UK, so my ties to this place are very strong."
Aslam's wife, Leslie, is a triple board-certified psychiatrist.
CHI Saint Joseph Health – Cancer Care Centers and Flaget Memorial Earn National Accreditation from the Commission on Cancer of the American College of Surgeons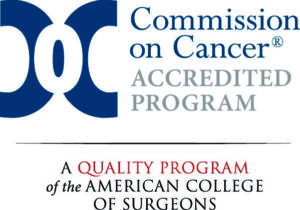 LEXINGTON The Commission on Cancer (CoC), a quality program of the American College of Surgeons (ACS), has granted Three-Year Accreditation to the CHI Saint Joseph Health – Cancer Care Centers in Lexington and Flaget Memorial in Bardstown. To earn voluntary CoC accreditation, a cancer program must meet 34 CoC quality care standards, be evaluated every three years through a survey process, and maintain levels of excellence in the delivery of comprehensive patient-centered care.
As CoC-accredited cancer centers, CHI Saint Joseph Health – Cancer Care Centers and Flaget Memorial take a multidisciplinary approach to treating cancer as a complex group of diseases that requires consultation among surgeons, medical and radiation oncologists, diagnostic radiologists, pathologists, and other cancer specialists. This multidisciplinary partnership results in improved patient care. The cancer care centers' affiliation with Cleveland Clinic Cancer Care provides another layer of care for patients in Kentucky, including easier access to second opinions from highly specialized cancer providers.
"The re-accreditation of our cancer care centers is another reflection of our incredible team who work both behind the scenes and on the front lines," said Tony Houston, CEO, CHI Saint Joseph Health. "Our employees are passionate about the work they do, and are committed to our vision of a healthier future for all. Every day, they provide excellent care to patients who turn to our cancer program for healing."
"Our cancer center offers patients world-class care close to home, and we are thrilled to receive this accreditation, which further demonstrates our commitment to providing the best care in Nelson County," said Jennifer Nolan, president, Flaget Memorial Hospital. "We know the work being done through our cancer program is saving lives, and we are thankful to have such compassionate team members who are making a difference each day in patients' lives."
The CoC Accreditation Program provides the framework for CHI Saint Joseph Health — Cancer Care Centers to improve the quality of patient care through various cancer-related programs that focus on the full spectrum of cancer care including prevention, early diagnosis, cancer staging, optimal treatment, rehabilitation, life-long follow-up for recurrent disease, and end-of-life care. When patients receive care at a CoC facility, they also have access to information on clinical trials and new treatments, genetic counseling, and patient centered services including psycho-social support, a patient navigation process, and a survivor-ship care plan that documents the care each patient receives and seeks to improve cancer survivors' quality of life.