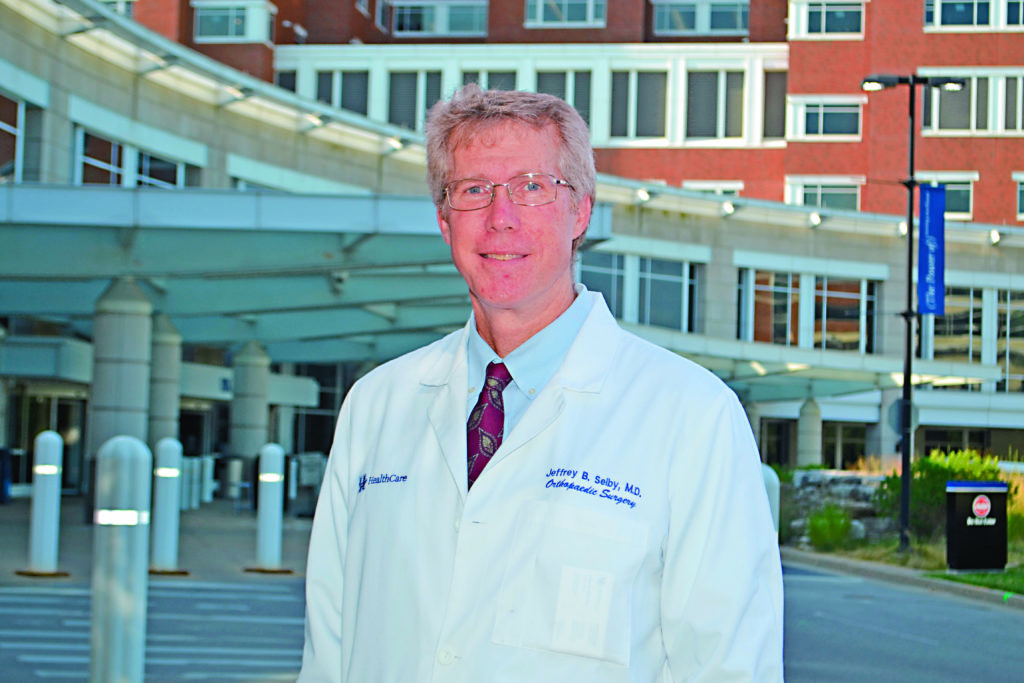 LEXINGTON
Editor's intro: Jeffrey Brian Selby, MD, has been chair of the UK Department of Orthopaedic Surgery and Sports Medicine since October 2020. He was interim chair for 2.5 years previously.
MDU Dr. Selby, tell us some of your background.

(Selby) My family was originally from West Texas, but I grew up in Florida and Colorado. I went to Vanderbilt for undergraduate, the Texas Tech School of Medicine, and did my residency at UK. I'm board certified in orthopedic surgery. I met my wife Lisbeth, a gastroenterologist, in medical school.
Both my father and grandfather were cardiothoracic surgeons, so I followed in their footsteps but took a slightly different path. I've always been mechanical and like to build things. I first became interested in orthopedics when I took a summer job during college with an orthopedic surgeon in Missouri, Dr. Leo Whiteside. That's where I first saw orthopedic research and surgery, and it enlightened me to the possibility of medically fixing things.
MDU Was medical administration always one of your goals?

I have always had a tendency toward leadership. I have been the chief of orthopedics at the VA, medical director of orthopedic trauma at UK, and medical director of joint replacement at UK. Being vice-chair for several years prepared me for the business side of the department.
MDU You are department chair, but you still see patients?

It was part of my agreement when becoming department chair that I could still see patients. My leadership style is to lead by example, and I can't do that if I'm not seeing patients and still operating.
MDU Describe your patient population for us.

I started out doing orthopedic trauma and sports medicine procedures. My practice has now evolved to primarily older patients who need joint replacement, from simple joint replacement to the most complex revisions. My more elderly patients need joint replacement from osteoarthritis or rheumatoid arthritis and other deterioration of the joints.
MDU The field of orthopedics, orthopedic surgery and sports medicine has grown tremendously in the last few decades. Does the UK Department of Orthopaedics reflect that growth?

The Department of Orthopaedics and Sports Medicine at UK has grown dramatically in the last 25 years. We started with a six-member faculty, and we now have 35. What started as a trauma center has developed into a trauma and sports medicine center with all of the subspecialties such as hand surgery, pediatric orthopedic surgery, shoulder and elbow surgery, tumor surgery, and of course joint replacement.
MDU In your opinion, what's driving the growth of orthopedics and sports medicine?

You would think that trauma would be constant, but it continues to increase. The biggest growth is in sports medicine and joint replacement. I think the rise in quality and size of the new UK Hospital, which is now ten years old, is responsible for that growth. Just having the space to grow and the superb facilities has allowed all of the specialties to grow, ours included.
MDU There seems to be a trend in orthopedic surgeries, particularly with joint replacement, towards outpatient surgery or very short hospital stays. What's your view on that trend?

What use to be a four or five-day hospital stay, with one to two weeks at a rehabilitation facility, is now outpatient with the patient leaving the same day or the next day. Now that's not appropriate for all patients. We have studies that show that for some elderly and more infirm patients, longer hospital stays are necessary and in rare occasions there's a placement in rehabilitation facility. It all depends on the patient. Same day outpatient surgery is not for everyone, but most patients leave the day after surgery.
We've found that getting the patient back to their home environment quickly, in many cases, works much better.
MDU Why do you say that?

We've gotten much better at post-operative pain management and physical therapy protocols so we're able to get patients moving much faster than before. And that's a good thing. People can sleep in their own beds and be comfortable the first evening.
But I want to emphasize that next day or outpatient surgery is not for everyone. People have to want that in-home care. We don't force anyone to go home. Patients may be unsteady on their feet, and they need to have a qualified caregiving partner to assist them.
MDU Another trend in orthopedic surgery is computer navigation and robotic surgery. Do you employ those technologies for surgeries at UK for joint replacement?

We've been using computer navigation and robotics for surgery at UK for several years now in joint replacement, but only if it improves patient outcomes. We've been using the robotic platform for joint replacement surgery for over a year and a half.
The benefits are not that a robotic arm makes a more accurate cut. The advantage is that we can place the implant in more exact alignment with the patient's existing bone structure. The robotic-assisted computer allows us to combine the implant alignment with the patient's soft tissue balance, which are the important elements of joint replacement surgery. It can also help us minimize cutting of soft tissue, such as ligaments and muscle, which aid in the patient's recovery.
MDU Talk about your department's approach to pain management post-surgery.

It generally hurts to have orthopedic surgery. We've changed our pain management protocols over the years. In the past we used to give mostly narcotics to relieve the pain from surgery. Now we employ a multi-modal pain management approach where we attack pain pathways and use different medications for pain management, with narcotics as the solvent at the end. This approach allows us to reduce the amounts of narcotics used.
Some patients are concerned by this approach and are worried that we won't give them enough pain medicine to control their pain. That's simply not the case. Their pain will be controlled, but we've learned how to do it with far less narcotics than before.
MDU What's your opinion of protein-rich plasma injections for sports injuries or age-related soft tissue deterioration?

Protein-rich plasma injections are showing to be most effective in soft tissue, repetitive motion injuries, such as tennis elbow. Some people are using it in knees. As yet, the FDA has not approved it, so it's not covered by insurance. The results are variable. It works for some people, for others it doesn't. I have to follow the FDA, so I'll wait until we have more evidence of its efficacy and more clinical trials.
MDU Are there any clinical trials going on at UK Department of Orthopaedics?

We have several trials going on now. One is focused on improving the patient's overall recovery outcome and mental state after an orthopedic trauma. We can fix the bones and joints, but how can we optimize how the patient responds mentally?
We're also doing some work on different new implants and a lot of work on cartilage restoration.
MDU Talk to me about the collaborative team approach at the UK Department of Orthopaedics.

We have a team approach on several levels. We have some super subspecialists, so we can collaborate on very complex surgeries where multiple bones and joints are involved. The team effort is really the whole department, our clinic team, our hospital team, our operating room team; all collaborate because each team is as important as the other.
We've had joint replacement optimization meetings where everyone involved was invited, over 50 to 60 people attended and each had something to do with the surgery. So, it's definitely a team approach.
MDU Talk about the department's outreach beyond the UK campus.

Our Sports Medicine department covers multiple sports teams, Morehead State, Kentucky State University, Georgetown College, and of course UK. We also cover many high school teams around Lexington and in Danville and Lincoln County and other surrounding counties.
We have orthopedic surgeons at Med Center Health Orthopaedics and Sports Medicine in Bowling Green. They are very active with Western Kentucky University athletics. They were the first in our physician group to start using robotic surgery techniques. We started that about five years ago.
MDU What are some misconceptions about orthopedics that you want to address?

One that I hear from patients is that an MRI is necessary for everything. We order a lot of MRIs but not every orthopedic condition warrants an MRI.
The second is that every orthopedic condition requires surgery. We spend a lot of time on non-operative techniques because we understand that there are risks and complications from surgery. Some patients may become frustrated and impatient that we don't rush into surgery, but we feel that in some cases physical therapy and other medical options are suggested and have less overall risk for the patient.
MDU What's on the horizon for orthopedics and sports medicine that will be a game changer?

There are a lot of things coming. I believe biologics such as stem cell replacement and PRP will all continue to improve. Robotic surgery using artificial intelligence and computer navigation will improve for even more surgical accuracy. I'd like to see us be able to regrow cartilage on a larger scale. We can do it now, in some smaller locations, with younger sports medicine patients. I hope we can learn to regrow cartilage in larger areas of the joints in older patients with arthritis. That could eliminate the need for joint replacement with artificial joints with plastic and metal.
MDU What's your personal philosophy of care?

I treat all of my patients exactly as if they were my family. I would never recommend a treatment that I wouldn't recommend for myself or my family. I think that makes people feel at ease, by keeping it simple.
MDU What message do you want to share about the University of Kentucky Department of Orthopaedics with our readers?

We have the most widespread group of orthopedic subspecialists in the region. We have leading physicians of character who take great care of patients.