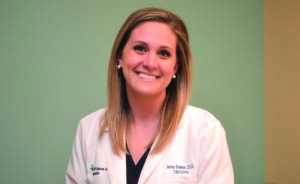 LEXINGTON During her third year at Pikeville College of Osteopathic Medicine, Amy Baker, DO, underwent a life-changing experience— she helped deliver a baby. "The day that I got to assist with my first delivery is the day I knew I wanted to be an OB-GYN. I knew that getting to deliver babies was something I was never going to get tired of," Baker says. "After the end of that day, I called my mom and my face just hurt from smiling so much. It really just brought me that much joy to help deliver that baby."
Upon her graduation from Pikeville College, Baker completed her residency at Grandview Medical Center in Dayton, Ohio. She then immediately returned to her beloved home state of Kentucky to join CHI Saint Joseph Medical Group – Obstetrics & Gynecology.
The Osteopathic Advantage
Baker credits her background in osteopathic medicine with allowing her to better serve her patients. By taking a more "whole-person" approach to medicine, Baker is able to address many of the pain issues that normally accompany pregnancy. She stated, "I think the biggest thing that being a DO has added to my training is the extra knowledge of the musculoskeletal system. I think that I use it most with my obstetric patients who are having the common aches and pains of pregnancy. I can give them ways to help with that during the pregnancy and even postpartum."
Baker elaborates, "There's muscle energy techniques we can use here in the office for management. Oftentimes I give people stretches they can do at home for low back pain and sciatic leg pain to get them through the pregnancy while we wait for those symptoms to resolve over time and after delivery."
"The day that I got to assist with my first delivery is the day I knew I wanted to be an OB-GYN. I knew that getting to deliver babies was something I was never going to get tired of."

— Amy Baker, DO

All Ages, All Stages
As an OB-GYN, obstetrics is only a portion of Baker's practice. She treats women in all phases of their life with a focus on achieving gynecological health in all ages and at all stages. According to Baker, "I really do a pretty even mixture of both obstetrics and gynecology. We see women of all ages, from our adolescents to women that are past menopause."
CHI Saint Joseph Medical Group – Obstetrics & Gynecology offers a full range of services. For those in their reproductive years, they provide family planning, pregnancy testing, prenatal and postpartum care, and labor and delivery. Females reaching middle age can benefit from their menopausal symptom and osteoporosis care and treatment. Women of all ages have access to preventive and gynecological cancer screenings and breast health assessments and advice. CHI Saint Joseph Health is also at the forefront of utilizing minimally invasive gynecological procedures and state-of-the-art, robotic surgery.
Education and Emotional Support
With women of all ages, two of the most important treatment components are education and emotional support. Often, this starts with a conversation about gynecologic health and family planning.
During an initial visit, she may also discuss the HPV vaccine, GARDASIL 9, which has been proven to prevent the vast majority of cervical cancers as well as other gynecologic cancers and genital warts. Baker states, "It's just a wonderful vaccine we now have available for our patients. And it's not just for young patients. That is the ideal time for them to get it, but it can be given to people all the way up to age 45."
For her patients who have become pregnant, supplying a comprehensive understanding of breastfeeding is a main priority. Early in the third trimester, Baker establishes whether or not the patient desires to breastfeed. Baker states, "It's not ever something that I want to force on moms. The general knowledge is that it is what is best for babies, but fed is really best. So, we just base it on mom's desire, and how she wants to feed her baby."
If the woman indicates that breastfeeding is her method of choice, she is encouraged to attend the free classes offered at CHI Saint Joseph Health, and Baker opens the topic for further discussion and questions. "We really like to talk about breastfeeding during the pregnancy so the patient knows what to expect and what services are available if she were to have problems with breastfeeding. And we like to follow up in two weeks to make sure moms aren't having signs of pain, which could be indicative of poor latch, or that they're not having redness or fevers that could be symptoms of mastitis."
During this follow-up, Baker also brings up the important topic of postpartum depression. According to Baker, "We normally see people back at least twice after a normal, uncomplicated delivery. Something I am very passionate about is screening for postpartum depression during that time. We do a screening with a standard Edinburgh postpartum form."
Some of the symptoms for which the form screens are sadness, crying, inability to cope with everyday activities, feelings of anxiousness, irritability, and sleep disturbances. If it is determined the patient is suffering from postpartum depression, Baker may make a referral to a psychiatrist or a psychologist as well as prescribe an SSRI medication that is deemed safe for use during breastfeeding.
For many women, a yearly visit to a gynecologist is the only time they see a physician, so being in-tune with the emotional, as well as the physical, well-being of her patients is a primary goal. "It's kind of a joke that we practice 'gynechiatry.' Mood issues are related to our relationships and our sex life, and so a lot of time the psychology problems come up in our histories and exams with our patients. I definitely think it's important as an OB and a GYN to have a pretty strong understanding of psychology," Baker says.
In closing, Baker reiterates her role in the overall health of all women: "I think it's important for patients and other people in healthcare to know that gynecologic care doesn't just stop when you're done having babies or when you're done having periods. We care for women of all ages, not just women during those reproductive years. We really do have a lot to offer women in those early teenage years and well past menopause."
"We care for women of all ages, not just women during those reproductive years. We really do have a lot to offer women in those early teenage years and well past menopause."

— Amy Baker, DO