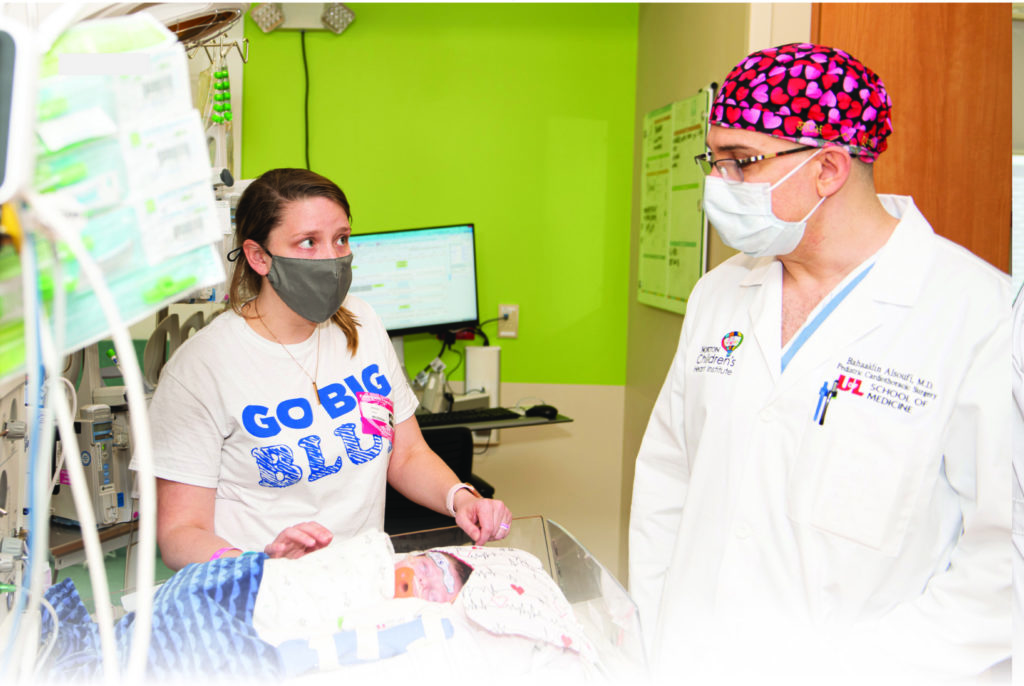 LOUISVILLE In the movies, the Avengers are a group of superheroes of varying superpowers and talents. They come from countries – even planets – far and wide, joining together in a fight against a singular foe.
At Norton Children's Heart Institute (NCHI) in Louisville, the superheroes don no special costumes. Their masks are worn to protect those they serve, not conceal their identities. Rather than superpowers, they are armed with advanced technology, essential tools, and extensive education and experience. These, it turns out, are often all they need to save a child's life.
Perhaps their greatest power is their ability to teach many of the same powers to "mere mortals," creating a whole new team of superheroes prepared to take care of these children during their treatment and recovery. In this case, those empowered mere mortals are usually the child's parents or other family members.
"I sometimes joke that they become super parents," says Brian J. Holland, MD, pediatric cardiologist at NCHI. "They have invisible capes behind them. They become experts ready for whatever their babies need."
While there is no way for expecting parents to prepare for the news that their baby has a heart defect, there is a way to help them prepare to care for such a baby. Thanks to early detection often made by the obstetrician, parents can learn about the baby's congenital heart abnormality, what they can expect, and how they can be ready when the baby is born. To make it as comforting as possible for the families, prior to the birth, parents have a meeting with the medical team that will be taking care of their child.
"They have multiple appointments scheduled in the same setting, where they see the surgeon who explains to them based on the echocardiogram what is the anticipated treatment that is required," says Bahaaldin Alsoufi, MD, chief of the Division of Pediatric Cardiac Surgery, University of Louisville School of Medicine, and director of pediatric cardiac surgery, Norton Children's Heart Institute. "We prepare them. We talk to them about expectations, risks, any potential complications. They leave with a large packet that explains not only what they need to know about the specific heart defect that their child has, but also explains the post-operative care and long-term care. At the same time, they see the neonatal intensive care unit physicians, who explain to them about the delivery and what they're going to do to stabilize the baby until we do the surgery. They meet the nurse practitioners who are going to continue to follow the patients at home. They meet others who are going to be taking care of them, for example interventional cardiology. It gives them a lot of time to digest the information, to learn more, and to coordinate the care."
Meet Bahaaldin Alsoufi, MD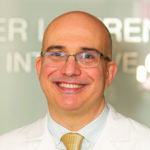 Originally from Syria, Alsoufi obtained his medical degree from the University of Damascus in Syria. He then moved to the United States and did his residency in general surgery at the University of Massachusetts. He then did a fellowship in cardiothoracic surgery at Oregon Health & Science University and another fellowship in pediatric cardiac surgery at the University of Toronto's Hospital for Sick Children.
He served as associate professor of surgery at Emory University and as a congenital cardiac surgeon at Children's Healthcare of Atlanta before coming to Louisville in 2018. Alsoufi, who is married with four daughters, specializes in all aspects of pediatric and adult congenital cardiac surgery with special interest in complex neonatal cardiac surgery, single ventricle palliation, pediatric valvular heart disease, and heart transplantation.
Alsoufi's patient population includes any children under 18 and adults with congenital heart disease requiring heart surgery.
"I initially became interested in cardiothoracic surgery itself because of exposure during childhood with multiple members of my family needing cardiac surgery," Alsoufi says. "I became especially interested in the pediatric cardiac surgery subspecialty because I found it much more fascinating because of the complexity of the congenital anomalies that the babies are born with and the critical situation that they're in. It is a very rewarding profession."
Meet Brian J. Holland, MD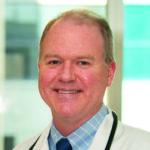 Though he was born in Pittsburgh, Pennsylvania, Holland's path to Louisville— like Alsoufi's—included a bit of world travel. He attended high school in Augusta, Georgia, and went to college at the University of Pennsylvania, majoring in bioengineering. He went to medical school at the Medical College of Georgia. He then served in the Army, completing a three-year residency in pediatrics at Tripler Army Medical Center in Hawaii.
"I owed four years of service to pay back my college scholarship and got assigned as a pediatrician in Germany," Holland says. There he delivered babies and took care of the American families who were stationed in Germany. "In the eyes of the Army, they thought that a lot of soldiers were just glorified teenagers in that they were healthy and didn't have a lot of other medical problems. They had pediatricians deploy as physicians for units that were going into either Iraq or Afghanistan. I was deployed for a year in Afghanistan with an infantry unit to take care of the soldiers who were there."
"We are fortunate to live in an era where congenital heart surgery has developed substantially. We have the experience and the technology to be able to take care of these patients as compared to 50 or 60 years ago when many of those patients did not make it."— Dr. Bahaaldin Alsoufi, MD, chief of the Division of Pediatric Cardiac Surgery, University of Louisville School of Medicine and director of pediatric cardiac surgery, Norton Children's Heart Institute.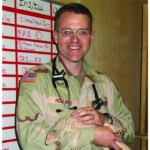 Perhaps influenced by his military experience, he liked the idea of taking care of children who needed specialty care. When he returned to the United States, Holland completed a fellowship in pediatric cardiology at New York-Presbyterian Hospital. A year later, he came to Louisville, joining NCHI and the University of Louisville Division of Pediatric Cardiology in 2010.
At the University of Louisville and NCHI, Holland treats patients with congenital heart disease. He also sees patients in clinic and in some outreach clinics, including a three-day trip to Paducah every month with two physicians, sonographers, medical assistants, and front desk staff.
The Heart of the Matter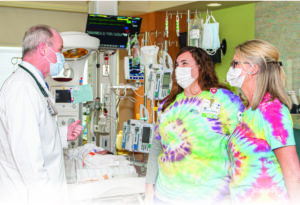 Together Alsoufi and Holland are part of a comprehensive team dedicated to the care of the sickest of children. Alsoufi estimates that more than 90 percent of pediatric heart disease cases are congenital. The presentations in these babies vary, with some requiring neonatal surgery while others can wait until a later age. Because of advanced detection, the majority of the neonatal cases are diagnosed before birth. This allows the time for the family to be informed and educated, and to prepare to care for their child.
"It makes the whole experience completely different than if the baby wasn't known to have a heart problem and got transferred in the middle of the night because they turned blue," says Holland.
That doesn't mean the process is easy on the parents. The first "Meet the Team Day" when the parents learn more about the condition of their unborn child is impactful, informative, and emotional.
"At that first visit oftentimes there are tears," Holland says. "We need to have Kleenex in the room and it is a long conversation. I usually start by drawing them a picture of a normal heart and drawing a picture of what we can see on the ultrasound, and then trying to explain what the heart condition is, just from the map, from the anatomy, from the chambers and the walls and the blood vessels, et cetera. We have experience with these types of heart conditions and that I think is a great source of comfort to them."
The key to being able to prepare both the family and medical team is early detection. Holland performs fetal echocardiography, which utilizes an ultrasound to find heart problems during pregnancy.
"Sometimes when we're looking during pregnancy, we get the chance to be the first ones to map out that baby's heart," Holland says. "It's a very complicated thing, because it's a map that's rotating in three dimensions, even in front of your eyes, to try to figure out what the connections are and are they normal or abnormal, and then help to guide the treatment if we do find that the baby has a heart condition."
Some of those heart conditions include babies with a single ventricle. In some cases with babies who have major problems with the heart muscle or valves, a heart transplant is required and ventricular assist devices might need to be implanted to support the patients until they are able to receive the transplant.
"The heart is small and the defects are complex," Alsoufi says. "There are technical and physiological challenges in these surgeries. However, that's where adequate training and adequate experience becomes important. We are fortunate to live in an era where congenital heart surgery has developed substantially. We have the experience and the technology to be able to take care of these patients as compared to 50 or 60 years ago when many of those patients did not make it."
Alsoufi and Holland want to spread the word about the advances in detection, treatment, and care and the increasingly positive outcomes. "We have a very comprehensive and experienced team that can take care of the most complex heart defects in children without any exception," Alsoufi says.
It's a team of superheroes that includes, but is not limited to, 20 pediatric cardiologists, sixteen nurse practitioners, three pediatric heart surgeons, six neonatal intensive care doctors, and five cardiac anesthesiologists.
"I don't think that one really well-trained physician is in any way the current best way to provide the best care," Holland says. "You have to have teams of people. You have to have the different parts of the care connected and coordinated in order to really provide the best possible care."
These superheroes' capes may be invisible, but they wear their hearts on their sleeves.