Lexington Clinic's Ribbon Cutting Ceremony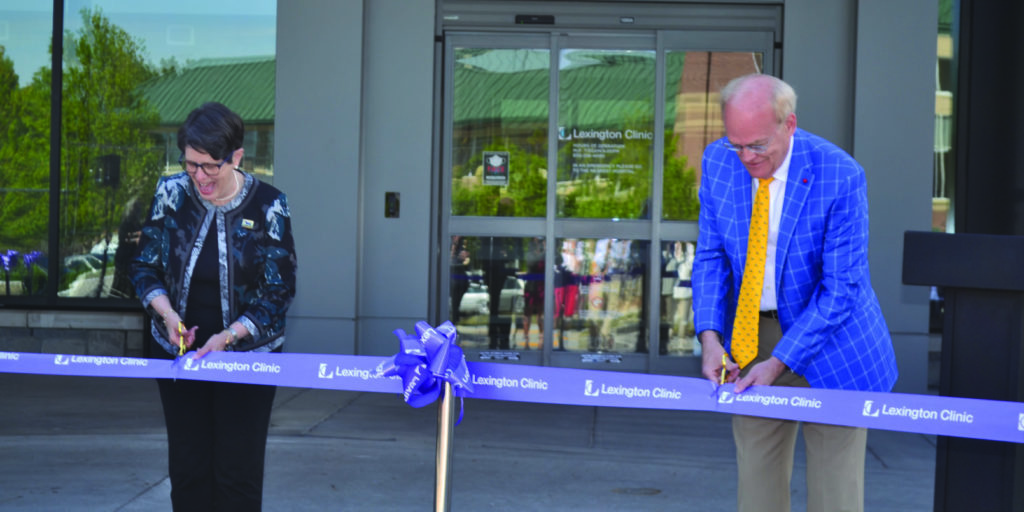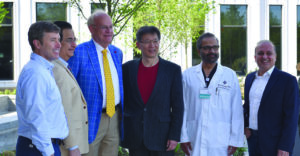 LEXINGTON Lexington Clinic marked a milestone on May 15 with a ribbon-cutting ceremony to celebrate the completion of its which opened its doors to patients about a month ago. Attendees included Lexington Clinic leadership, representatives from the board of directors, Mayor Linda Gorton, representatives from Brett Construction and Commerce Lexington, and current and retired physicians of Lexington Clinic.
The new Lexington Clinic facility is an investment of over $30 million, and the final square footage is just over 116,000 sq. feet. All areas of the new facility are designed for a patient-friendly care experience, with large waiting areas and exam rooms, comfortable furnishings, and ample natural light.
"This new state-of-the-art facility is much more than a building. It is a testament to our vision of perfecting the patient experience, not just today, but decades into the future," said Andrew Henderson, MD, Lexington Clinic CEO. "I'm grateful to everyone who believed in the vision for this facility and worked so hard to make it a reality."
Located at 1221 South Broadway, the new facility provides the region's residents access to multiple healthcare specialties and services in a centralized location.
The new facility houses the following specialties: audiology/ENT; cardiology; center for breast care; dermatology; endocrinology; general surgery; gynecology; internal medicine; neurology; pain medicine; phlebotomy; radiology; rheumatology and urology.
"We now have a state-of-the-art facility to match our world class providers and staff," said Michael Cecil, MD, president of the board of directors. He added, "Our board would like to thank everyone involved for their hard work and persistence through many challenges, including the pandemic."
Lexington Clinic was founded in 1920 and is Central Kentucky's oldest and largest group practice with more than 180 providers. It serves more than 600,000 patients every year. Lexington Clinic has providers in 30 different specialties and has more than 25 locations throughout Central Kentucky.
Lexington Medical Society Presents the Jack Trevey Award for Community Service to Kraig Humbaugh, MD, MPH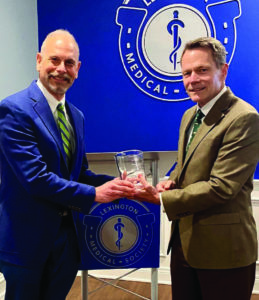 LEXINGTON Kraig Humbaugh, MD, MPH, Lexington-Fayette County commissioner of health, was presented the Jack Trevey Award for Community Service by James Borders, MD, Lexington Medical Society president, on May 11, 2021. This award is the society's highest honor and is not presented every year but only when a worthy recipient is selected. Borders continued, "Dr. Kraig Humbaugh calmly guided our community through the COVID-19 pandemic from the first indication of the virus to the vaccination efforts. His leadership represents the best in the practice of medicine and an inspiration to us all."
The Lexington Medical Society (LMS) is a nonprofit professional association of physicians in Fayette County, Kentucky. LMS is a voluntary organization founded in 1799. It is one of the oldest medical societies in the country. It is a component of the Kentucky Medical Association which, together with other state medical societies, forms the American Medical Association.
Through its elected officers, committees, and full-time staff, LMS seeks to serve as the principal voice and resource for Central Kentucky physicians to enhance their professional lives and improve the health of the community. LMS provides a forum for the interchange of ideas and information. Each year LMS members contribute many hours to help guide the development of medical practice and to nurture awareness of medicine's importance to the community.