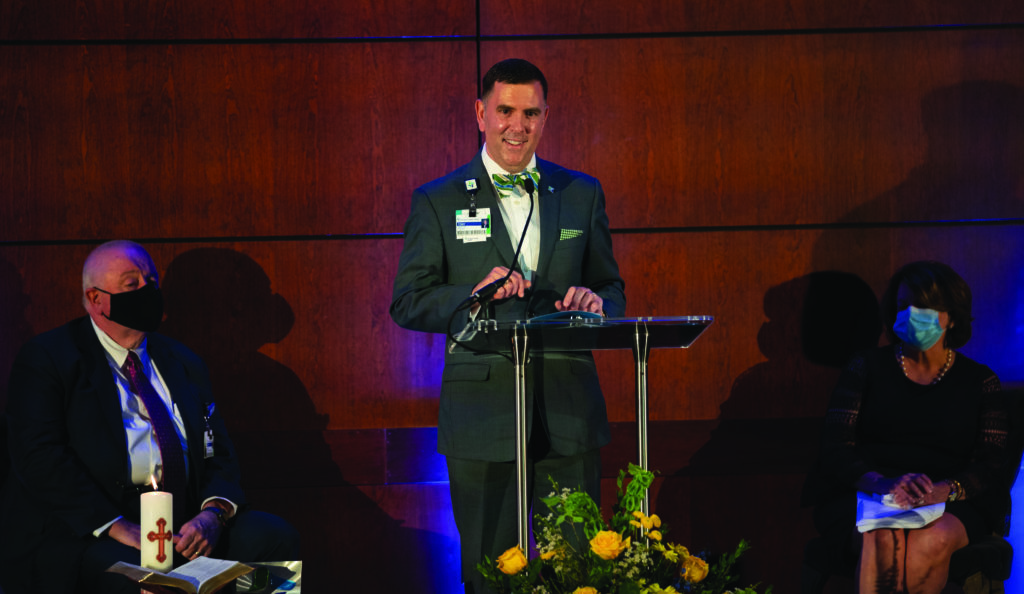 LEXINGTON On April 28, 2021, CHI Saint Joseph Health officially welcomed new CEO Anthony A. Houston, FACHE, during an investiture service at Saint Joseph Hospital. The service came as Houston concluded his first few weeks as CHI Saint Joseph Health CEO and president of Saint Joseph Hospital and Saint Joseph East.
"As I have made my rounds across the ministry these first few weeks, I have asked these two simple questions – 'How long have you worked at CHI Saint Joseph Health, and what do you love most about working here?' said Houston. "Family, home, community, trust, and a love for one's vocation are the themes that came from my rounding."
"I would suggest there is a DNA thread that makes CHI Saint Joseph Health a distinctive and special ministry. I am truly blessed to serve with you, and I can tell you that I love what I do, and I love doing it here," said Houston to the assembled audience.
Houston has more than 20 years of healthcare leadership experience and joined CHI Saint Joseph Health from CHI Memorial in Chattanooga, where he was the president and market COO. He previously served as president of CHI St. Vincent in Hot Spring, Arkansas. Like CHI Saint Joseph Health, CHI Memorial and CHI St. Vincent are part of the southeast division of CommonSpirit Health.
Family History with CHI Saint Joseph Health
Houston had been passionate about CHI Saint Joseph Health long before taking on this new role of CEO. Houston was raised in Cincinnati, graduating from the University of Cincinnati and receiving a master's in health services administration from Xavier University. His father was born in Stanford, Kentucky and was raised in Rockcastle County. At age 12, the senior Anthony Houston was hit by a vehicle while riding his bike. He was taken to Saint Joseph Hospital and over the course of three weeks had multiple surgeries on his legs. He attributed his survival to the care he received at Saint Joseph Hospital, and Tony Houston said he would not be here today if not for the care his father received.
Houston's grandfather was a dairy farmer in Rockcastle County and was committed to his community and loved serving Kentuckians. Houston says he looks forward to leading CHI Saint Joseph Health and the patients it serves across Kentucky with this same commitment his grandfather once exemplified.
"My grandfather loved what he did and loved doing it for his community," said Houston. "That same commitment to high quality, service, and accountability and a passion for doing good for others fires my drive to do this work here at CHI Saint Joseph Health."
Meeting People Where They Are
In an interview with MD-Update, Houston said that the pandemic accelerated a trend in healthcare, both the challenge and the opportunity to "meet people where they are." Healthcare is not a hospital-only based industry, he says, "and our goal is to provide care as close to the patient's home as possible. There are now so many points of access, telemedicine being the most dynamic. The hospital is vital, and the pandemic taught us the importance of keeping the supply chain intact and ensuring we have the right people with the right skill set and materials."
One of Houston's skill sets is listening, he says. Listening to patients, and listening to physicians and staff to hear what they need. "The power of relationships between primary care doctors, patients and specialists; we need to make sure those relationships are initiated and sustained. Turning healthcare into a lifelong relationship, not just in emergency or during critical care," he says.
Initiatives for CHI Saint Joseph Health
On May 26 CHI Saint Joseph Health announced an expansion of its affiliation with Cleveland Clinic Cancer Center to the CHI-Saint Joseph Health hospitals in London/Corbin, Mount Sterling, and Flaget Memorial Hospital in Bardstown. The affiliation gives Kentucky cancer patients access to second opinions and input into treatment plans without having to travel.
"Since we launched the affiliation in October 2019, more than 220 patients have benefited through consultations, tumor board review, and input into treatment plans, all without having to leave their home communities," says Houston.
Other initiatives for CHI Saint Joseph Health will be a new electronic health system, the EPIC System, next year beginning in the summer of 2022, says Houston. "This will be the first time that the entire ministry of CHI Saint Joseph Health will be on the same electronic medical records system. This platform will allow us to extend services beyond the brick and mortars, to remote locations," says Houston.
It doesn't take long to get from CHI Saint Joseph Health hospitals in Mount Sterling, London or Bardstown to rural areas. Houston notes that increased broadband in rural areas of Kentucky needs to be a priority of leaders in Frankfort and Washington D.C.
Workforce development is a passion for Houston, encouraging young people to enter healthcare, not only as doctors and nurses, but also technicians and other employees. "We all have the capacity to lead," says Houston. "Physicians are leaders and I encourage all doctors, regardless of title, to continue to lead. We have an open door at CHI Saint Joseph Health. We ask doctors to lean in and tell us what is working well and where we can improve and innovate."
Partner with the Saint Joseph Health Foundation
The CHI Saint Joseph Health Foundation was part of Houston's interview process, meeting with Foundation members. Houston gave mention of the Foundation's "Evening of Hope" and the exceptional staff and volunteer organization. "This organization of Saint Joseph Health was founded in 1877 by women at a time when they couldn't vote. The spirit of commitment, fellowship, entrepreneurship, and dedication to 'a greater good' continues today, says Houston.