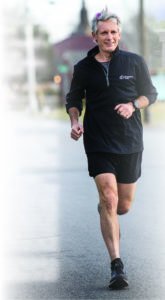 OWENSBORO The ancient Chinese philosopher Lao Tzu once said, "The wise man is one who knows what he does not know." If that's the case, then it's fair to say that W. Scott Black, MD, is a wise man.
Black, who specializes in lifestyle medicine and sports medicine at Owensboro Health, is well educated and trained. A native of Barbourville, Kentucky, he graduated from the University of Kentucky College of Medicine in 1990 and went on to complete his residency in family medicine at UK.
In 1992, he returned to his hometown to fulfill his childhood dream of becoming the town's family doctor. What he found was that for all the knowledge he had acquired, he still didn't know what he really needed to know to make his community a healthy one.
"I was seeing a lot more chronic disease than I had anticipated," he says. "I had been trained really well in medical school and residency to take care of that with medication, but if you really drilled down, what was driving a lot of it was lifestyle habits."
This realization has been a driving force for Black's career ever since. What he realized was, he didn't know what he didn't know.
"A patient comes to a medical provider for the knowledge and experience that they've gained through education and practice," Black says. "They recognize the medical provider has some expertise in medicine. The medical provider has to recognize that the patient is an expert in the patient. They are an expert in themselves and their family, their society, their beliefs, and we have to have a marriage of the medical knowledge and the patient knowledge. We have to put those two things together to produce the best path forward for the patient."
It is common for physicians to be frustrated by patients who are non-compliant in their course of treatment. The doctor is likely making the right diagnosis and giving the right medication or treatment, but the effectiveness is limited if the patient doesn't comply with the necessary lifestyle choices. Understanding what is causing a patient to be non-compliant, Black says, is just as important as diagnosing their condition.
"It seemed to me that medical school and residency did not have time to teach lifestyle practice," he says. "If I'm only looking at the physical side of things, I may be missing a lot of what's causing what I consider poor compliance. But it's really not poor compliance; it's that I have not identified the thing that's leading to that poor compliance."
A Runner's Long Path to the Starting Line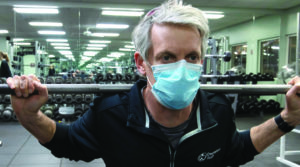 Despite all his medical training and education, Black realized he needed more. A former athlete, he enjoyed sports and was interested in sports medicine. He began driving back to the University of Kentucky two days a week, taking one class at a time over five years while continuing his practice in Barbourville until he earned a master's degree in exercise physiology. He applied what he learned, even opening a small gym connected to the practice where he worked with patients to improve their health habits.
"I had a really good experience with that and had some success," he says. "That was how I became interested in lifestyle medicine."
With his practice in good hands with some of his partners, he stepped away to complete a fellowship in primary care sports medicine at Wake Forest University's Baptist Medical Center. A year later, after 12 years in Barbourville, he moved on to the University of Louisville where he was the first program director of their sports medicine fellowship. From there he moved on to the University of Kentucky, working in student health, employee health, family medicine, and as a team physician. He went on to become program director and department chair of the physician assistant program. The more administrative duties he took on, the more he missed the clinical world he knew so well.
"Get Ready, Set, Start…!"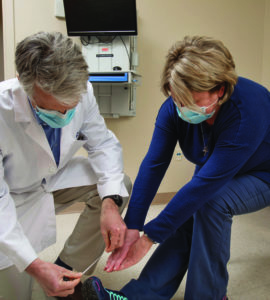 When the COVID-19 pandemic hit in March 2020, Black began looking for a new opportunity, preferably one that would combine physical activity, sports medicine, and lifestyle medicine. There weren't a lot of existing positions that matched that unique job description, but a colleague encouraged him to pitch the idea to Owensboro Health. They liked what they heard, and he began practicing in lifestyle and sports medicine at Owensboro Health on February 1, 2021.
"As a health system, we prioritize wellness and disease-prevention initiatives in our patient population," says cardiologist Michael Kelley, MD, VP of Medical Affairs at Owensboro Health Regional Hospital. "Having a practice that works with patients to improve lifestyle factors to prevent future disease states seems to fill a gap in our traditional approach to medicine. We are proud to offer lifestyle medicine to our region, and we are pleased to have Dr. Scott Black leading that charge."
While lifestyle medicine is not yet a recognized specialty, the American College of Lifestyle Medicine is growing rapidly as physicians from a variety of disciplines are embracing the six principles of lifestyle medicine. Black says that lifestyle medicine is more about shared decision-making rather than prescribing. He tries to understand what the patient's priorities and goals are and what factors are preventing them from being successful.
"It's like health coaching," he says. "You're trying to coach them to make better choices and to do things that are going to be a benefit to their overall health."
SIX PILLARS OF LIFESTYLE MEDICINE
Adopting a nutrient-dense, plant-predominant eating pattern.
Optimizing and individualizing physical activity plans.
Improving sleep.
Managing stress with healthy coping strategies.
Forming and maintaining relationships.
Cessation of tobacco use and other unhealthy habits.
A Cross Country Walk or Jog, Not a Sprint
While Black's new practice is still in its infancy, he estimates that a little more than half the practice consists of assisting physically active patients remain active. The other portion of the practice involves aggressive lifestyle management to treat patients dealing with chronic diseases such as Type 2 diabetes, cardiovascular disease, or osteoporosis.
"The biggest misconception about lifestyle medicine is that it's ineffective," Black says. "If patients will accept and acknowledge that their lifestyle is contributing to their disease, studies show that lifestyle medicine can be just as effective as a single medication for conditions such as hypertension or Type 2 diabetes."
In many instances, contributing factors to the patient's health may not be physical at all. For example, financial issues can significantly impact a patient's ability to be compliant in their course of treatment.
"If someone is struggling financially, that's going to have a profound effect on their general wellness," Black says. "If a diabetes patient can't afford their medication, can't afford healthy food, and is having trouble making ends meet, then that increased stress is driving a chronic cortisol stress response inside their body and that stress endocrine response serves to drive their blood sugar up."
While there's no medication nor procedure to cure the patient's financial issues, understanding that finances are a hurdle to compliance is vital to Black's shared decision-making process with that patient. For instance, a different workout regimen might be a no-cost way of assisting the patient.
"Even in the face of insulin resistance, you can still improve glucose uptake in muscle by being physically active," Black says.
Black is not suggesting that all medication can be replaced by lifestyle changes, but his experiences have taught him that the standard medical model of testing, medication, and procedure is not the only – nor always the ideal – method of treatment. He believes that meeting the patient where they are and understanding what they are and are not willing to do is central to a successful course of action.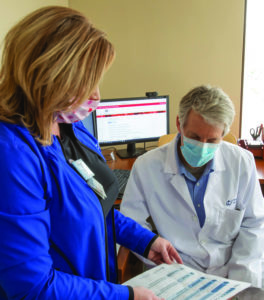 "I fully embrace the shared decision model," he says. "Patients may do things that I don't think are a great idea, but to argue at that time is counterproductive. I have to accept that at this point they aren't ready to address their smoking, for example. But we can do some other things. It's not an all-or-none approach. Maybe they are open to starting an exercise program or to addressing stress. If we get the stressed managed, maybe the smoking becomes a more manageable obstacle and we can more effectively address it. I've got to be just as open to the patient being the expert on the patient, as they are to me being the medical expert in the team."
A wise man who knows what he does not know.