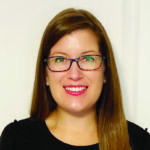 LEXINGTON While it's been over a year since COVID-19 was classified as a pandemic, taking a toll on countries worldwide, many people are still struggling to cope with the effects of being home more. For most, that means being less active.
A recent OnePoll survey found that people in the U.S. are sitting an average of four hours more each day than they did before the pandemic began. This increase in inactivity has the potential to impact your long-term health, and if it's severe enough, can even lead to health conditions like heart disease and type 2 diabetes. This is where medical nutrition therapy comes into play.
"Medical nutrition therapy, which is also known as MNT, is treatment based on nutrition that is provided by a registered dietitian," says Karen Klefot, RD, outpatient diabetes educator, CHI Saint Joseph Health. "It's an approach to treating certain chronic conditions by individualizing a nutrition plan."
The term medical nutrition therapy was first introduced in 1994 by the American Dietetic Association, now called the Academy of Nutrition and Dietetics, to better articulate the nutrition therapy process. As a practice that helps people get their health back on track through nutrition therapy, counseling and the use of specialized supplements, it has proved to be beneficial to a wide variety of patients, especially during COVID-19.
"Our referrals have definitely picked up over the last year," says Klefot. "Because a lot of individuals stress eat, a lot of people have gained weight since the pandemic began. Financial issues are also a concern for many patients, and we can help them learn how to eat healthy while staying on a budget."
Locally, CHI Saint Joseph Heath – Diabetes and Nutrition Care has provided care to several Central and Eastern Kentucky communities since 1999 and expanded services to include Medical Nutrition Therapy a few years later. The program is led by registered dietitians and involves two phases – an initial appointment and ongoing, personalized treatment.
"During the first appointment, we complete a nutrition and lifestyle assessment," says Klefot. "We also review their medical history, labs and eating habits. Then from there, we establish goals together and make an individualized nutrition treatment plan."
Klefot says when patients come in for the first time, her main goal is to make sure she answers their questions and concerns, while still promoting and supporting healthy eating and lifestyle changes that can improve their overall health.
"When we set goals during that initial appointment, we want to make sure they're measurable, so that during the follow-up appointments, we can evaluate progress," says Klefot. "We all want these quick fixes, but it takes time and hard work."
Medical nutrition therapy treats a variety of diagnoses, such as obesity, diabetes, chronic kidney disease and hypertension. Although several different conditions benefit from the practice, all patients enrolled in the program follow their personalized nutrition plan as the method of treatment.
"Some patients don't want to calorie count, so maybe we start by incorporating healthier eating habits such as consuming more non-starchy vegetables each day or limiting the amount of sugar-sweetened beverages consumed," says Klefot. "That's why it's so individualized for all patients."
Klefot says medical nutrition therapy is also able to positively impact more than just the patient's health.
"If we're able to slow the advance of their chronic disease, we could even possibly reduce their health care costs," says Klefot.
Although medical nutrition therapy begins with a required referral, Klefot says she works with physicians throughout the entire process.
"If there is specific information that I need, I will contact the provider's office," says Klefot. "Medical nutrition therapy is an important component of integrated health care, and we're here to not only support our patients but their physicians as well."
Klefot notes that as COVID-19 continued, CHI Saint Joseph Health expanded its services and is now offering telehealth medical nutrition therapy appointments, in addition to in-person appointments.
"A lot of individuals are scared to get out, so it's a great option," says Klefot. "If someone lives in a rural part of Kentucky, instead of having to drive hours away, we can connect virtually."
As a self-proclaimed people person, Klefot's favorite part of her job is the relationships she forms with her patients as she encourages and supports both their physical health and mental well-being.
"I love the interaction and being able to communicate with people," says Klefot. "Sometimes the sessions surprise me. Sometimes people even cry, not because they're upset, but because they're able to vent their frustrations. Losing weight is not easy, and sometimes they let their guard down. For me, it's the interaction. I just enjoy helping and working with people."