CHI Saint Joseph Health Awards Physician of the Year and APRN of the Year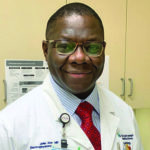 LONDON The Saint Joseph London Foundation recognized John Abe, MD, of CHI Saint Joseph Medical Group – Cardiology in London, who specializes in electrophysiology/cardiology, as the 2021 Physician of the Year award recipient.
Abe grew up in Nigeria, but at the age of 9 moved to Madison, Wisconsin, with his family to spend a year, and says he was forever impacted by kind doctors that were able to help him. He later completed medical school in Nigeria and a residency at Columbia University in New York. He has been with Saint Joseph London for nearly two decades and says he enjoys the hometown feel of the community.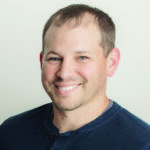 Scott Caddell, PA-C, of Jellico, Tennessee, grew up in Williamsburg, Kentucky, and says his faith and the values instilled in him by his parents motivated him to enter the medical field. He completed his undergraduate work at Morehead State University and his master's degree at UK. Caddell says he and his coworkers pride themselves on providing excellent care to the London community.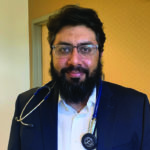 MOUNT STERLING The Saint Joseph Mount Sterling Foundation recognized Muhammad Farhan, MD, who specializes in internal medicine, as the 2020 Physician of the Year award recipient.
Farhan grew up in Pakistan, where he knew as a child that he would grow up to be a doctor. Farhan was admitted to the Dow Medical College, one of the country's highest ranking elite medical schools, where he completed his medical training.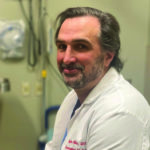 Kyle Miller, MD, an emergency room physician, was honored as the 2019 Physician of the Year. Following in his father's footsteps, Miller, who grew up in Knoxville, Tennessee, joined the medical field out of a deep desire to help others in a personal way. His education and training took him to North Carolina, Illinois, back to Tennessee, and even to a tropical island in the western Pacific.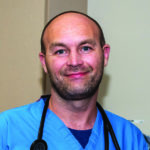 BEREA The Saint Joseph Berea Foundation recognized Jason Deskins, DO, of Inez, Kentucky, who specializes in emergency medicine, as the 2021 Physician of the Year award recipient.
Deskins grew up in Inez and says he knew he wanted to be a physician in the third grade after his best friend's mother, a nurse, let him wear a lab coat to school for career day. After completing his education at UK and the Pikeville College of Osteopathic Medicine, Deskins joined the Saint Joseph Berea team continuing the tradition of putting patients' needs ahead of his own and treating his patients like family throughout his time at Saint Joseph Berea.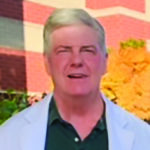 BARDSTOWN The Flaget Memorial Hospital Foundation, part of CHI Saint Joseph Health, recognized James Nuss, MD, of Bardstown, who specializes in internal medicine, as its 2020 Physician of the Year award recipient. Nuss grew up in a small town in northwestern Pennsylvania, but attended the University of Kentucky to pursue his undergraduate degree. He received his master's degree from the University of Louisville, and spent a decade teaching science in Louisville. He then decided to pursue a different career path, completing medical school at UofL and his residency in internal medicine at UK.
Nuss has worked at Flaget Memorial Hospital for 13 years, where he is the medical director and chief of medicine at the facility.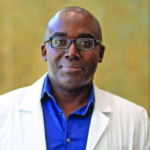 LEXINGTON The Saint Joseph Hospital Foundation recognized Nana Dadzie Ghansah, MD, who specializes in anesthesiology at Saint Joseph Hospital, as the 2020 Physician of the Year for Saint Joseph Hospital.
Ghansah is known among his colleagues for emitting kindness and compassion and bringing light to others through his smile. Originally from Ghana, he left home after high school to study medicine at the University of Leipzig in Germany. While completing his degree, Ghansah was offered a residency in the United States, which eventually brought him to Lexington and Saint Joseph Hospital.
Ghansah says his late father impressed upon him the importance of having a vocation where he could be of service to others, and that led him to become a physician. Ghansah says his late father impressed upon him the importance of having a vocation where he could be of service to others, and that led him to become a physician.
LEXINGTON The Saint Joseph Hospital Foundation recognized Magdelene Karon, MD, PSC, an OB/GYN at the Women's Hospital at Saint Joseph East, as the 2020 Physician of the Year for Saint Joseph East.
Karon was born in Warsaw, Poland during the Communist era – her father survived a German concentration camp and her mother came from Polish royalty. Her family lost everything at the end of World War II and immigrated to the United States to give their daughter the best possible life, settling in Houston, Texas. After college, Karon attended medical school in Houston, which she followed by becoming a solo OB/GYN.
After 34 years in the medical field, Karon is still making strides. She helped start Saint Joseph East's Robotic Surgery Program, which led to the hospital's recognition as a Robotics Center of Excellence.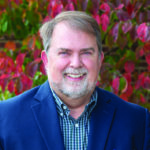 NICHOLASVILLE The Saint Joseph Hospital Foundation recognized the CHI Saint Joseph Medical Group 2020 Physician of the Year award recipient and 2020 Advanced Practice Provider of the Year award recipient.
Thomas Coburn, MD, of Nicholasville, a primary care physician in Wilmore, was presented with the 2020 Physician of the Year award, and Russell Crawford, APRN, was named the 2020 Advanced Practice Provider of the Year.
Coburn grew up the son of a Methodist minister in Kentucky, living in many parts of the state before his family settled down in Danville when he was 12. After completing his undergraduate work out of state, he returned to Kentucky to complete his medical degree and residency at the University of Kentucky. He said it was while he was serving the homeless at a soup kitchen in Washington, D.C., in 1987 that he knew he was being called to serve those that needed help.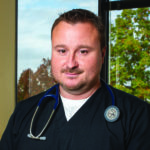 Russell Crawford, MD, grew up in Manchester, Kentucky, and says becoming an APRN was very personal to him – his family has an extensive history of coronary artery disease and cancer. He completed his undergraduate work at Eastern Kentucky University and received his graduate degree from the University of Cincinnati. He was eventually hired as a cardiology specialist at Saint Joseph Hospital.
Long-time UofL Faculty Member Joins School of Medicine to Lead Anti-Racism Initiatives
LOUISVILLE John Chenault joined UofL School of Medicine Undergraduate Medical Education (UME) as associate professor-director of anti-racism initiatives on February 1.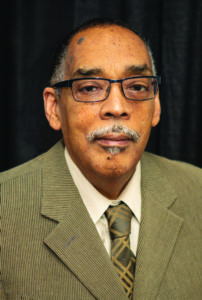 In this new position, Chenault will support anti-racism in medical student education and lead the development, implementation and evaluation of initiatives guided by the School of Medicine UME Anti-Racism Task Force. He will also provide instruction to faculty and medical students related to undoing race-based medicine, including the incorrect use of race as biological construct, and will coach faculty in developing and updating teaching and exam materials.
A long-time UofL faculty member, Chenault has served as a medical librarian in the Kornhauser Health Sciences Library for 16 years and in the Pan African Studies Department of the College of Arts & Sciences. Chenault brings a wealth of knowledge and expertise to this new position, having developed and taught undergraduate such as "Race, Color and Consciousness," "American Diversity," and "Slavery and the Slave Trade" in addition to publishing and presenting on the topics of institutional and scientific racism in various venues.
In recent years, Chenault's research has focused on the history of medicine and slavery in the United States, including medical experimentation, medical apartheid, health disparities, and the role of medical practitioners and biomedical researchers in the invention of race. Chenault has lectured on this research at national and international medical education conferences and taught continuing education classes for physicians and medical school faculty.
Chenault's accomplishments include outreach efforts to diverse constituencies in Louisville and across the state. In October 2020, he accepted a second three-year appointment by the governor to represent the State of Kentucky's Tourism, Arts and Heritage Cabinet on the state board of the Kentucky Center for African American Heritage.
Chenault's outreach activities and support of UofL initiatives also include international service in the nations of Ghana and Senegal in West Africa, where he trained medical professionals, librarians and health sciences students, and in Panama, where he instructed undergraduate students on the history of U.S. diversity. In addition to his academic career, Chenault's creative work in the performing arts as a musician, composer, playwright, and producer spans five decades and includes commissions from the John F. Kennedy Center for the Performing Arts, the American Composer's Forum, the International Society of Bassists, and several prominent U.S. orchestras. His compositions have been performed in the U.S., Canada, United Kingdom, France, Germany and Japan.
UofL Health Announces Vice President of Philanthropy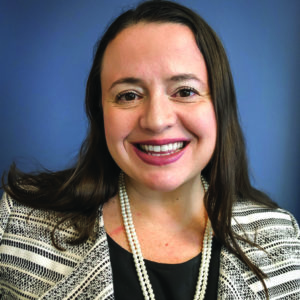 LOUISVILLE UofL Health announces the promotion of Elea Mihou Fox as the system's first vice president of philanthropy. Fox brings more than a decade of successful fundraising experience, spending the last three years as the executive director of development for the UofL Health – Brown Cancer Center.
Fox completed a master's of urban planning from SUNY Buffalo in 2007, specializing in community development. She has served in successive leadership roles in nonprofit management, and educational and health care fundraising. Currently, Fox is a PhD student in UofL's School of Public Health and Information Sciences. Fox is a passionate advocate for community health and betterment.
In her new role, Fox will develop fundraising and support for the UofL Health system and its diverse and distinct entities. She will work on behalf of the philanthropic goals of UofL Health's five hospitals, four medical centers, nearly 200 physician practice locations, 700 providers, the Frazier Rehab Institute, and the Brown Cancer Center. This position will catalyze resources to promote the mission of UofL Health as an integrated regional academic health system, dedicated to patient-centered care.
Officers Announced for Lexington Clinic's 2021 Board of Directors
LEXINGTON At Lexington Clinic's annual Board of Directors meeting, the following officers were elected to serve for the year: president – Michael T. Cecil, MD; vice-president – Kyle J. Childers, MD; secretary – Shailendra Chopra, MD; treasurer – Robert A. Davenport, MD
Other members of the board include Haider Abbas, MD, David Alexander, MD, An-Yu Chen, MD, Jamil Farooqui, MD, Tharun Karthikeyan, MD, Jordan Prendergast, MD, Mr. Nick Rowe and Mr. Alan Stein.
"Lexington Clinic is committed to perfecting the patient experience. By using modern data analytics, best practice protocols, experience, and compassion, we aim to provide the highest quality care to the people of Central Kentucky," said Cecil.
Lexington Clinic Administers COVID-19 Vaccine to Physicians and Staff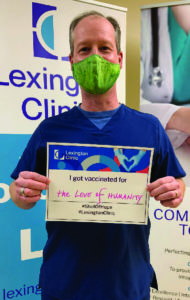 LEXINGTON January 7th, 2021 was a historic day at Lexington Clinic as the first batch of physicians, providers, and staff received COVID-19 vaccinations.
The team was all smiles as they rolled up their sleeves to protect themselves, their patients, their families and the community. After the vaccination, the team members posed with placards telling why and for whom they got vaccinated. "Today is a momentous occasion in our fight against COVID-19 as we are able to provide this vaccine to all our healthcare workers," said Andrew Henderson, MD, CEO of Lexington Clinic.
Henderson further added that the healthcare workers were being scheduled for their second dose in four weeks. "This is indeed the shot of hope," said Henderson. "And we feel that our frontline healthcare workers will be protected…and that there is an end to this pandemic in sight."
Lexington Clinic was founded in 1920 and is Central Kentucky's oldest and largest group practice. Lexington Clinic has more than 200 providers and serves more than 600,000 patients every year. Lexington Clinic has providers in 30 different specialties and has more than 25 locations throughout Central Kentucky.
LEXINGTON MEDICAL SOCIETY INSTALLS 2021 PRESIDENT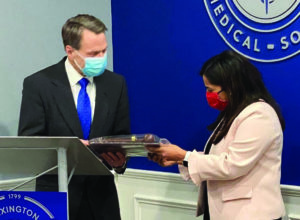 LEXINGTON James Borders, MD, a Lexington internal medicine physician, was installed as president of the Lexington Medical Society on January 12, 2021 at a virtual ceremony attended by past LMS presidents dating back to 1978. Mamata Majmundar, MD, a Lexington family medicine physician, was recognized for her outstanding leadership as the 2020 LMS president. Majmundar's tenure started in a pre-pandemic environment with in-person events and meetings with state and federal officials and then transitioned to the "new normal" to react to the pandemic.
Borders, the Baptist Health Lexington Chief Medical Officer, is a graduate of the UK College of Medicine and completed his residency at Baylor University Medical Center. As LMS president, Borders will focus on encouraging our community to take the COVID-19 vaccine in order to achieve herd immunity to end the pandemic.
The 2021 LMS leadership includes Lee Dosset, MD, vice president, and Angelia Thompson, MD, as the secretary/treasurer. Khalil Rahman, MD, is president-elect and Angela Dearinger, MD, is the vice president-elect.
The LMS, established in 1799, is one of the oldest medical societies in the country. Learn more about the LMS and its programs at lexingtondoctors.org.