CHI Saint Joseph Health CEO Bruce Tassin to Leave in 2021
LEXINGTON CHI Saint Joseph Health CEO Bruce Tassin will leave the organization at the beginning of 2021. Tassin also serves as president of Saint Joseph Hospital and Saint Joseph East in Lexington.
During his five-year tenure, Tassin redirected the organization after the separation from KentuckyOne Health, established a strategic vision, set the organization on a path for a successful future with a strong leadership team, and focused on enhancing a culture and environment to deliver the best possible care for patients. Tassin says there is "a renewed sense of energy at CHI Saint Joseph Health that is evident through the halls of our many locations across Kentucky."
According to board chair Martha Jones and CommonSpirit southeast division CEO Larry Schumacher, "During difficult periods, Bruce has led our organization to a position of financial and operational stability, a renewed sense of purpose with improved morale and culture, and a clear vision and strategic plan for the future."
Saint Joseph Berea Receives Healthgrades' 5 Stars for Treatment of Sepsis and Respiratory Failure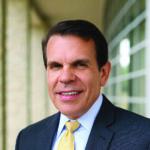 BEREA Saint Joseph Berea is again 5-star rated for both sepsis and respiratory failure outcomes according to new research released by Healthgrades, making this three years in a row (2019-2021).
Healthgrades evaluates hospital performance at nearly 4,500 hospitals nationwide for 32 of the most common inpatient procedures and conditions using Medicare data as well as additional analyzes outcomes in appendectomy and bariatric surgery derived from all-payer data provided by 16 states.
This analysis shows that patients treated at hospitals receiving a 5-star rating have a lower risk of dying and a lower risk of experiencing one or more complications during a hospital stay.
"We are committed to providing quality care to each and every patient that walks through our doors, and this national recognition is a testament to the hard work and dedication of our employees," says John Yanes, president, Saint Joseph Berea. "We are pleased and honored to receive this rating from Healthgrades and hope our patients see how dedicated we are to ensure they receive the best care possible."
SAINT JOSEPH LONDON TO BUILD LEVEL II NEONATAL INTENSIVE CARE UNIT
LONDON Construction is expected to begin in the first quarter of 2021 on a Level II neonatal intensive care unit (NICU) at Saint Joseph London to serve southeastern Kentucky. When the $1.4 million project is completed, Saint Joseph London will have both a birthing center and NICU.
"We undertook a significant fundraising initiative to construct, equip, and staff the Saint Joseph London Neonatal Intensive Care Unit because of the dire need for this level of specialty care for medically fragile infants and their families living in Appalachia," says Leslie B. Smart, CFRE, president, Saint Joseph London Foundation.
With the construction and renovation of the 4,630 square foot space adjacent to the existing labor and delivery area, there will be an additional six beds in private rooms to foster family-centered care and recovery. The NICU will provide new, sustainable, and highly specialized clinical services to more than 100 patients annually who would otherwise have to be transported 90 miles away to receive treatment. The project will include construction of four critical care bays and two private rooms. It will also equip the rooms with equipment and supplies to serve babies born prematurely or with special needs, such as those born with Neonatal Abstinence Syndrome (NAS).
"Infants born at Saint Joseph London in need of specialized care now must be taken to a facility with a NICU more than an hour's drive from their families to get the care they need," states John Yanes, president, Saint Joseph London. "The new NICU will serve southeastern Kentucky and will allow those babies to stay close to home and close to their parents in the early days of their lives."
The Saint Joseph London Foundation received a $990,510 grant from the Appalachian Regional Commission (ARC) to establish the Level II NICU at the hospital. Combined with $243,000 in funding from WHAS Crusade for Children and proceeds raised through the London Gala for Hope over the past three years, the NICU project is now fully funded.
The Saint Joseph London NICU project will create 19 new jobs, and an estimated 24 jobs will be retained in order to meet the needs of the NICU and serve the infants and families of southeastern Kentucky.
SEND YOUR NEWS ITEMS TO MD-UPDATE > news@md-update.com
Saint Joseph London Receives 5 Stars from Healthgrades for Treatment of Pneumonia
LONDON Saint Joseph London is 5-star rated for pneumonia outcomes according to new research released by Healthgrades. This is the first time Saint Joseph London has received a 5-star rating for treatment of pneumonia.
"We are very pleased to receive this national recognition and ranking, which is a significant accomplishment within the healthcare industry as a whole," says John Yanes, president, Saint Joseph London. "When patients turn to us for care, they expect the very best treatment, and this award further emphasizes our commitment to the quality of care they receive. Congratulations to our team for helping make this award possible."
Saint Joseph East Named Top 10 Percent in Nation for Pulmonary Services
LEXINGTON Saint Joseph East is among the top 10 percent in the nation for pulmonary services, according to new research by Healthgrades. This is the third year in a row that Saint Joseph East has received this national recognition.
"To be named in the top 10 percent for pulmonary services for three years in a row is a huge honor for our facility and team members," states Bruce Tassin, president, Saint Joseph East, and CEO, CHI Saint Joseph Health. "We do not take this national recognition lightly and will continue to do our part to ensure that patients in the Lexington area have the best care possible when they walk through our doors."
Saint Joseph Hospital Honors Employees with Daisy Awards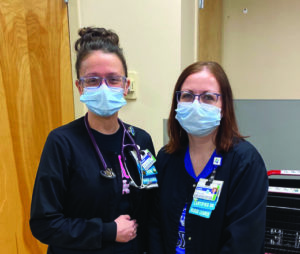 LEXINGTON Saint Joseph Hospital recently named its Daisy Award winners for the fourth quarter of 2020. Amanda Wilson, RN, of Lancaster and Lauren Setters, RN, of Mount Sterling received the Daisy Award for their exceptional patient care.
The Daisy Award is a nationwide program that celebrates the extraordinary clinical skill and compassionate care given by nurses every day. Saint Joseph Hospital is proud to be a Daisy Award Partner, recognizing nurses with this special honor every quarter. This quarter, Amanda Wilson and Lauren Setters were nominated for the Daisy Award by their colleagues, patients, and their patients' families.
"Amanda went above and beyond to comfort and take care of my mother," says the daughter of a Saint Joseph Hospital patient. "She was very thorough when it came to my mom. My mother went to hospice and Amanda knew this upset me. Amanda is very compassionate and giving. If only this world had more people like Amanda in it, what a wonderful world it would be."
"Lauren goes above and beyond every shift she works," states one of Setters' colleagues. "She is always jumping in to help and taking the initiative. I often see Lauren go to the store to pick up items for her patients. We had a homeless patient that had dirty clothes, and Lauren went to the store and bought laundry detergent for him and then washed his clothes. The stories of Lauren going above and beyond are endless. Lauren is a huge asset to Saint Joseph Hospital."
CHI Saint Joseph Medical Group – Obstetrics and Gynecology in Bardstown to Host a Virtual Women's Wellness Event
This online seminar focuses on women's health during COVID-19.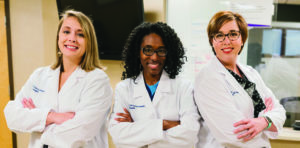 BARDSTOWN CHI Saint Joseph Medical Group-Obstetrics and Gynecology in Bardstown is hosting a virtual educational event focused on women's health during the pandemic. The pre-recorded program is now available to individuals in the Bardstown area. The event is called, "Let's Break to Educate: Women's Guide to Wellness in COVID-19," and the OB/GYN team has planned a series of virtual lunch and learn events for the local community.
Dr. Carmen Folmar, Dr. Hannah Hall, and Laura Matherly, APRN, will answer frequently asked questions about maintaining women's health during the pandemic. The topics will include exercise, sleep, diet, community, brain health, and stress reduction.
"We are proud to offer this online learning event for our local community," says Hannah Hall, MD, CHI Saint Joseph Medical Group Obstetrics & Gynecology. "We know this pandemic has taken a toll on everyone and has also affected their health, which is why we want to provide a resource for women to learn more about how they can maintain not only their physical health but also their mental health during COVID-19."
To register and view the online seminar, visit: chisaintjosephhealth.org/BreakToEducate
CHI Saint Joseph Medical Group-Obstetrics and Gynecology is designed specifically for full-service obstetrics and gynecology in Bardstown. The practice is located next door to Flaget Memorial Hospital to help moms-to-be deliver their infants at the hospital's Birthing Center.
Hope Scarves Arrive at UK Markey Cancer Center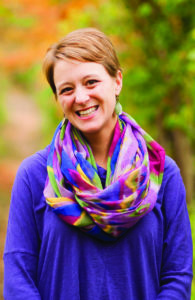 Partnership shares scarves, stories, and hope for cancer patients in treatment
LEXINGTON Scarves and stories of hope are easing the paths of cancer patients at the University of Kentucky Markey Cancer Center (UKMCC). Hope Scarves, an international nonprofit based in Louisville, is partnering with UKMCC to provide hope and sunshine for patients facing cancer.
UKMCC is the first Lexington-area cancer center to partner with Hope Scarves by providing scarves and stories of hope for area cancer patients. Oncology social workers, led by Joan Scales and Jenny Delap at UKMCC, are sharing Hope Scarves with patients facing all types of cancer.
Known as "The Sisterhood of the Traveling Scarves," Hope Scarves collects headscarves, professionally dry cleans them, and sends them to people who have recently been diagnosed with cancer. For women facing hair loss during their treatment, the scarf provides practical support. All recipients, whether they lose their hair or not, receive the scarf with a story of encouragement from another person who has faced cancer.
"I was diagnosed with breast cancer when I was 30 years old and 7 months pregnant," says Lara MacGregor, founder of Hope Scarves and a Stage IV metastatic breast cancer patient herself. "A stranger—a friend of a friend—sent me her head scarves with a simple note saying, 'You can do this.' That simple act of compassion gave me the strength and hope at a key moment in my life. That moment was the inspiration for Hope Scarves."
The partnership with UKMCC is supported by Jackson Family Wines, which provided funding for 170 scarves. The Markey Cancer Foundation, (MCF) the philanthropic arm of the UKMCC, partners with organizations like Hope Scarves to serve Markey patients.
"We appreciate seeing organizations like Hope Scarves provide our cancer center and our patients with this much needed support," says MCF Leadership Giving Officer, Kelsey Lewis. "We look forward to seeing this partnership blossom and will encourage future support of this initiative as well."
How Hope Scarves Works
More than 16,000 scarves have been given to people facing more than 90 types of cancer in all 50 states and 26 countries. Scarves are shared in three ways:
Personal requests: anyone in active treatment can request a scarf on the Hope Scarves website.
Gift requests: anyone can request a scarf to be sent to a friend or family member going through treatment.
Partnership programs: partnership programs across the country share scarves as part of patient care in the very places where treatment is received.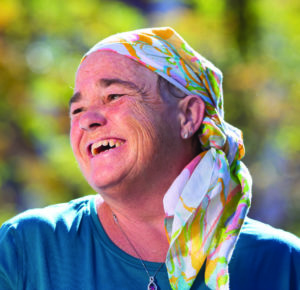 Frankfort resident Carolyn Weber was diagnosed with breast cancer and is undergoing chemotherapy at UKMCC. Though she was mentally prepared for the hair loss—cutting her waist-length hair to her shoulders in anticipation—she says the day it began falling out in earnest was still difficult to process. She requested a "bright, colorful scarf" and chose hers for the message that came with it.
Women are encouraged to return the scarf, along with their story of facing cancer, as soon as they are ready to do so. In that way, the scarves and stories are handed from woman-to-woman as a show of support and solidarity.
Four years ago, Hope Scarves began partnering with hospitals to ensure that women would receive a scarf without needing to proactively seek one out at an already busy, overwhelming time. To date, Hope Scarves is partnering with 40 hospitals and medical centers in 17 states. Hope Scarves also focuses on funding metastatic breast cancer research and has raised $500,000, matched 1:1 by anonymous donors, since 2016.
For more information, visit www.hopescarves.org, on Facebook, on Instagram or Twitter. Learn more about Hope Scarves' founder Lara MacGregor at www.MyHopefulLife.com
UK Markey Cancer Center
The precursor of the current Markey Cancer Center (MCC) began in 1975 with the formation of the McDowell Cancer Network, a community outreach and education program. Today, the MCC is a critical component of the University of Kentucky and a vital resource for the Commonwealth of Kentucky and the central Appalachian region. UKMCC became an NCI-designated Cancer Center in 2013.