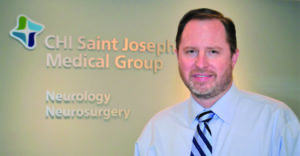 LEXINGTON While many fourth graders find a science project to be nothing but a headache, Warren Chumley, MD, found it to be an inspiration. His fourth grade science project demonstrated that the brain controls the opposite side of the body because the tracks cross in the brain stem. It was a project that, you might say, struck a nerve. It certainly inspired his career path and, today, he is Dr. Chumley, neurologist with CHI Saint Joseph Medical Group in Lexington.
Chumley, who was inspired by and assisted on his science project by his radiologist father, graduated from Centre College in Danville and received his medical degree from the University of Kentucky College of Medicine, where he also completed his residency in neurology. He performed a clinical neurophysiology fellowship at the Medical College of Georgia. He returned to Lexington and joined what was then known as Associates in Neurology in 2002. Today, Chumley serves as the director of the clinical neurophysiology lab at the practice, which became part of CHI Saint Joseph Health in 2011.
Chumley, who specializes in treating migraines, sees patients age 18 and above who present with a variety of conditions, including Parkinson's disease, Alzheimer's disease, multiple sclerosis, memory loss, peripheral neuropathy, and seizures as well as migraines. In addition to his office hours seeing patients, Chumley also commits a significant portion of his schedule to learning about the latest treatments.
"My goal is to provide the best care for patients that I am capable of providing," Chumley says. "This means that I stay abreast of the newest therapies in the disease conditions that I treat. I meet monthly with medical science liaisons from several drug companies, and I regularly attend regional and national level meetings."
Chumley also presents at many of these meetings and says that preparing for presentations helps him learn that much more about how to best care for his patients.
"I enjoy giving presentations because in order to be prepared to stand up in front of a room of your peers, you have to really know the information," he says. "I learn more from being in front of the room giving the talk than by attending the talk."
Advancements in Care and Treatment
Lately, there has been a lot to learn, as the treatment options for many neurological disorders are growing seemingly every day.
"Everywhere you look in neurology more things are being developed that are more efficacious and safer for our patients," Chumley says, using migraines as an example. "Now that we have more tools to treat migraines, we have more reason to ask people if they are having migraines and how disruptive their migraines can be."
Chumley notes that migraines are more prevalent in women than men, and the prevalence tends to peak in the late 20s and early 30s. However, he has both male and female migraine patients ranging from 18 to 70 years of age. He says migraines are due to disorders of neuropeptides and neurotransmitters caused by a combination of genetics and environment, but what triggers a migraine is largely a mystery.
"I'm not sure any scientist, anywhere, knows what brings migraine on," he says. "Odors, smells, flashing lights can sometimes cause migraines. Sometimes a missed meal or sleep deprivation can cause migraines. But as far as exactly what causes a migraine, I feel that's poorly understood."
Perhaps more important than understanding the trigger, however, is understanding the treatment. In that area, significant progress has been made in just the last three years. "We have had several mechanistic game changers," Chumley says.
Chumley notes that in the past, oral medications for migraines included anticonvulsants, antidepressants, and anti-hypertensive medications as prophylactics. Recently, the focus has been on the neuropeptide, CGRP, which causes vasodilation of the arteries that go to the meninges. When a headache starts, a signal is sent from the brain stem and causes the release of CGRP in the meninges, which causes dilation of those arteries culminating in a migraine.
New Use for a Standby and New Drugs Are Approved
In 2010, Botox injections were approved for migraine. Chumley says the therapy involves 31 injections, which can be administered every three months, with Botox reducing headaches by 50 percent or more. That still leaves a lot of room for improvement, which is where anti-CGRP monoclonal antibody therapies come into play. These subcutaneous injections were made available in 2018 and can be administered monthly.
In 2020, two new acute medications for headache became available. The anti-CGRP monoclonal antibodies are large molecules, which is why they need to be injected. The two new ones—Nurtec ODT and UBRELVY—are small molecule, anti-CGRP medications and can be taken orally.
"A migraine is not something they bring on themselves and it's not something they are using for attention seeking."— Warren Chumley, MD, CHI Saint Joseph Medical Group
"For the first time, we have migraine-directed therapies for patients with a history of stroke or heart attack that can be taken on an 'as needed' basis, a few times per month," Chumley says. "Triptans can't be used in patients with a history of stroke or heart attack because they constrict blood vessels."
Chumley says his treatment of migraine patients frequently involves a mixture of Botox injections and the anti-CGRP monoclonal antibodies.
"Monoclonal antibodies are proteins that have been developed to inhibit the action of CGRP," he says. "They are not used for any other disease condition. They were born in research laboratories to treat migraine. We can take patients having 25 to 30 headache days per month and get that down to 5 to 15, and the duration goes down by greater than 50 percent. The intensity is also significantly reduced."
While Chumley treats many other neurological conditions, he is particularly excited about the advances in migraine treatments. He says migraines have much more impact on the lives of patients than many people realize.
"Migraine is stigmatized," he says. "People see it as just a headache. It is second only to low back pain in cause of years lived with disability. It is one of the most disabling conditions, because several times during a month, a person can be totally incapacitated. It is one of the few conditions that wrecks plans and stops people from being able to plan. It is severely disabling. It's not something they bring on themselves and it's not something they are using for attention seeking."
Additionally, he stresses that the recent treatment options contradict the misconception that there's nothing that can be done to help migraine sufferers. "Nothing could be further from the truth," he says.
Sounds like the makings of a good science project.