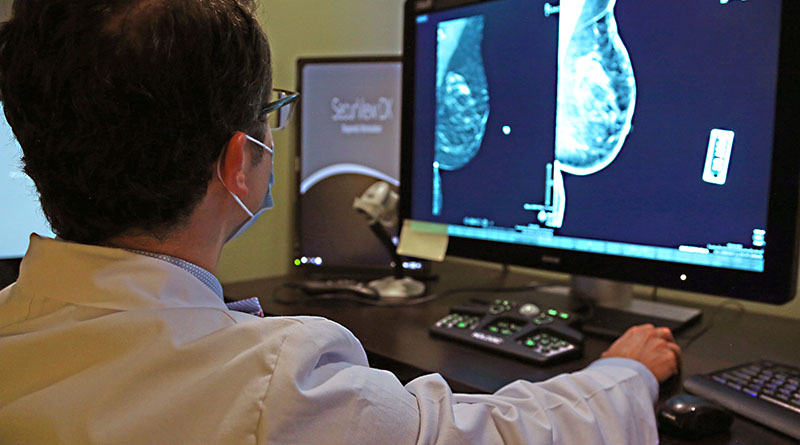 LOUISVILLE Older sisters are supposed to torment their younger brothers. Maybe that is what Brian Mattingly, MD's older sister intended when she used him as a test patient while she studied to become a nurse. Regardless of her intent, what she did was inspire him. She fostered his interest in anatomy and medicine, an interest that developed slowly, but ultimately led to his current position as director of breast imaging at the UofL Health – James Graham Brown Cancer Center.
"My sister is 10 years older than I am," Mattingly says of his sister Laura Tudor, ARNP. "She's a nurse practitioner now, but when she was studying, I would serve as her pretend patient so she could practice her clinical exam skills."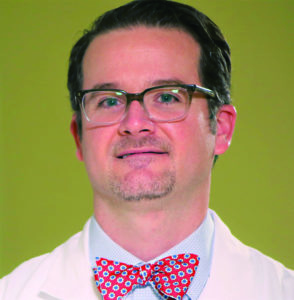 Despite his early introduction to the medical field, Mattingly didn't fully commit to the profession until later. A Louisville native, he attended Centre College and lived in Spain for a year as a Fulbright Scholar. Upon his return he attended the University of Kentucky, studying biomedical engineering, and began thinking about a career in radiology. He attended the University of Louisville School of Medicine, where he decided in his third year to concentrate on radiology. He completed his residency in diagnostic radiology at the Indiana University School of Medicine, and completed a breast imaging fellowship at Indiana University Hospitals in 2013.
"I was always interested in anatomy, and radiology is one way we look inside the body to make diagnoses," Mattingly says of his ultimate decision to pursue radiology. "It's almost like a seek-and-find puzzle when analyzing images and interpreting what you see."
After his fellowship, he worked at KentuckyOne Health in Louisville until 2018, when he took a position at Indiana University where he had the opportunity to explore his passion for teaching residents and fellows. He stayed there until he received a call about the director of breast imaging position at the James Graham Brown Cancer Center. Mattingly and his wife Cindy, the CEO of Gastroenterology Health Partners, who is also from Louisville, made the decision to return home.
Mattingly says his practice doesn't function like most may perceive. "It's much more like a clinical practice where we actually see patients all day," he says, noting that they schedule screening mammograms throughout the day, as well as see diagnostic patients presenting with palpable lumps or breast pain. "We confirm whether or not the images and the pathology seem to correlate. If there is a diagnosis of cancer, I personally speak with the patient to review the results."
It is here that his experience as a test patient for his sister comes into play. Even though it was a far different circumstance, role-playing a patient gave Mattingly insight into how patients want to be treated, regardless of the message.
"It's never easy to give bad news," he says. "I treat my patients the way that I would want to be treated. It's so important to help them deal with this life-changing diagnosis. I start focusing my patients on the tangible next steps in beating the disease."
Coordinated Team Care
One of those steps involves a weekly multidisciplinary meeting at the James Graham Brown Cancer Center. The meeting includes leaders from surgery, radiology, pathology, oncology, and radiation oncology. The purpose of the meeting is to discuss those patients newly diagnosed with breast cancer and devise a treatment plan specific to that patient. Mattingly finds it rewarding to consult with, and contribute to, the entire key-care team of physicians to create a comprehensive care plan for the patient.
"We are a team here," he says. "We communicate with each other. We tightly coordinate care between the specialties, and as a result, patients receive an optimal level of care. We are a group of doctors who are on the cutting edge of research, treatments, and the latest recommendations for treatment of breast cancer in our region."
Part of being on the cutting edge involves 3D mammography, which Mattingly says is the biggest innovation he has seen in his career. He compares the difference between a 3D mammogram and a standard mammogram to the difference between a chest x-ray and a CT scan.
"3D mammograms help us peel away some of the tissues that may be overlapping the cancers that we wouldn't see on the regular mammogram," he explains. "There are cases where cancers can't be seen on 2D but can clearly be identified on 3D."
The capabilities of the 3D mammogram are particularly important for women with dense breast tissue. The 3D mammogram helps reveal what's behind the layers of that tissue. A mandate states that women who have dense breast tissue based on the initial 2D mammogram must be notified. "Those women need to make sure they are getting the 3D mammogram to ensure a thorough screening," Mattingly says.
The guidelines for screening are also an important aspect of Mattingly's message to patients. Some medical groups assert that annual mammograms may not be needed for asymptomatic women under the age of 50 or that women only need to have a mammogram every other year.
"Starting at age 50 is way too late. Mammograms should start at age 40 if the woman doesn't have risk factors, and should be performed each and every year thereafter," Mattingly states flatly. "I feel the newest recommendations that recommend every other year have substantial flaws. I know they have to look at things from a population standpoint, but if that one person is your sister or your mother or your friend, it's really hard to argue we should be doing mammograms less frequently than annually."
"I'm on the front lines," he continues. "I'm seeing these patients every day. I see the cases where breast cancers could have been caught earlier and avoided. It's absolutely heartbreaking."
Mattingly says that radiologists and breast imaging specialists like himself need to be included in discussions about screening guidelines. "I serve as the primary care doctor for breast problems," he says. "I wouldn't tell an OB-GYN when or how often they should do a prenatal ultrasound. It should work the other way as well."
Mattingly's passion as an advocate for his patients and their care is evident. It's a level of understanding he learned at an early age, and a bedside manner that is shared by his colleagues at the James Graham Brown Cancer Center.
"We have a phenomenal multidisciplinary team which works to deliver the best and most holistic care possible," Mattingly says. "Knowing that I work in an organization that supports this model is comforting to me, and I hope that our patients are also comforted by it."