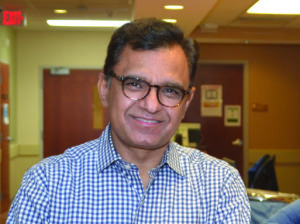 NEW ALBANY It's a common Hollywood story line. The detective races to find the clues to solve the mystery before the criminal kills the hostage. It's a race against time. In Hollywood, the detective almost always wins. In the real world, however, those happy Hollywood endings aren't so easy to come by.
As a gastroenterologist of Gastroenterology Health Partners, Abdul Jabbar, MD, uses his detective skills every day. Using the latest technology, he follows the clues, hoping to detect cancers such as colon, pancreatic, and liver, as early as possible to give his patients the best chance of survival.
Originally from Pakistan, Jabbar began honing his sleuthing skills at Nishtar Medical College in Pakistan. He then came to the United States, serving as a research fellow at the University of Pennsylvania. He then completed his internal medicine internship and residency at Columbia University. He received his dual fellowship training in gastroenterology and hepatology at the University of Louisville, followed by additional training in hepatology and endoscopic ultrasound.
While at the University of Louisville School of Medicine, Jabbar also served as assistant professor of medicine in the Department of Gastroenterology. Driven by a desire to go into private practice, he joined Gastroenterology of Southern Indiana in 2006, which merged with several other Louisville-based practices to form Gastroenterology Health Partners in 2012. The purpose was to form a cohesive group which was able to leverage its combined resources to deliver the highest-quality care at a lower cost to its patients.
"Only 20 percent of pancreatic cancers are diagnosed at an early stage when the treatment will be curative." — Abdul Jabbar, MD
"We are like a family," Jabbar says of Gastroenterology Health Partners, where Jabbar and his colleagues treat a variety of gastrointestinal disorders, including acid reflux, irritable bowel syndrome, colorectal cancer, liver cancer, and pancreatic cancer. "It never feels like there's any internal competition. Everybody helps each other to build the practice. It's very unique."
A little less unique is being a doctor in the Jabbar family. Jabbar has an uncle who is a physician, as well as two nephews, one of whom is married to another physician. Jabbar makes it back to Pakistan every few years but is happy in the States with his wife and two teenaged children.
Empathy and Screening
Detective work aside, Jabbar was drawn to gastroenterology because of the mix of patient care and performing procedures.
"I have to be compassionate toward my patients, feel their pain, and try to alleviate their pain and suffering," Jabbar says.
To do that, he combines the patient's symptoms, family history, and other health factors with diagnostic screenings such as, CT, PET scans, and MRIs to gauge cancer risks and hopefully catch any cancers before they spread. That is a particular challenge, however, with pancreatic cancer, which is very difficult to detect. "Only 20 percent of pancreatic cancers are diagnosed at an early stage when the treatment will be curative," Jabbar says. "That is why the mortality rate is significantly high."
Jabbar reports that because of the late presentation of the disease, only 15 to 20 percent of the patients are candidates for surgical resection. The five-year survival following surgery is only 25 to 30 percent for a lymph-nodes negative tumor and 10% for a nodes-positive tumor. Several factors are associated with pancreatic cancer, including cigarette smoking, obesity, physical inactivity, and diet. Additionally, genetics play a role.
"Patients who have a first-degree relative with pancreatic cancer are at significant risk for developing pancreatic cancer," Jabbar says. "There are genetic syndromes that increase the risk of pancreatic cancer in those families. We recommend they get screened with either a CT scan or an endoscopic ultrasound."
The most common presentations of pancreatic cancer are abdominal pain, jaundice, and weight loss. Nearly 80 to 85 percent of patients present with a decreased appetite, weight loss, and abdominal pain. Jaundice is present in approximately 50 percent of patients, depending on where the cancer is located.
While it is difficult to diagnose pancreatic cancer at an early stage, Jabbar says at-risk patients are becoming more aware of the need for screening, which can be done with a CT scan or endoscopic ultrasound.
"The endoscopic ultrasound is a modified special scope which can go inside the stomach and detect small tumors not picked up by CTs. We pass a needle through the stomach into the area where the cancer is and immediately make diagnosis if this is cancer on non-cancerous," Jabbar says, noting that most pancreatic cancer patients are middle-aged or older. "At the same time, we can tell if it's involving any surrounding blood vessels or organs, or if there is any involvement of the liver from the cancer."
Catching Liver Cancer Early
Jabbar says that the early detection of liver cancer is easier than pancreatic cancer, resulting in a better survival rate. "Because we know the associated risk factors, we are able to detect much earlier compared to pancreatic cancer," Jabbar says.
Risk factors for liver cancer include hepatitis B and C, cirrhosis of the liver, a few genetic disorders and fatty liver disease. Patients with these risk factors are screened via ultrasound and blood test approximately every six months. For patients who have liver cancer that is detected early, Jabbar says if they are under the age of 70 and otherwise healthy, their treatment options include segmental liver resection or liver transplant. Patients with advanced liver cancer and those older than 70 can be considered for systemic or liver-directed chemotherapy.