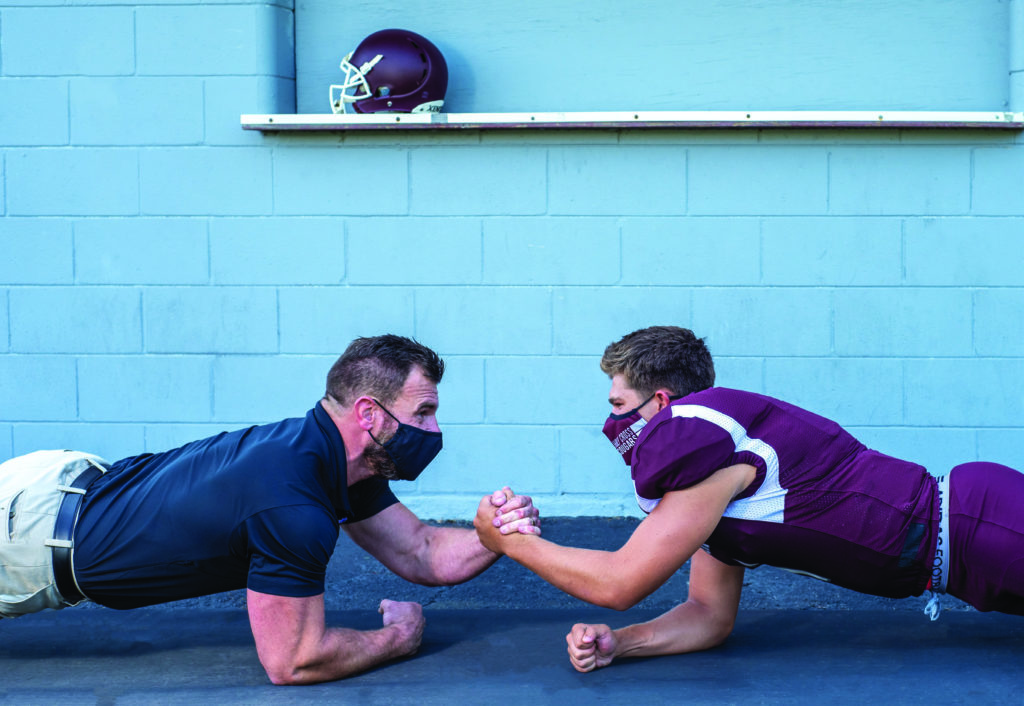 LOUISVILLE Locker rooms are seldom renowned for their pleasant odors, but then again, neither are pig pens. While one-time aspiring veterinarian Lonnie Douglas, MD, never quite grew accustomed to the smell of pigs on the farm, one whiff of a locker room brought back fond memories of his former playing days.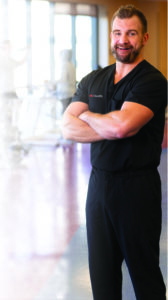 Douglas, a UofL Health – Sports Medicine orthopedic surgeon and sports medicine physician grew up in Elizabethtown, Kentucky, and attended Eastern Kentucky University. He played on the football team while he pursued a pre-veterinary degree path.
"After two years of working on the EKU farm with pigs and sheep, I decided I don't like pigs and sheep," Douglas says. "I decided it was time for a career change."
Douglas transferred to the University of Kentucky to finish his undergraduate work, then went to the University of Louisville School of Medicine, where he also completed his residency. In his first year in medical school, he started working with the orthopedic department. Some of the department's faculty had responsibilities to cover the University of Louisville football team. Little did Douglas know that a trip to one of the team's practices would cement his career path.
"We went to the practice to check on the players," Douglas said. "It hit me like a ton of bricks. The smell of the turf, the sweat, the pads – it was an epiphany. It took me all the way back to my days playing in college, and I decided right then that this is what I want to do."
Douglas went on to land a fellowship with James Andrews, MD in Gulf Breeze, Florida, where he was personally trained by the "surgeon to the stars" in the NFL, Major League Baseball, the NBA, and numerous college teams.
Treating Athletes in Clinic, the OR, and on the Sidelines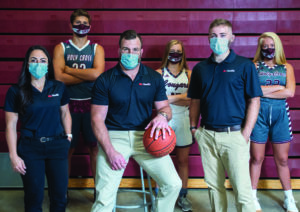 Douglas estimates that 95 percent of his current practice is pure sports medicine. About half of his patients are young athletes involved in organized sports. The other half are middle-aged individuals who are trying to remain active. Douglas, who also teaches residents, fellows, and medical students, says half his time is spent in the clinic seeing patients and the other half is spent in surgery, with a small percentage of time left over for research. Most of the surgeries he performs are arthroscopic surgery reconstructing ligaments and tendons, as well as restoring cartilage on shoulders, elbows, and knees.
Douglas also covers all team sports for Holy Cross High School. "I'm a dyed in the wool team doc," he says. "I'm as accustomed to being on the sideline as I am to being in the operating room."
His younger patients, however, are often not so accustomed to the doctor's office. Many of them come to Douglas with their first significant injury.
"With the young athletes, often it's the first time they have been hurt, and it shakes their psyche when they suddenly realize they aren't bullet proof," Douglas says. "It requires a special touch. They have to understand that you speak their language. You understand the athlete, you understand their sport and what role they play in that sport."
Douglas says most of these young athletes present with injuries such as ligament and cartilage injuries. Others may be dealing with overuse injuries such as stress fractures. Then there are acute injuries like ACL tears, meniscus tears, and shoulder dislocations.
"The younger patients are all motivated; they want to get back to sports," Douglas says. "It's a joy to work with athletes because everyone wants the same thing – to perform at the maximum level possible and get back after it as soon as possible. They are a tremendously motivated group of patients."
The sense of urgency isn't quite as high with most of Douglas' middle-aged patients, who frequently present with overuse injuries or wear and tear rather than acute injuries. "Usually when they come see me, they have been dealing with some aches and pains," Douglas says. "A lot of times they have been dealing with these nagging issues for years. When you're able to effectively address the problem and remove that stubborn thorn in their side, they are incredibly happy. That's when it's all high fives and handshakes."
Diagnostics and Team Approach
Making his patients happy begins with understanding what they want and need to achieve. That begins with an evaluation, a diagnosis, and then a conversation about what the options are.
"I tell my patients, you're the captain of this particular ship; I'm just going to tell you where it's best to sail it," Douglas says. "I never want to talk anybody into anything. My job is to arrive at a correct diagnosis and understand the mechanics that are driving that diagnosis. That's the hard part. When you get that part right, everything else falls into place quite nicely."
Douglas tries to understand the level of performance his patients are hoping to return to, whether it's for a sport, recreation, or occupation. "Both the younger patients and the middle-aged ones just want to get back to what they do as quickly as possible. I need to know what their goals are and determine the best ways to get them there predictably and reliably."
A relatively new way of helping some patients achieve that quick return to activity is platelet-rich plasma (PRP). Douglas says that PRP is not right for every situation, but it can have significant impact when used correctly. "It depends on the injury," he says. "For example, we know that for an athlete with a hamstring pull, it usually takes about six weeks to return. We've discovered that if we inject the right kind of PRP, you can shorten the return to play for that athlete to about three weeks."
Douglas says one of the biggest changes in sports medicine is the inclusion of multiple disciplines and providers to care for a patient, including physical therapy and sports psychology. Understanding the patient's motivation and desired outcome drives the game plan for treatment.
"The biggest thrust I'm pushing right now is multidisciplinary," Douglas says. "It requires a specialized team of folks in different fields who are able to work closely together and communicate with each other so you can take care of the entire patient. It takes a team."
All that's missing is the locker room.