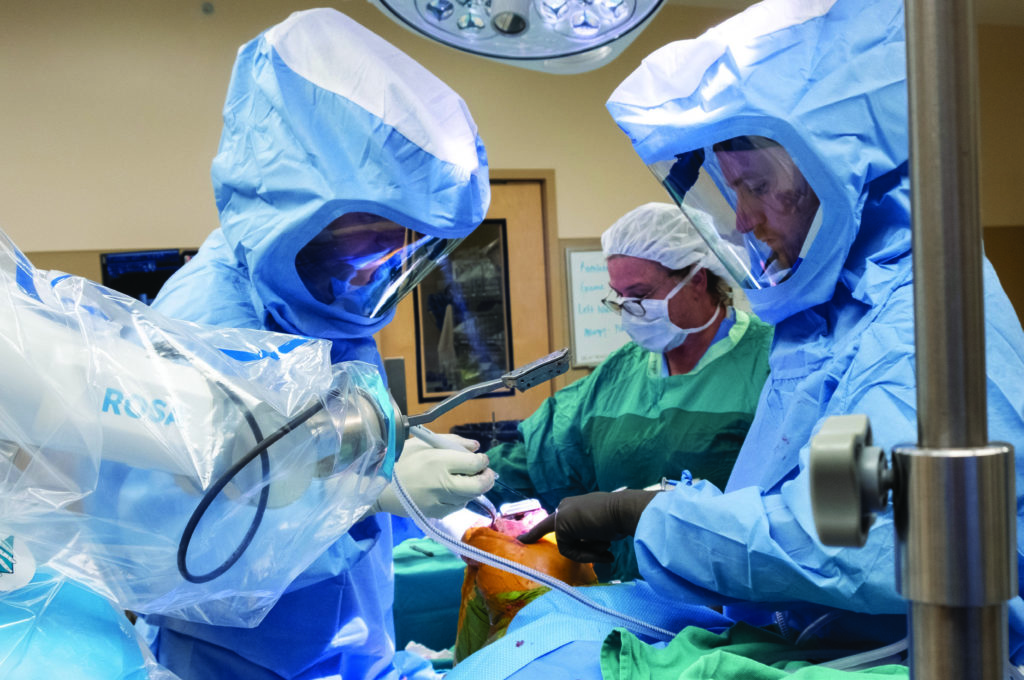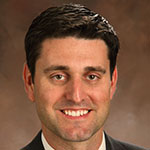 LOUISVILLE Orthopedic surgeon Joseph W. Greene, MD, is the first specialist in Louisville, Kentucky to use the ROSA® Knee System. ROSA, which stands for Robotic Surgical Assistant, is advanced technology that helps surgeons position knee-replacement elements more precisely. Greene completed specialized training to use ROSA Knee after the FDA approved it in 2019. He is excited about the system's specialized features that surgeons can use to design and place personalized replacements based on each patient's specific knee anatomy. "We're able to use this smart technology to fine tune our instruments so we can put replacements exactly where we want them to be," he says.
Greene performs about 600 arthroplasties annually. Most are full knee replacements. His patients are evenly split between women and men who are typically in their early 60s. Chronic problems, rather than acute injuries, account for most of his cases. The orthopedic surgeon, a member of Norton Orthopedic Institute, graduated from the University of Louisville in 2002. He took a year off to work in cardiac telemetry at a South Carolina hospital before returning to UofL for medical school, plus his internship and surgical residency in orthopedics. In 2012 he completed a one-year orthopedics fellowship at the prestigious Insall Scott Kelly Institute in New York City.
The Louisville native, a Saint Xavier grad where he played baseball and ran cross country, knew early in life that he wanted to become a doctor. Greene has a younger brother diagnosed with neuroblastoma in his abdomen. Another brother was a soccer player and needed multiple ACL repair surgeries, one of which Greene performed. Caring for others and his family encounters with sports medicine guided his career path.
Greene has practiced the past seven years at Norton Orthopedic Institute and is a clinical instructor at UofL's Department of Orthopedic Surgery where he spearheaded and now directs a hip and knee reconstruction fellowship that will graduate its first fellows this August. He credits his surgical practice partners for a forward-looking commitment to new technologies. "They, along with an army of excellent physician assistants and other staff, do invaluable work to ensure patients receive excellent care," he says.
Game Changing Progress
Greene used an earlier form of robotic technology five to ten years ago but found it cumbersome and time consuming. He calls this new generation of robotics "game changing."
He is amused that some people imagine robotic surgery as an R2-D2 robot whirring into an operating room and performing all the work. The reality is less like a Star Wars movie and more like a precisely mapped road trip executed by a skilled surgeon with the help of a high-tech GPS.
ROSA uses a series of conventional 2-D x-rays to create 3-D images of a patient's unique knee anatomy. Surgeons can study the 3-D simulations, and view them on a screen during surgery as they make adjustments while watching the replacement move through a range of motions. "The great news is that along with this advanced technology, we now have multiple sizes of new generation implants that let us make sub-millimeter adjustments for each patient," Greene says.
Precision is vitally important. If joints are aligned improperly —even by just a degree or two—they may function poorly and wear down faster.
Promising work now underway has shown significant progress in the use of hip replacement components made from crosslinked polyethylene to reduce wear resistance and prolong the implant's duration. This same high-tech form of plastic is showing similar promising results with knee replacements. "We're still in the early stages of using crosslinked polyethylene implants for knees, but we are already seeing miniscule wear-down rates compared to the norm 15 to 20 years ago," Greene says.
ROSA procedures entail a preoperative process similar to traditional joint replacements. Postoperative care following the minimally invasive procedure is significantly streamlined.
"We can generally get patients up and walking soon after surgery," Greene says. "About 75 percent of patients go home the same day of surgery." Rehabilitation is tailored for each patient's needs. The knee's rotational aspects still call for physical therapy, but overall recovery tends to be comparatively faster than that of traditional procedures.
Despite these new technologies, Greene notes some situations may still make joint replacement inadvisable. Obesity (Body Mass Index of 40+) rules out arthroplasty. Serious chronic illness, such as diabetes or heart disease, increase risks for blood clots or infection and must be carefully assessed. "As always, our chief aim is to look closely at the benefits versus potential risks and provide the best recommendations we can for every patient," Greene says.
Looking Forward
Greene understands that at first glance this new approach may seem far more aggressive than that of past practices. "I think progressive is a good way to describe it," he says. "Patients are happier being at home for their recovery, and happier patients support better outcomes."
Looking ahead, he expects to see many more minimally invasive joint replacement surgeries done in hospital settings. Robotics will continue to play an even greater role, but the procedures will be driven by skilled surgeons.
The American Academy of Orthopaedic Surgeons reports nearly 800,000 knee replacement surgeries are done annually in the United States. They project procedures will top 1.25 million by 2030. While 96 percent of patients do well with traditional knee replacement surgery, the 4 percent who experience improper alignment represent up to 80,000 people who stand to see better outcomes.
Greene describes himself as a "joint preservation believer." He focuses on "patient-centric care" with three goals: to save as much of each person's knee anatomy as possible; to reproduce the knee's natural structure as closely as possible; and to rid patients of pain.
"Orthopedic surgeons take great care to identify the right procedure for the right patient," he says. "What we value most are procedures that add to every patient's quality of life."