LOUISVILLE Completing a 5K run is an admirable accomplishment for anyone. But, for someone who has suffered a traumatic brain injury (TBI), leaving her without the ability to walk or speak, it is a truly remarkable feat. Yet recently, Emily Holmes, who was admitted to UofL Health – Frazier Rehabilitation Institute's EMERGE program in 2013 following a devastating car accident, crossed the finish line, proving the power of the human spirit and effectiveness of the physical medicine and rehabilitation (PM&R) practice of UofL Health – UofL Physicians.
It is success stories like these that make Darryl Kaelin, MD, proud to be a physiatrist. He states, "We have created some miraculous stories that just pull at your heartstrings and make you want to cry. You are thankful that you've been able to give people their lives back and you've been able to give families back their children, their husbands, their wives, their moms, and dads. It's really rewarding."
Kaelin, who specializes in neuro-rehabilitation with a focus on traumatic brain injury and stroke, is one of a select few, with physiatry making up only 1% of all physicians and numbering just 11,000 in the United States.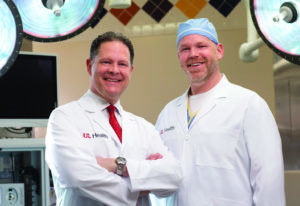 So … Exactly What Is Physiatry?
"Most physicians don't know what we do. We spend a lot of our time providing elevator speeches to people about what physical medicine rehabilitation is," states Kaelin, who serves as Chief of Physical Medicine and Rehabilitation and Endowed Chair of Brain Injury and Stroke Rehabilitation at the University of Louisville (UofL).
According to the Association of Academic Physiatrists, "Physiatry provides integrated, multidisciplinary care aimed at recovery of the whole person by addressing the individual's physical, emotional, medical, vocational, and social needs."
Kaelin elaborates, "Most specialties have an organ. Urology has the renal system and the bladder; cardiology has the heart; pulmonology has the lungs; dermatology has the skin. We don't necessarily have an organ system, although we certainly have a lot of focus on the muscle and nervous systems. Our real focus is on function." Function specifically deals with the non-surgical treatment of disease or injury. In Kaelin's words, "PM&R specialists tend to view their patients in a holistic manner, so obviously a person may come in with a physical complaint, but we're going to look at them from a systems perspective and not just a musculoskeletal perspective."
From an early age, Kaelin knew his goal was to become a physician with an emphasis on the brain. He states, "I've always known I wanted to be a doctor since I was about five years old. And, I always said I wanted to be a 'brain doctor.'" However, his sports background led him to PM&R. "It was the perfect specialty for me. I've always had an interest in physical fitness. I was an athlete in high school and played baseball in college."
After graduating from the University of Notre Dame where he played center field, Kaelin obtained his medical degree from the UofL School of Medicine. He then did an internship at Kettering Medical Center in Dayton Ohio, and became chief resident at the Medical College of Virginia. Prior to returning to UofL, Kaelin served as medical director of the Acquired Brain Injury Program at Atlanta's Shepherd Center and as the medical director of Brain Injury Research in Emory University's School of Medicine. Currently, along with his other roles, Kaelin is the medical director of UofL Health – Frazier Rehab Institute.
Both Treating and Teaching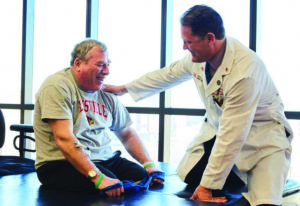 Frazier Rehab Institute is one of 1,200 acute inpatient rehabilitation hospitals in the nation, as well as a world-renowned spinal cord injury research center. Along with inpatient services, the institute provides outpatient rehabilitation and is the teaching site of UofL School of Medicine for rehabilitative medicine.
Yearly, approximately 1,800 patients with catastrophic illness or injury are admitted to the hospital, with over 300 with brain injuries; 150 with spinal cord injuries; and approximately 450 individuals who have suffered from strokes. Outpatient admissions are approximately 8,500 patients a year.
Since Kaelin took the helm in 2011, Frazier Rehab has grown from 3 to 12 physiatrists covering a wide-range of subspecialties. "What I recognized early on was that there were plenty of patients who needed our care, but in addition to having really good generalists, we needed people with specialty backgrounds that could not only provide an expert level of care for certain patients, but also provide the education to our residency programs," he states. Among these are specialists in sports medicine, cancer rehabilitation, spinal cord injury, and pediatric rehabilitation. In addition to physicians, the rehab team also boasts nurse practitioners, case managers, physical therapists, occupational therapists, speech therapists, psychologists, nutritionists, and chaplains.
All of these professionals take an interdisciplinary approach in diagnosis and treatment to address conditions such as ALS, stroke, cancer, amputee surgery, acute concussion, Parkinson's disease, TBI, and spinal cord impairments resulting from trauma, disease or congenital abnormalities.
On his role as a PM&R specialist, Kaelin says, "One of the first questions we always ask our patients is 'What are you not doing now that you want to do?' or 'What is it you used to do that you want to get back to doing?' Quality of life is what's important to the patient. By understanding where they are and where they would like to be, we can devise a plan to get them there." He continues, "Once we've determined what's wrong, then we put a comprehensive program together around that person, which may include the right medicines, therapy, and an exercise program that goes on during the days that they're not in therapy."
Due to COVID-19, many of these programs had to be introduced via telemedicine. And, now, reduced regulations governing telemedicine will allow Frazier Rehab to continue to use this technology, post-pandemic, to better serve patients. According to Kaelin, "Rehabilitation in a state like Kentucky lends itself well to telerehabilitation or telemedicine." This is because many patients who travel from rural communities struggle to find the time and resources to make the two-to-three hour trip to Louisville. Using telerehabilitation will allow physicians to offer the same level of care, while cutting office visits in half.
Frazier Rehab EMERGEs as a Leader
Of all of the complex conditions, perhaps the most devastating and daunting is TBI resulting in a coma or near coma state. For these patients, UofL Health – Frazier Rehab Institute launched the EMERGE program in April 2013. "EMERGE stands for what happens to a patient when they go from a minimally responsive state after they've been injured to becoming more interactive and responsive. We call that emerging," says Kaelin.
Since its introduction, the program has graduated over one hundred patients with an incredible success rate. "Over the years, these programs have improved and evolved, but a good program can get about 50-60% of their patients to become more active and participatory. A really good program about 70%. And, since our doors have been open, we're really close to a 90% emergence rate, which is phenomenal."
For Kaelin, the reward is seeing the patient thrive, as in the case of Emily Holmes. He states, "We've had some patients go from not responding to going home and going back to being husbands and wives, going back to work, going back to driving, and going back to school."
To facilitate the most rapid restoration, Kaelin uses a three-step process. First, removing medications that slow down recovery. Second, prescribing medications that increase responsiveness. And lastly, implementing a rehabilitation program that challenges and stimulates the brain. One of the drugs that has proven most effective is Amantadine, which increases dopamine while also blocking NMDA receptors. "We think that using Amantadine early after an injury not only helps patients to be more alert and responsive, but actually takes some of those brain cells that may not have died yet and helps them to recover. The research shows that those who take Amantadine have a better recovery than those who don't," says Kaelin.
First Defense, Not Last Resort
Kaelin, who was named "Top Doctor" by his peers in the August 2017 edition of Louisville Magazine, would like fellow physicians to see PM&R as a first line of defense, not a final resort. He says, "I think the reality is that most physicians think, 'When I don't know what else to do with somebody, I call physical medicine and rehabilitation.' The misconception is we shouldn't be the last people you think about calling; rather, we should be the first, because, again, it all comes back to function. If you have a person who's not functioning at their optimal level, then getting physiatry involved as part of the team to help that person recover better should be one of the first things you do, not one of the last things you do."
In closing he adds, "I think if people would think of us, PM&R earlier, when someone has lost their function and quality of life, rather than waiting until the end, that would be good for us and good for medicine as a whole."