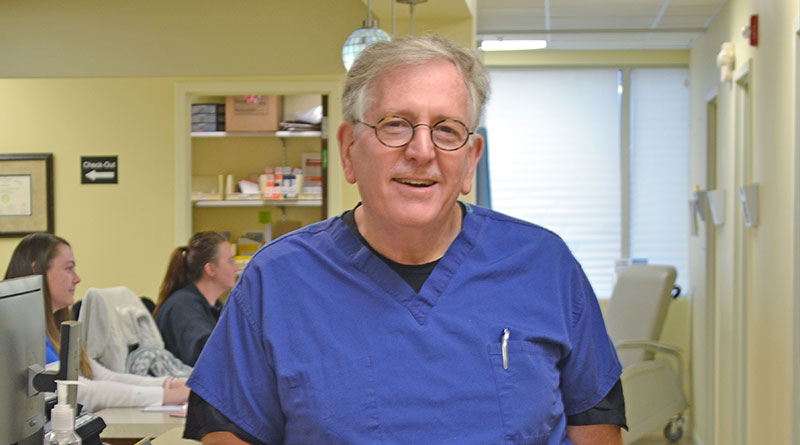 LEXINGTON You could say it was in his blood. With a mother who was a nurse, Avi Eres, MD, was exposed to the medical field as a child growing up in Israel.
"I wanted be a doctor from a very early age," says Eres, who is co-owner of Kentucky Cardiology, PLLC, in Lexington, with Mubashir Qazi, MD. "I had been around hospitals even before medical school. I was an orderly in a very busy hospital in central Tel Aviv. Soon I became a nurse assistant and throughout medical school, that's how I supported myself."
Eres attended medical school at Ben Gurion University in Israel and was always fascinated by cardiology. After graduating, he did his residency at Maimonides Medical Center in Brooklyn where he also completed his cardiology and interventional cardiology fellowships.
"When I got to New York I was very lucky to get into the largest private hospital in Brooklyn," he says. "That hospital had a particular interest in heart care, which I didn't know before I got there."
The Road to Kentucky
In between his cardiology fellowships, Eres served as a cardiologist at Daniel Boone Clinic in Harlan, Kentucky, from 1991 to 1993. He fell in love with the state and, in 1995, returned for good by moving to Lexington and becoming co-owner of Kentucky Cardiology in 2004.
While Kentucky has a high prevalence of obesity, smoking, diabetes, and other contributing factors to heart disease, Eres says that it is not so different from other states.
"We do have a high prevalence of coronary disease with blockages, heart attacks, or heart failure," he says, noting that Kentucky Cardiology also operates clinics in Paintsville, Flemingsburg, Mt. Sterling, Monticello, and Casey County. "But I've seen similar cases in New York. I'm not sure that Kentucky is all that unique."
Eres is encouraged by the improvements of cardiac care, pointing to preventative therapies that have reduced the prevalence of extreme cases. He credits advances in endovascular techniques with reducing the number of open-heart surgeries.
Early balloon techniques met moderate success, but many patients returned within three to six months with blockage caused by scar tissue. Stents offered better expansion of the vessel, but still 20 to 30 percent of patients would return with blockages.
"We have added the technology of drug-coated stents, basically anti-cancer proliferation drugs which helped ward off extreme fibrosis," Eres says. "Now the chances of a blockage coming back are in the single digits. We have results that are just as good if not better than open-heart surgery."
Trans-radial Catherization is a Plus
Though Eres acknowledges the need for open-heart surgery in some cases, the benefits of avoiding the surgery are obvious. Further, Eres says that trans-radial insertion has provided additional benefits to patients versus the traditional insertion via the groin.
"Patients can go home two hours after the procedure," Eres says. "The technique is much safer for the patient. Bleeding complications were 3 to 5 percent when going through the groin. When we go through the arm it's about 0.3 to 0.5 percent."
While these procedures have improved patient outcomes, Eres is quick to point out that preventative therapy remains the key to avoiding heart disease. Better control of blood pressure, cholesterol, obesity, and diabetes is the first line of defense against cardiac disease.
"Treating one single blockage is not the end of the story; it's the beginning of the story," Eres says.
Stenting or Medical Treatment?
Even though stents have become much more effective, Eres says that it is still preferable to avoid stenting. Many cases that were once considered automatic for stents or balloons are now treated medically.
"One of the biggest advancements in the interventional field in the past 15 years is a much better understanding of which blockages we actually need to put stents in," he says. "In the early days, almost anything that was over 50 percent blocked, we would balloon or stent it. We now have the ability to determine what type of blockages we can treat and what we can leave for medicines."
"Treating one single blockage is not the end of the story; it's the beginning of the story."— Avi Eres, MD, Kentucky Cardiology, PLLC, in Lexington, Kentucky.
For some blockages, additional data is collected via a nuclear stress test or by using a pressure wire to measure a drop in pressure during heart catheterization.
"If there is a significant pressure drop in the blockage, only then do we intervene with a stent," Eres says. "For blockages between 40 and 90 percent, we need to have physiologic data that the blockage is significant enough to cause stress on the heart. That has made us more credible knowing that we're treating the right blockages."
Personal Patient Philosophy
Eres has established considerable credibility during his career and has witnessed a great deal of change. Through it all, he has patterned a model of patient-centered care.
"I don't take care of a disease, I take care of a patient," Eres says. "That's what individualized care is. You take into account the patient needs, psychological makeup, physical makeup, and what the patient wants to do with themselves."
Eres says the patient-centered model of care-giving, even dealing with insurance companies, comes a bit more naturally to a private practice such as Kentucky Cardiology. "It allows us to have more personalized care within a private practice. "It's getting harder to survive as a private practice in this environment," he says. "I'd like to see a light at the end of the tunnel."
If that tunnel is indeed blocked, Eres might be just the man to help clear it. Despite the challenges, he remains committed to private practice and providing the best care possible for his patients.
Harder, but not impossible. For Eres, the beat goes on.