Mammography is part of wellness care at Women First of Louisville
LOUISVILLE Women First of Louisville, a full-service OB-GYN practice founded, owned, operated, and staffed exclusively by women, started offering mammography services to their patients in 1991. The goal was to provide mammography as "a wellness model, not a sickness model," says Rebecca Booth, MD, OB-GYN, one of the early partners in Women First.
Women First sees between 300-400 OB-GYN patients per day, over 15,000 per year. Eventually, the vast majority of these women need a mammogram. Why not offer that service in-office as part of their integrative well care for women model, asks Booth. The interest in mammography screening was so strong that in 2006, Women First hired Debra Hensley as its first "breast imaging navigator" to communicate with patients on the results of their mammogram. Lynette Wood, LPN, is also a breast imaging navigator, and Hillary Meyer is breast imaging supervisor.
Women First is an OB-GYN medical practice, so the mammogram images are sent to the Louisville radiology practice, Women's Diagnostic Center, for reading. Turnaround is typically 4-7 hours, says Booth. Ninety-six percent of the mammograms are BI-RADS (breast imaging reporting and data system) zero or 1, says Booth, meaning no additional screenings are needed except for the annual exam. Only 4% need follow-up.
"Our breast imaging navigators are highly trained to communicate with our patients on the results of their mammograms, whatever the BI-RADS score is," says Booth. "Our well care model is based on wellness and moving our patients through one or more procedures. The flow cannot 'stop, drop and direct' towards just one problem. The flow has the assumption of wellness and integrative care."
Recall of patients for another mammogram or biopsy have decreased with the advancement of 3D mammography, because they are easier to read and interpret, says Booth. Additionally, the in-office setting and one-day turnaround benefits patients because "there's less cost to the patient and less exposure to radiation, also less time, anxiety, and less breast cancer worry," she states.
"We were one of the first in the region to bring mammography in-office, and we do it as part of our annual well care exam. Our goal was to increase compliance with screening recommendations. And we see that compliance has markedly increased," says Booth. "Our appointment staff facilitate scheduling. Most of our patients are very interested in being proactive with their breast cancer screening."
"It's been a real gift to me that we are able to offer this service to our patients," says Booth.
Women First of Louisville
Established in 1988 by Rebecca Terry, MD, OB-GYN, Women First of Louisville has been a pioneering force in creating one of the initial all-female practices in the field of obstetrics and gynecology. What began as a modest two-physician group has flourished into a robust team of 20 all-female practitioners. This diverse group includes both physicians and advanced practice clinicians who are experts in various aspects of women's health, offering a comprehensive range of services that span the gamut of women's health care needs. Their services include preventative care, obstetrical and preconceptual counseling, contraceptive management, sexual and menopausal health, surgical services both in-hospital and in-office, urinary incontinence and bladder care, and other services to meet their patients' gynecologic needs. In addition, Women First is equipped with several in-house diagnostic facilities, featuring a full laboratory, ultrasound department for both gynecologic and obstetrical assessments, bone density testing, and a breast imaging suite.
Women First's breast imaging department has continually evolved to incorporate technological advancements in the field. Initially offering film-based mammography, they transitioned to digital imaging and have since upgraded to state-of-the-art 3D digital mammography with computer-assisted interpretation. The full transition to 3D imaging was made once it became clear that both patients and clinicians recognized its superior diagnostic capabilities and insurance coverage became more consistent. To further enhance the patient experience, they have recently completed an extensive renovation of their imaging suite to featuring private changing rooms to ensure comfort and privacy, streamlining the patient flow throughout the suite. The mammography suite is equipped with three cutting-edge 3D digital mammogram machines operated by highly trained staff.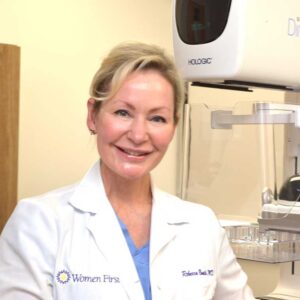 Rebecca Booth, MD, OB-GYN
has been practicing medicine for over 34 years. She is a co-managing partner of Women First of Louisville, one of the largest OB-GYN practices in the southern/central United States. She sees about 90 patients per week.
Booth completed undergraduate studies at the University of Kentucky and received her medical degree from the University of Louisville School of Medicine, where she was inducted into the Alpha Honorary Society. She completed her internship and residency at the UofL Department of Obstetrics & Gynecology and received board certification in 1991.
Booth is an internationally recognized expert in hormonal wellness and author of The Venus Week: Discover the Powerful Secret of Your Cycle…At Any Age. She has appeared on The Today Show and has been extensively featured in women's magazines and medical journals. She has been named in Louisville Magazine as one of Louisville's "Top Docs." She was honored as one of Today's Woman's Most Admired Women in 2009. She has been published as an expert in topics that include preventative healthcare for women and menopause and hormonal management.
Benefits of 3D Mammography
Even for patients considered low-risk, 3D mammography offers superior tissue visualization. Most radiologists agree that this advanced technology not only boosts the likelihood of early detection but also minimizes false-positive results.
Booth says that it is essential to note that very few women fall into the 'truly low-risk' category. Many women have one or more risk factors for breast cancer, often unbeknownst to them. For instance, delaying a first pregnancy until after the age of 25 is a risk factor, as is never becoming pregnant at all. "Given that breast cancer is the most prevalent form of cancer among women, it's prudent to consider anyone with breast tissue as having some level of risk," she says.
Although many patients are aware that mammography screening should begin at age 40, some may require earlier screening based on family history or genetic predispositions, like BRCA1 and BRCA mutation carriers. Typically, women rely on both public awareness and professional advice for these services. "Because we see women throughout their life span, we clearly communicate preventive measures and even discuss what is recommended for the next annual visit to help our patients prepare," says Booth.
Women have the option to schedule their own 3D mammograms at various free-standing breast imaging centers, especially in urban areas where this technology is readily available, but Women First feels that the opportunity to have a physical clinical breast exam along with other preventative health services is the best integrated way to deliver screening services.
Mammography is considered extremely low risk; however, a tiny amount of radiation is delivered to the tissue as would be true of a chest X-ray, but much less radiation than a more involved imaging procedure such as a CT scan. 3D imaging does not add significantly to the risks of radiation exposure and does increase the detection rate as well as lowering the need for compressed or additional images.
Most radiologists would agree that 3D mammography is now the standard for breast tissue imaging for all women eligible for screening.
Booth addresses a continuing misconception among women that mammography is painful. Many Women First patients share that the experience was easy compared to what they had imagined or had heard from others. "While false positives are a concern, most women would rather be proactive and are aware that early detection saves lives and reduces the need for aggressive surgery," says Booth.
On a personal note, Booth says that she keeps a list of her patients that have had breast cancers detected by the Women First team. She shares that "My mother-in-law is on that list twice, and she lived to be almost 90 free of cancer. There are many women I love and care about on the list, including some of my closest friends. It is a quiet reminder in my desk drawer of our mission to help our patients live longer and healthier lives."