Focusing on early detection and targeted care, the surgeons at Baptist Health Breast Surgery are ensuring patients receive the most innovative and individualized care available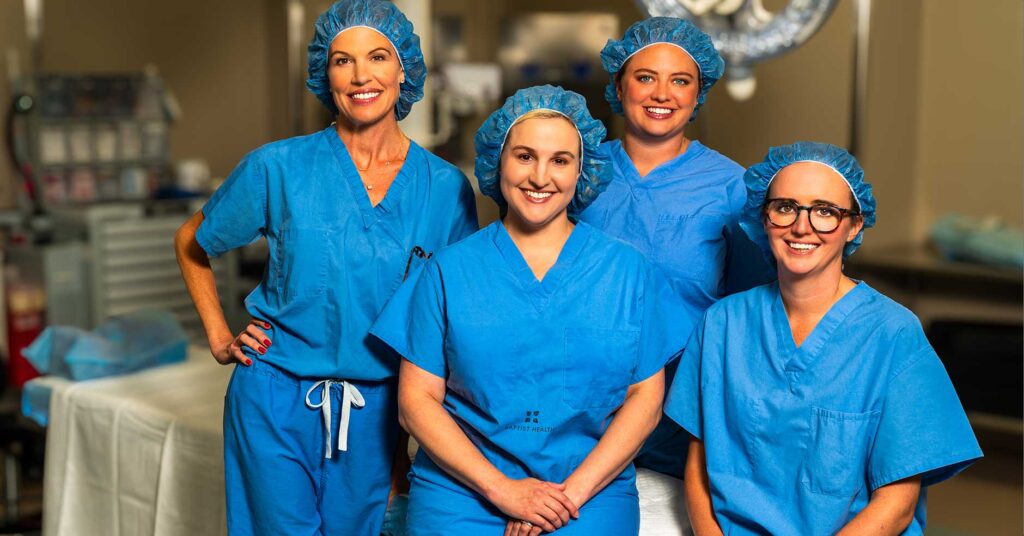 LOUISVILLE Breast cancer is a common form of cancer in Kentucky with 30,270 new cases and 10,090 associated deaths being projected for 2023.1 Mortality rates, however, have sharply decreased in recent years from 31.5 to 21.6 per 100,000.1 These promising statistics from the National Cancer Institute are due in large part to early detection and more targeted treatments.2 The surgeons at Baptist Health Louisville Breast Surgery are improving outcomes by bringing the latest techniques and technologies in screening, diagnosis, biopsy, surgical intervention, treatment, and post-operative care to Kentuckiana.
The Scope of Care
Breast surgery is a discipline that involves the treatment of malignant disorders of the breast as well as diagnosing and managing benign diseases of the breast and nipple. According to breast surgeon Allison Hatmaker, MD, "Most people think of breast surgery as a field for the removal of breast cancer. Although that is a large part of what we do, breast surgeons are often the first point of clinical contact for a woman with a breast mass that could be a cancer. We are imagers who perform biopsies to obtain a tissue diagnosis, counselors for the women in grief over a new diagnosis, coordinators of care within the multidisciplinary approach to the treatment of breast cancer."
Colleague and breast surgeon Stephanie Warren, MD, echoes this sentiment, stating, "Unlike some other surgical subspecialties, we often see nonsurgical problems and follow our patients for many years. Our practice is unique in that we have several ultrasound-certified surgeons. We can perform aspirations or biopsies during patient visits."
Hatmaker reiterated that imaging is a major component for fellowship-trained breast surgeons of this era, pointing out that they
received extensive training in breast imaging with ultrasound specifically being used as an extension of physical exam, a tool to guide diagnostic biopsies, and a localization tool in the operating room.
Hatmaker attended the University of Louisville School of Medicine and completed both a general surgery residency and a breast surgery fellowship at Vanderbilt University in Nashville, Tennessee. She joined Baptist Health in 2009.
Warren is a more recent addition to the team, arriving at Baptist Health in 2018 after completing a breast surgery fellowship at Vanderbilt University. Prior, she graduated from the Medical College of Georgia and then completed a residency at the University of Louisville.
Advancements in Diagnosis and Treatment
The field of breast cancer treatment has seen major advancements over the years.
Breast surgeon Sarah Couch, MD, states, "Funding for breast cancer research is an area we can point to and say, 'The dollars have paid off.' Because of the advances in treatments—both in targeted chemotherapies as well as appropriate surgical and radiation therapies—patients have more individualized treatment plans that give them the best odds of survival while trying to reduce the impact of our therapies."
She adds, "Immunologic therapies have been a game changer, especially in triple negative breast cancer. The advent of HER2 directed therapies in the 90s continues to be a force for research and additional therapies for HER2+ tumors."
Upon completing her medical degree at the University of Louisville School of Medicine, Couch continued her training as a general surgery intern at the University of Massachusetts Medical Center and then continued her residency at the University of Louisville. She completed a breast surgery fellowship at Emory University in Atlanta, Georgia.
The focus of modern breast surgery is on precise tumor removal, performed in the most minimally invasive yet comprehensive means possible; targeted therapy; and optimum quality of life after breast surgery, the goal being that the patient is not only cancer-free, but also has post-operative functionality with full range of motion, feels cosmetically whole, and suffers low rates of lymphedema.
One way that physicians are reducing the prevalence of lymphedema is through preservation of the axillary nodes. In the past, these nodes were routinely removed from the armpit, which was linked to increased rates of lymphedema. Warren states, "Over the past twenty years, we have seen a de-escalation of axillary surgery, sometimes in exchange for axillary radiation. We continue to have ongoing trials helping us understand axillary management, especially in the setting of neoadjuvant chemotherapy."
She also notes improvements in breast reconstruction: "In recent years we have also had advances in oncoplastic techniques, usually with the assistance of our plastic surgery colleagues. This has allowed many women, who otherwise may not have been a candidate, to undergo breast conservation."
Surprisingly Broad Patient Population
In addition to breast cancer patients, the surgeons at Baptist Health Louisville care for patients with benign breast disease and for patients at high risk of developing breast cancer.
Warren explains that the surgeons regularly address a broad scope of breast problems, such as benign/nonsurgical issues (e.g., breast pain) benign surgical issues (e.g., radial scars, papilloma, atypia), abnormal imaging, and even lactational issues.
Couch elaborates, "Breast surgeons have the scope of care and follow-up to manage not only diagnosed breast cancers, but also high risk lesions like LCIS (lobular carcinoma in situ) and atypical hyperplasia. We help manage high-risk screening and discuss the role of risk-reducing surgery with patients."
General surgeon Lindsay Arnold, MD, came to Baptist Health in August of 2020. She shares a story about a patient. "I recently was able to care for a patient diagnosed with
breast cancer at a young age—the same age as me. There was so much overlap in where we were at in our lives…our family life, our place in our careers, things that are important to us. I saw and understood her fears and uncertainties on a more personal level. I remember tearing up with her in our conference room at her initial visit. Breast cancer can affect people in all walks of life, which is why it is so important we continue to offer early detection and effective multidisciplinary care."
Arnold attended medical school at the University of Tennessee College of Medicine and completed both a general surgery residency and a trauma/critical care fellowship at the University of Louisville School of Medicine.
Collaboration Is Crucial
In addition to the surgeons, the Baptist Health Breast team relies on oncologists, radiologists, plastic surgeons, and specialized staff, all working closely together with the goal of providing each patient with customized, coordinated breast care. The breast surgeons share an office with nurse practitioners and with Bill Hoagland, MD, who together care for patients in the High-Risk Breast Clinic.
According to Hatmaker, "We are proud to have a robust multidisciplinary team, including the largest group of breast fellowship-trained surgeons and the largest group of breast specific radiologists in Louisville. We are blessed to have a dedicated, skilled group of medical oncologists, radiation oncol-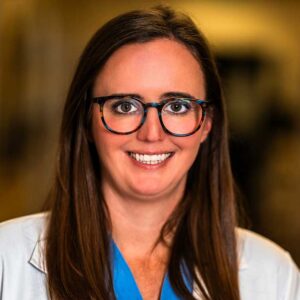 "We are proud to have a robust multidisciplinary team, including the largest group of breast fellowship-trained surgeons and the largest group of breast specific radiologists in Louisville." — Allison Hatmaker, MD
ogists, and plastic surgeons who support our patients as well. Other important members of the team include the genetic counselors, the nurse navigators, the research nurses, the physical therapists, the survivorship nurses, the nutritionists."
Members of the team frequently discuss cases, pathology results, and care plans. There is also a weekly breast cancer multidisciplinary conference, in which oncologists, radiation oncologists, breast surgeons, genetic counselors, nurse navigators, research coordinators, and behavioral health providers all come together for an in-depth look into particular patients, plus developments within the field, and best practices.
Couch points out, "We continue to push the needle forward in treatment options in all fronts—surgery, medical oncology, radiation therapy—but the collaborative nature of breast cancer treatment is, in my opinion, what propels the field forward."
In Closing
All four surgeons agree that breast cancer care is continually advancing.
According to Arnold, "Breast care, in general, is no longer one size fits all. We have so many therapies and options for patients with all types of breast disease, including abnormal breast biopsies, breast cancer, and those at increased risk for developing breast cancer. A heavy emphasis has been placed on finding ways to tailor care to improve the long-term quality of life of each patient."
In the words of Couch, "Breast surgery is the best of both worlds; we get to think critically about complex medical problems and counsel patients about their options several days a week, but we also are able to spend time in the operating room, working hands on to attempt to cure the patient."
The doctors all agree that the field is incredibly rewarding. "I find purpose in meeting patients at a very stressful time in their lives and being able to explain things in a way that they see these excellent outcomes. I enjoy getting to know these patients, their families and friends, and their life milestones through long-term visits," says Arnold.
In closing, Hatmaker states, "I cannot imagine feeling more reward in any other job. The disease is fascinating, there is great reward in surgically solving or fixing things, and the patients are incredibly courageous, graceful, and grateful."