Collaboration + Advanced Technologies + Research = First-rate Brain Tumor Care
LOUISVILLE A familiar adage tells us good things come in threes. Neuro-oncologist Kaylyn Sinicrope, MD, sees the truth of this in action through Norton Cancer Institute's Neuro-Oncology program.
Fueled by multidisciplinary collaboration, advanced technologies, and research, this program provides first-rate care for patients and families dealing with brain tumors.
Collaborative Multidisciplinary Care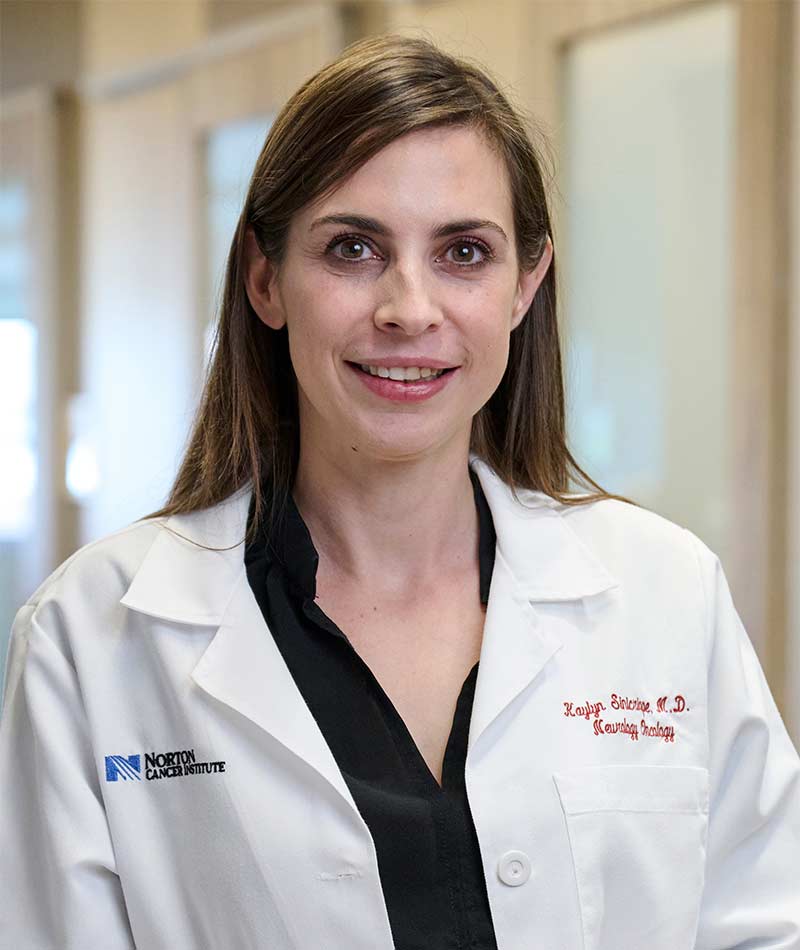 Regularly scheduled meetings are a key element of multidisciplinary care. Various departments gather weekly to plan how they can best fit the needs of patients and their families. "We have a tumor board every Monday morning before we start our clinic, where we discuss cases and agree upon a treatment plan for each patient," says Sinicrope.
Depending on the type of brain tumor involved, care plans may include combinations of neurosurgery, radiation, and chemotherapy. Chemotherapy — typically low-dose temozolomide (Temador) — is generally delivered orally in conjunction with radiation. It is often a final treatment step for many patients.
After completing six to twelve months of radiation, patients usually have a treatment break. As they resume, chemotherapy dosages are adjusted as needed. Sinicrope follows up with patients after treatment. Should a tumor reoccur, their next care steps may include referrals to additional specialists as needed.
Because patients and families face multiple challenges, neuro-oncology team care includes social workers and behavioral health specialists. Additional specialists assist with insurance and disability issues.
Advanced New Technologies
Aggressive forms of cancer often call for aggressive treatment. For instance, potentially high-risk surgeries that may affect key brain functions are sometimes necessary.
David Sun, MD, PhD, neuro-surgeon and executive director of the Norton Neuroscience Institute, is skilled with minimally invasive neurosurgical techniques. When conditions call for resection, Sun utilizes various leading-edge technologies and procedures that help minimize patients' potential risks.
Sun routinely performs laser interstitial thermal therapy (LITT), a minimally invasive procedure that uses a small laser to destroy unhealthy brain tissue. He is proficient with this innovative technique that several prominent cancer centers are currently using to treat deep or recurrent brain tumors and radiation necrosis.
GammaTile is another advanced technology Norton's experts have brought to Kentucky to treat newly diagnosed or recurrent malignant intracranial neoplasms. Sinicrope describes it as a form of "implantable radiation" put into a patient's surgical cavity after removal of a tumor.
Research and Clinical Trials: There is Hope
High-profile patients such as Senators John McCain and Ted Kennedy and President Biden's son Beau Biden have raised awareness about glioblastoma, yet much remains unknown about this typically fatal brain tumor. National cancer guidelines, which many experts use as a framework for optimal cancer care, recommend all patients with glioblastoma should consider clinical trials.
"In my opinion, it's our responsibility to offer patients clinical trials," says Sinicrope. "We currently have trials here, both in the initial diagnosis and recurrent stages, should tumors come back."
SurVaxM is one promising clinical trial locally underway. It assesses a treatment that mimics the power of the surviving peptide to increase immune response to glioblastoma. Patients who enter this trial continue to receive standard care, including radiation and chemotherapy.
More research is needed to confirm this Phase 2 trial's results, but early outcomes are promising. One recently published study reported the signal peptide used produced "fairly significantly prolonged overall survival."
Another current clinical trial involves wearing a medical device that transmits alternating electrical currents to kill tumor cells and interrupt tumor growth. Early results show promise in disrupting tumor-treating fields in later stage cases. Ongoing work is assessing the device's earlier treatment impact.
Both these multi-site trials for newly diagnosed patients are actively recruiting. Any patients whose tests confirm a glioblastoma diagnosis can benefit from information on these available trials.
Clinical trials normally include placebo-controlled arms, which mean not all patients who enroll receive active intervention. Sinicrope is surprised — and encouraged — that most patients who enter a study are altruistic about their chances of getting a placebo.
"They say even if they don't get the intervention, they're still helping others," she says.
Sinicrope credits research and advanced treatments for changing the "nothing can be done" mindset about glioblastoma. While some patients experience an aggressive course with significant disability, advanced treatments are now helping many patients enjoy years of good-quality life.
"There is hope," says Sinicrope. "Our treatments are effective, and we're working hard to advance what we're doing."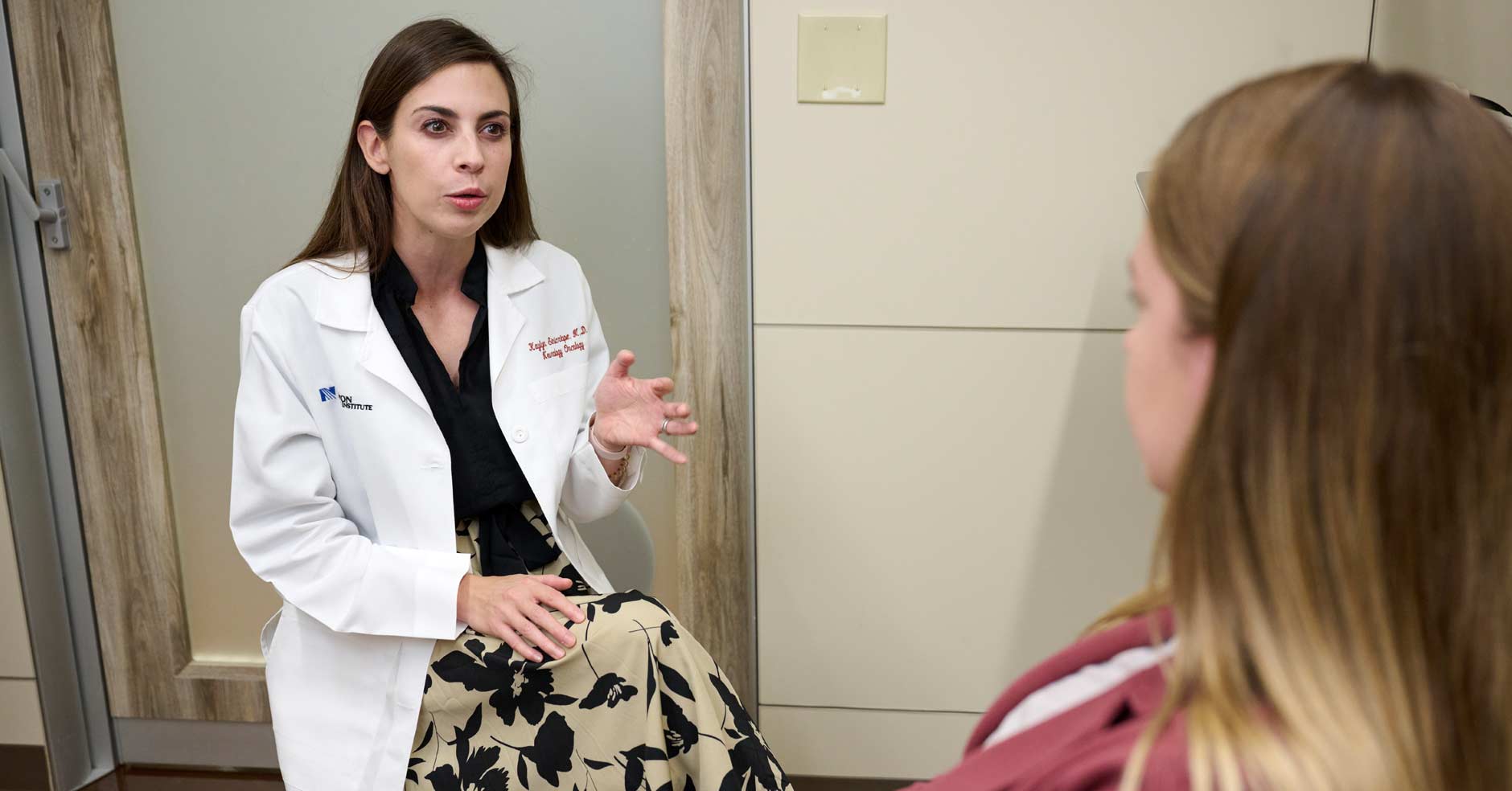 A "Why Statement" That Speaks Volumes
Sinicrope cannot recall a time when she did not want to be a doctor. As a young girl, she used toothpicks and hydrogen peroxide to fix her dad's scrapes or small injuries.
She attended UC Davis College in California, then worked at a women's health clinic before applying to medical school at Boston University. A combined residency program at Harvard led her to Brigham and Women Mass General Hospital, the inpatient facility for the Dana-Farber Cancer Institute, where she fell in love with oncology.
She and her husband, Brent Sinicrope, MD, share a commitment to quality patient-centered medical care. He is an orthopedic surgeon with Ellis & Badenhauser Orthopedics.
Unlike many specialized practices, oncology promotes close patient relationships. "It's almost a family medicine approach within a particular specialty," says Sinicrope, whose office at Norton Cancer Institute's Brownsboro site is directly across from the inpatient hospital.
Her days typically start with hospital rounds. She likes to meet new patients in the hospital before they've had any type of surgery. If patients under her ongoing care are hospitalized, she makes sure to see them so their inpatient care team includes someone they know well. Between seeing patients, she fits in administrative and clinical trial work.
Sinicrope's patients are generally in their fifties or sixties, but ages can vary. She sees more males than females, but the difference is not substantial. Brain tumors typically impact the healthy and unhealthy alike. Sadly, the most common tumor Sinicrope treats is terminal. Life expectancy can vary, but many glioblastoma patients live less than 20 years. This sets the stage for frequent visits that lead to a close doctor-patient relationship. "I know all about all their vacations and families. We see pictures and postcards and that kind of thing," says Sinicrope. "I think we're a part of their lives as much as they're a part of ours."
When Sinicrope sees new patients, she generally has a fairly accurate diagnosis in mind based on their imaging test results. If she's confident they're facing an aggressive primary brain tumor, she shares her concerns but holds off on unpacking their prognosis in detail. "Before we begin to consider surgery, biopsy, or any sort of intervention for definitive diagnosis, I try to get to know the person a bit," she says. "It's good to find out what is important to patients, who is part of their support network and what defines them in terms of occupation or hobbies."
Over time, brain tumors often impact cognition and functionality. She feels it's important to understand people before they embark on such a life-changing process. It helps in tailoring treatment plans that respect patients' priorities and quality of life.
This care approach, Sinicrope notes, typifies Norton Cancer Institute's commitment to quality care for every patient. Because neuro-oncology is so specialized, she encourages anyone diagnosed with a brain tumor to consider a consult with the Institute if they live within a two-hour drive of Louisville.
She wants all patients to understand their available treatment opportunities, including clinical trials. To minimize in-person trips, patients can access many advanced therapy resources using virtual technology.
Ultimately, Sinicrope believes her "why" boils down to a desire to help patients live as long a life and as good a life as they can. Beyond this, she considers it vital to understand the widespread impact cancer makes on patients, families and even their broader communities.