Dana Johnson, MD, stays close to his roots and sees a bright future for cancer patients
MT. STERLING/LEXINGTON After World War I, Mount Sterling, along with Lexington, Shelbyville, and Maysville, was one of the four major loose leaf tobacco markets in Central, Northern, and Eastern Kentucky. The roots of tobacco use run deep in the central/eastern counties of Montgomery, Bath, Menifee, Powell, Rowan, Clark, and Morgan counties. Even today, nationwide smoking rates remain higher in rural counties than in urban counties, according to the American Lung Association's 2023 report, "Top 10 Populations Disproportionately Affected by Cigarette Smoking and Tobacco Use" with 19% in rural versus 11.4% in urban areas.
Dana Johnson, MD, hematologist, medical oncologist, and palliative care specialist at CHI Saint Joseph Health – Cancer Care, regularly sees this disparity in his clinical practice. Johnson estimates that over 33% of his patients are treated for lung cancer, with smoking rates up to four packs of cigarettes per day. Many of his patients are in later stages of the disease.
Lack of access to care and transportation challenges contribute to this unfortunate occurrence, says Johnson. "There's no bus service or public transportation in the poor rural counties that people can use to get here, so they need family or friends to bring them. The good news is that with CT screening initiatives in rural counties, we are seeing a shift in patients coming in with earlier stages of the disease."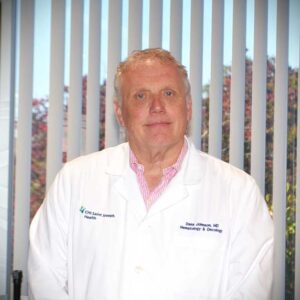 Finding a Niche
Johnson grew up in Ashland, Kentucky, and received his undergraduate and medical degrees at the University of Kentucky. After his internship at the University of Tennessee, he returned to Lexington for an internal medicine residency and medical oncology fellowship at UK. A perpetual student, Johnson recently earned his PhD in history from UK. His subject was medical history and women's health.
Johnson joined CHI Saint Joseph Health in 2011. He sees his cancer patients in Mt. Sterling and has a palliative care clinic every other Friday in Lexington.
Johnson chose to study cancer and palliative care because of the advancements he observed in the fields as he was working toward his medical degree. Oncology and palliative care merged seamlessly and palliative care had surfaced as a viable option for medical oncology patients with the emergence of Medicare coverage and reimbursement.
Johnson's patient population is of advanced age and presents with cancers common to the region, most notably lung, breast, colon, and prostate malignancies. Palliative care provides advanced care for patients who have been treated repeatedly and still experience symptoms of pain, including emotional symptoms that are both persistent and very difficult to control.
Hospice and palliative care are not necessarily synonymous. Johnson states, "I enjoy palliative care. It's less high-tech treatment procedures and more about making people comfortable, giving them a quality of life."
Fellow oncologists usually serve as referring physicians for palliative care and hospice services alike.
Palliative Care for a Chronic Condition
Advancements in cancer treatment, such as new medical therapies, DNA specific drugs that are less toxic, improvements in radiation, and early detection mean that patients with cancer are living longer. Like other oncologists, Johnson concurs that "cancer is becoming a chronic disease more than a terminal one. People are living longer; therefore, the need for palliative care is growing as the two specialties continue to intersect."
Palliative care offers treatments that care for the patient as a whole person, not just as a cancer patient. Emotional, social, and lifestyle pressures often take a toll on oncology patients and their caregivers, and effective palliative care addresses some of those needs. "This kind of support is best achieved by talking to patients and seeing what their individualized goals are. We focus on simple modalities, matching the invasiveness of treatments to the patient's unique goals, and helping them keep doing those activities that matter most to them," says Johnson.
He cannot deny the holistic quality of palliative care: "Holistic care has to be part of the approach," says Johnson. "People who come to our clinic are talking about very emotional topics. Life, death, and possibly how they want to spend their last days. When you're in our place, you can't just look at pain and ignore the rest … there's much more emotional care in our field than in most others." For these reasons, Johnson states that the clinic also has a chaplain available to patients and families.
The opioid epidemic in Kentucky presents a challenge for palliative care providers. Johnson says that he and fellow providers are well aware of potential drug diversion behaviors, so they work closely with local pharmacists and use the KASPER registry to monitor activities such as physician shopping and drug misuse. "We're very mindful of the potential for misuse, but I continue to treat the sick patient because that's my job," says Johnson.
Like many practices, palliative care comes with its own share of misconceptions. Johnson names two. "The first is that everyone who comes here ends up in hospice. And the second is that our patients have given up. The opposite is true. We work diligently to help them feel as good as they can for as long as they can."
An ardent student of history, Johnson gives a prediction about the future of palliative care. As people live longer lives and thus become vulnerable to more diseases, he sees a continuing merger between palliative care and oncology in coming years. "The interface between medical oncology and palliative care will necessitate growth in this area," says Johnson.
The Cleveland Clinic Connection
In May 2021, CHI Saint Joseph Health announced an expansion of its affiliation with the Cleveland Clinic Cancer Center to include patients and physicians in Bardstown, Mount Sterling and London, Kentucky. In the announcement then-Saint Joseph Mount Sterling president Jennifer Nolan said that physicians and patients in rural counties would now have "access to second opinions and input to treatment plans from one of the nation's most respected cancer programs."
Johnson says that he is in regular contact with the Cleveland Clinic Cancer Center, averaging at least one contact a week, usually more. The benefits are multiple, he says. "We have standardized protocols in our system for administering chemotherapy. We have quick access to a second opinion in real time. And we have a real-time consult on a complicated case."
Johnson recalls that when he first started practicing oncology over 25 years ago, he and his colleagues believed that they were on the cutting edge of treatment, which he ruefully acknowledges was true, but naïve. "Patients that 20 years ago would not have survived are now living with cancer as a chronic condition with a quality of life," he says. "The rapid development of new cancer fighting drugs is driving the evolution of drug therapy, giving us much more hope for a future with more effective treatment."