UK HealthCare's Physical Medicine and Rehabilitation Department expands into new facility, adding faculty, staff, and patients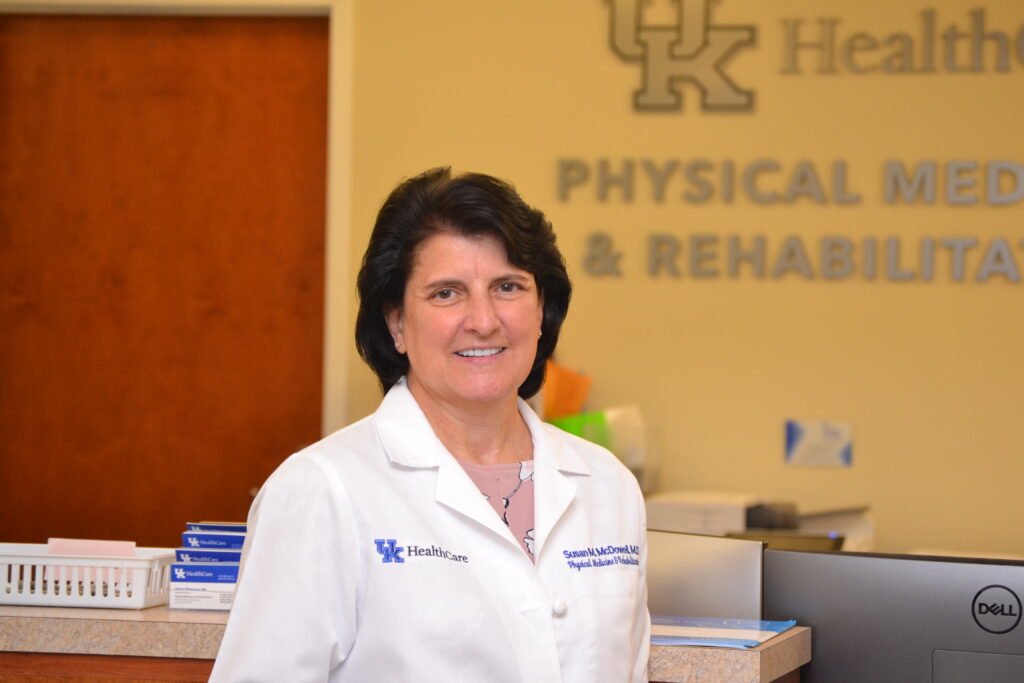 LEXINGTON Like the mythical baseball field in the movie, Field of Dreams, an Iowa cornfield transformed into hallowed ground for dishonored and forgotten legendary baseball players, the new UK HealthCare outpatient Physical Medicine & Rehabilitation (PM&R) clinic at Cardinal Hill Rehabilitation Hospital on Versailles Road in Lexington has patients coming to it from all over Kentucky in mass numbers, seeking rehabilitation and independence. To paraphrase a famous line from the movie, "If you build it, and they will come." The UK HealthCare Department of PM&R had been spread over two locations, the Good Samaritan Hospital on the UK HealthCare campus, and a smaller space at Cardinal Hill. In 2015, Encompass Health, an inpatient acute care provider, purchased the Cardinal Hill location from Easter Seals. UK PM&R remained as a tenant. Through negotiations, the decision was made for UK to lease all the outpatient physician clinic and therapy space from Encompass. Thus began a multi-year remodeling and upgrade project which consolidated all the UK outpatient PM&R services into one location.
Meet the Chairperson
Susan McDowell, MD, chair of the UK HealthCare Department of Physical Medicine & Rehabilitation recalls that PM&R became her specialty and life's work by research and discovery. In her third year of medical school, she was searching for a specialty and was concerned that "nothing was lighting my passion, my fire," she says. Then she came upon a description of PM&R in the back pages of a specialty resource volume. It interested her enough to take an elective rotation in PM&R in her fourth year of medical school.
"After two days in my rotation in physical medicine, I knew I had found my place. I could work with people, fixing things for them, improving their quality of life and develop long-term relationships using my skills, knowledge, and technology," says McDowell.
"I found my 'Why,'" she says, "because I can have a positive impact on every patient's life that I touch in my work as a physician, using everything I've learned and my ability to interact with other specialists to benefit patients. Doing whatever is necessary. Taking a challenging situation and finding a way to bring value to a patient's life, for them to be independent. For them to find social, mental, and physical daily health and wellness in everything they do."
McDowell grew up in Augusta, Georgia, the youngest of six children. In high school she played softball and basketball. Her mother was a nurse. She received her BS in chemistry from Augusta College of Georgia and her medical degree from the Medical College of Georgia. She completed her residency in PM&R at the University of Kentucky. She is board-certified in PM&R with a subspecialty certificate in spinal cord injury medicine. She provides inpatient and outpatient care for adults and children.
McDowell joined the UK faculty in 1994, directed the residency program from 1996 through 2001, and became chairperson for the Department of PM&R in 2013. Now she leads a department with 19 doctors, a practice manager, a nurse manager, plus two RNs, three medical assistants, seven administration staff, and a clinical social worker at a newly remodeled facility.
In addition to her clinical and administrative department work she is on faculty and professor of PM&R at the UK College of Medicine. She also serves as a consultant at the Lexington Shriner's Medical Center for Children where she participates on a multidisciplinary movement disorders team.
PM&R: A Broad Mission with a Long-term Focus
According to the description on its website, which McDowell crafted, UK Physical Medicine & Rehabilitation helps patients who have severe neurological or musculoskeletal impairments. The goal is "to restore each patient to their highest possible level of medical, psychological, social, and vocational function. A multidisciplinary team approach is used in all aspects of care."
Areas of specialties include arthritis, back pain, stroke, brain injury, congenital neuromuscular, sports injuries, musculoskeletal disorders, electromyography, neuromuscular disorders, spasticity management, spinal cord injury, and management of amputees.
McDowell says that the decision to take the PM&R outpatient physician clinic to Cardinal Hill was made to allow more space for care of the rehabilitation patient. The move doubled the space to provide patient care, assured all clinic rooms were fully accessible, pulled all teaching faculty into one location to facilitate medical student and resident education and allows more opportunities to do meaningful research work. The process started in the winter of 2020 and was completed in June 2022.
"We really closed the loop on providing a wide range of rehabilitation care and services within one location," say McDowell, adding that now inpatient care individuals can transition to outpatient care in the same physical location.
The numbers bear out the wisdom and forecasting of the expansion and consolidation. Combined physician clinic visits for Cardinal Hill and Good Samaritan were 8,442 in 2020, 9,028 in 2021, and 9,956 in 2022. In fiscal year 2023, the new facility had 11,931 visits. In the first six months of calendar year 2023, the outpatient therapy visits have already topped 14,000.
"We're already at year three of our projections after the first year," McDowell states. "We believed the need was present, but we're still a little surprised. It affirms what we thought the need was going to be."
Growing a Department to Fill the Need
What's driving the growth of PM&R? Multiple factors are the reason, says McDowell. Certainly, the new and increased space allows for more patients. The extra space has given room for adding new faculty and staff. New faculty translates into more specialized services, a wider breadth of care, and more research.
Faculty members and their areas of interest include:
Nicholas D. Annichiarico, DO,
UK HealthCare Medical Director of
inpatient rehabilitation services
Samuel H. Byron, DO,
osteopathic manual manipulation
Derek S. Dixon, DO,
musculoskeletal and neurologic
rehabilitation
Nicholas C. Elwert, DO,
medical director of stroke rehabilitation
Lauren E. Fulks, MD,
pediatric rehabilitation
Emily D. Hogancamp, MD,
pediatric and neurologic rehabilitation
Cecil T. Hollen, DO,
musculoskeletal care
Justin Huber, MD,
stroke rehabilitation research
Jamie L. Key, DO,
brain injury rehabilitation, residency program director
Brock H. Marrs, MD,
interventional pain
Robert B. Nickerson,
MD, electrodiagnostic medicine
Michael C. Parrott, DO,
musculoskeletal care
Dwan R. Perry, DO,
musculoskeletal care, sports medicine
Stephen T. Porter, MD,
brain injury rehabilitation
Randal E. Schleenbaker, MD,
general rehabilitation
Sara Shahid Salles, DO,
spinal cord injury medicine, movement disorders management
Nancy J. Stiles, MD,
inpatient rehabilitation
Nathanial J. Thomas, DO,
musculoskeletal care, amputee care
Celysse M. van Zyl, DO,
osteopathic manual manipulation
McDowell says her department has a fine balance of senior leadership with "new recruits who have the mindset and skills we value. They're willing to step up and be accountable to our patients and everyone in our department. We look at our department like a family."
Technology Aids Recovery
Increased staff is just one of the factors driving growth. Another is new technology, which McDowell and her team embrace. Ultrasound diagnostic technology has dramatically advanced PM&R, says McDowell. Electronic nerve testing and muscle response are the new standards for diagnosing loss of function or pain. Spinal cord stimulation, which can revive nerve pathways, can lead to recovery of movement to pre-trauma levels.
Physical and occupational therapy equipment and techniques have also advanced exponentially. PTs and OTs at UK's Cardinal Hill facility use the ZeroG Gait and Balance System, which uses harnesses similar to the ones used in mountain climbing attached to the bodyweight support system, allowing stroke and brain injury patients an opportunity to walk as part of the recovery process. Aquatherapy can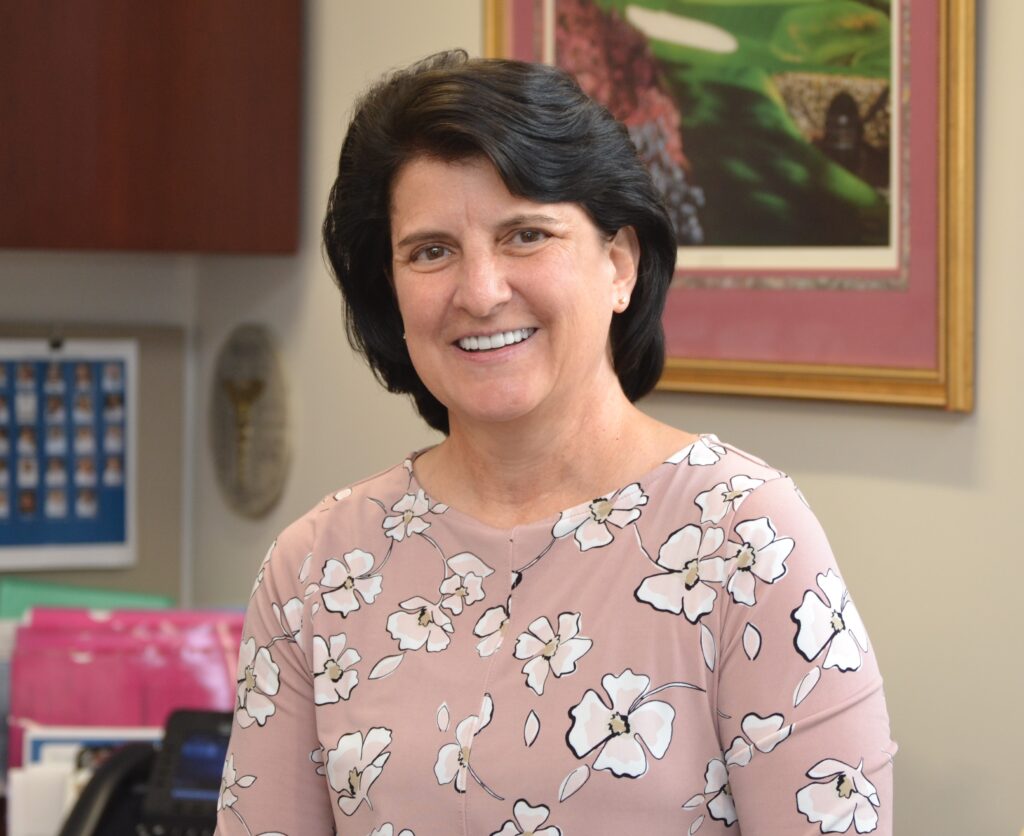 also be effective. There is a large therapy pool at Cardinal Hill, which McDowell says is used for patients relearning to walk and is effective in management of musculoskeletal rehabilitation. The post-concussion and vestibular rehabilitation programs also use state-of-the-art technology for achieving the best outcomes.
The new generation of electric wheelchairs can be like buying a new car, says McDowell. "What accessories do you want it to have?" she says. "A battery-powered wheelchair can give real independence to a person who cannot move themselves."
According to McDowell "tech-assistant technology" uses computers programmed to speak for a nonverbal patient. The computer can speak for the verbally disabled person with preprogrammed sentences, such as "I'd like a drink of water," by using a motion as simple as a slight movement of the head or pointing to an icon on the computer screen.
"Technological advancements are ripe for helping individuals with disabilities become self-sufficient," says McDowell. "What we non-disabled people take as a convenience such as an iPad, an iPhone, or Alexa, can be modified for use for the disabled population."
"The disabled population is relatively small, so the return on investment for new products is limited. So, we adapt existing technology for our use in treating the disabled," she concludes.
The Role of the Physiatrist. Making a Difference.
McDowell acknowledges that PM&R is sometimes under-appreciated by other physicians and the general public, but not the disabled population. There haven't been many TV shows or movies about physiatrists. She wants referring physicians to know that PM&R physicians can improve outcomes for musculoskeletal and neurologically impaired patients through non-surgical interventions.
"What we do is exam the patient, diagnose the problems, develop a rehabilitation plan, put the plan in motion, and then follow up for progress and adjust or modify the plan as needed. Getting someone back to normal, or as pre-injury normal as possible. Meeting them where they're at, from crawler to walker."
Reflecting on her career, McDowell says that little by little she came to believe that she could make a difference as she acquired the knowledge of her specialty and learned leadership. She recalls seeing her mother give her all for her family when times were tough. She learned early in life about personal responsibility, accountability, self-discipline, and giving back through family, academics, athletics, and community.
"I learned resiliency, not giving up, realizing that sometimes it takes longer than you want it to. Not getting a 'Yes' on the first try. We embrace that in our department. We teach it, we live it and breathe it. We've come a long way. There's more work to do and we'll get there."